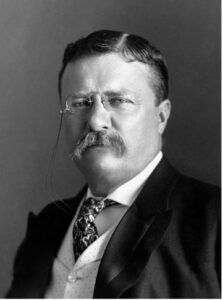 Okay, so this post will be a bit of rant mixed with some fun genealogy. Last year, a great-grandson of President Theodore Roosevelt asked for my assistance in making a chart to demonstrate the mildly complicated nature of the presidents' maternal grandparents and their previous spouses. More on that in a moment. I also mentioned to the great-grandson that years ago, thanks to late William Addams Reitwiesner, I learned of one of the more surprising close kinships of the 26th President, to presidential assassin Lee Harvey Oswald! Mr. Roosevelt said he would be interested in that chart as well, so I made the chart below that demonstrates the kinship. Similar in pattern to the kinship I had described in a previous post regarding the kinship of Mark Wahlberg and Nathaniel Hawthorne, Theodore Roosevelt's matrilineal ancestors are the patrilineal ancestors of Lee Harvey Oswald, making them third cousins once removed, with their common ancestors being Joseph and Anne (Carter) Oswald of Liberty County, Georgia.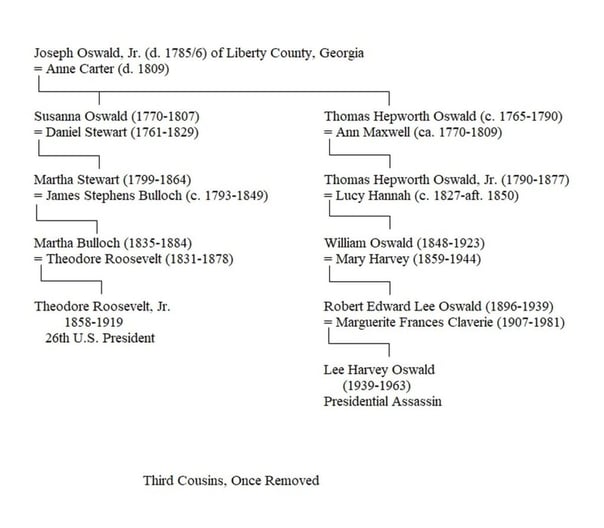 More recently, my colleague Lindsay Fulton was interviewed for a segment on Samantha Brown's Places to Love. Ms. Brown also descended from the same southern Carter family, so Lindsay was able to recycle the same chart, and now I can recycle it again on this post. But back to the original chart that Mr. Roosevelt asked me to generate.
Theodore Roosevelt's mother Martha Bulloch was the daughter of James Stephens Bulloch and Martha Stewart. It was a second marriage for both. In 1817, James Stephens Bulloch proposed to Martha, but she declined, and James married Hester Amarintha Elliott, by whom he had two sons. Martha then married Hester's widowed father Senator John Elliott. Hester was one of eight children of the Senator by his late wife. Martha and Senator Elliott had five children together, and by 1830 both of James and Martha's spouses had died. James pursued Martha again, and this time she said yes, resulting in the birth of the president's mother and three other children.
Martha then married Hester's widowed father Senator John Elliott.
Theodore Roosevelt's brother Elliott Roosevelt was named in honor of the family into which both of his maternal grandparents had previously married, but as the chart below shows, does not descend from the Elliott family himself. Elliott is also known as the father of First Lady Eleanor Roosevelt, wife of President Franklin Delano Roosevelt. Theodore and Franklin's kinship by marriage was the closer way they connected, as their closest kinship by blood was that of fifth cousins (their last common Roosevelt ancestors in New York City being in the early eighteenth century).
Now comes my rant. Elliott Roosevelt (1860-1894), like his brother Theodore, did not have a middle name. (Theodore Roosevelt was the last president without a middle name; Harry S. Truman, despite the S. not standing for anything, still had one.)[1] However, Elliott Roosevelt has become a victim of the all-too-common practice of "retroactive middle names," currently appearing with one on his Wikipedia entry, those of his parents Theodore and Martha, daughter Eleanor, namesake grandson Elliott (who likewise had no middle name, thankfully no retroactive middle name appears there), and probably a few others. As Elliott's FindaGrave entry also claims this fictional middle name, the middle name in turn gets repeated on relevant search results on Ancestry.com. The fictional middle name given is that of Elliott's mother's maiden name of Bulloch, a common occurrence for people without middle names that has occurred with some of my own relatives.
Hopefully, after this post, Elliott's fake middle name will fade away, but probably live on in a few places. While the ancestors of mine that I discussed with fake middle names were lesser known, Elliott Roosevelt is a fairly well-known historical individual (if largely via his brother, daughter, and son-in-law). So please, stop making up middle names!
Thank you.
Note
[1] Among numerous contemporary sources in Elliott's life showing no middle name are: his 1860, 1870, and 1880 census entries; his 1880 passport application; his 1883 marriage certificate; and his 1894 death certificate.
Share this:

About Christopher C. Child
Chris Child has worked for various departments at NEHGS since 1997 and became a full-time employee in July 2003. He has been a member of NEHGS since the age of eleven. He has written several articles in American Ancestors, The New England Historical and Genealogical Register, and The Mayflower Descendant. He is the co-editor of The Ancestry of Catherine Middleton (NEHGS, 2011), co-author of The Descendants of Judge John Lowell of Newburyport, Massachusetts (Newbury Street Press, 2011) and Ancestors and Descendants of George Rufus and Alice Nelson Pratt (Newbury Street Press, 2013), and author of The Nelson Family of Rowley, Massachusetts (Newbury Street Press, 2014). Chris holds a B.A. in history from Drew University in Madison, New Jersey.View all posts by Christopher C. Child →