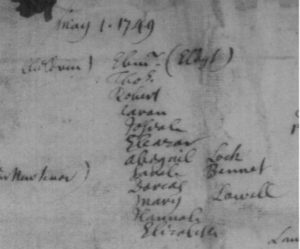 My recent post on "Philoprogenitive ancestors" resulted in several comments from readers about their own ancestors with many children. I mentioned my ancestor Simon Willard, and one reader also noted him as her own ancestor through his daughter Elizabeth. I was planning to comment back to the reader with my full line of descent (also going through Elizabeth, wife of Robert Blood), but before doing so I did a quick verification of the lineage as I had it. Long story short, Simon Willard can now be classified as one of my Former Ancestors.
The problem generation concerned my ancestors Josiah Nutting and Mary Blood, who married at Groton, Massachusetts on 13 December 1742. My family information (which was largely taken from research undertaken by my maternal great-aunt) had noted this Mary Blood was born at Groton on 9 December 1725, daughter of Ebenezer and Abigail (Chamberlain) Blood. Ebenezer was the great-grandson of Simon Willard. However, while there is a documented birth for Mary Blood in Groton in 1725 and a marriage for a woman of the same name there on 1742, I found a few online trees claiming the 1725 Mary was instead married to David Lowell, and that my Mary Blood who married in 1742 was instead the Mary Blood born at Groton on 23 August 1708, daughter of Joseph and Hannah (Sawyer) Blood. If the last part was true, then this Mary married at 34 years old. Which Mary Blood was mine?
Which Mary Blood was mine?
Fortunately, this was not difficult to resolve, in part thanks to resources now available online that were not as easily available when my great-aunt researched this family forty years ago. Within our online collection of Middlesex County, Massachusetts Probate File Papers was the estate of Ebenezer Blood in 1745, which listed his children as subscribers on a document from 1 May 1749 (see above). Ebenezer's daughter is called Mary Lowell! So much for this Mary being my ancestor. Bye-bye Simon Willard!
To the question of who my Mary Blood actually was, I was led to a book published in 1960 (which I should have looked at years ago), The Story of the Bloods: Including an Account of the Early Generations of the family in America in genealogical lines from Robert Blood of Concord and Richard Blood of Groton by Roger Deane Harris. Concerning the Mary Blood born at Groton in 1708, Harris gives that Mary as the wife of Josiah Nutting, and he provides significant documentation to support this conclusion! Harris suspected this Mary's father Joseph Blood had moved from Groton to Harvard, Massachusetts and had a second family after his first wife's death (including a second daughter Mary), and abstracted all documents relating to this Joseph Blood's family over ten pages. The key document concerning my ancestor Mary (Blood) Nutting is from Worcester County Deeds, 27:328, summarized here:

There it is! Among the "Heirs of Mrs. Hannah Blood" are my ancestors Josiah Nutting and wife Mary, so my Mary did marry Josiah at 34 years of age! Thank you, Roger Deane Harris.
Despite being both born in Groton, the two Mary Bloods were not even from the same Blood immigrant ancestor. The 1725 Mary4 Blood (Ebenezer3, Robert2-1) descended from Robert of Concord, Massachusetts, while my 1708 Mary4 Blood (Joseph3, Nathaniel2, Richard1) descended from Richard of Groton. Both Robert and Richard were from the vicinity of Nottingham, England, so while a kinship is possible, the two immigrants had no known interaction in Massachusetts.
I do get some new ancestors out of the deal, including Robert Long of Charlestown, Massachusetts, a member of the Ancient and Honorable Artillery Company, and an early innholder and tavern keeper who owned the Three Cranes Tavern, which stayed in the Long family for 140 years until 1775, when most of downtown Charlestown was burned to the ground in the Battle of Bunker Hill.
Josiah and Mary (Blood) Nutting are my maternal ancestors. Interestingly, the parents of my Mary's mother Hannah (Sawyer) Blood, Thomas and Mary (Prescott) Sawyer of Lancaster, Massachusetts, were already my ancestors (twice over) through my father. This makes my parents eighth cousins, once moved, the second closest kinship I have found to date. Bloody good!
Share this:

About Christopher C. Child
Chris Child has worked for various departments at NEHGS since 1997 and became a full-time employee in July 2003. He has been a member of NEHGS since the age of eleven. He has written several articles in American Ancestors, The New England Historical and Genealogical Register, and The Mayflower Descendant. He is the co-editor of The Ancestry of Catherine Middleton (NEHGS, 2011), co-author of The Descendants of Judge John Lowell of Newburyport, Massachusetts (Newbury Street Press, 2011) and Ancestors and Descendants of George Rufus and Alice Nelson Pratt (Newbury Street Press, 2013), and author of The Nelson Family of Rowley, Massachusetts (Newbury Street Press, 2014). Chris holds a B.A. in history from Drew University in Madison, New Jersey.View all posts by Christopher C. Child →