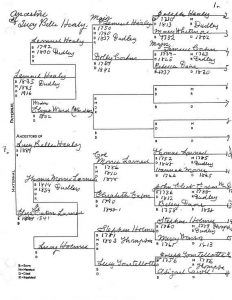 My recent post about twins in the family – correcting my ancestor Sarah (Johnson) Eaton's ancestry – reminded me of various corrections to my family papers over the years. As I had indicated there, when I started my genealogical research, I was given an enormous head start on my native Connecticut ancestry. Two friends of my great-grandparents had prepared family charts tracing nearly all of my grandfather's ancestors back to the immigrants in the 1600s. While this was a terrific help, over the years I have found sometimes that this material wasn't always right. Many times the ancestors on the charts were listed in published genealogies, but my attempts to confirm the line have led me to revisit these ancestors, sometimes turning them into "former ancestors."
I'll share some of the more interesting examples I've discovered over the years, and some that have happened very recently, often when working on research projects for other people. My research on these families is not for naught though, as I will frequently recognize some of my former ancestry in members' charts when doing consultations, so I'll still remember the sources I had used to correctly research these families.
My great-grandmother's great-grandfather, Stephen Holmes (1781–1859) of Thompson, Connecticut, was identified on the above chart as the son of "Stephen Holmes" and Mercy Winsor. The ancestors of this "Stephen Holmes" of "Dudley" was carried forward on chart 14, identifying him as the son of Stephen Holmes and Mercy Freeman. This elder Stephen Holmes was the son of David and Bathsheba (Sanford) Holmes of Woodstock (great-great-grandparents of Supreme Court Justice Oliver Wendell Holmes, Jr., whose grandfather was a Woodstock native). Mercy Freeman (born in 1729) was identified as the daughter of Robert and Mary (Prence) Freeman, and granddaughter of Constant and Jane (Treat) Freeman and Thomas and Hannah (Shaw) Prence, all of Cape Cod.
While the charts we had did not attempt to go further back, this was in the beginning of my genealogical research with my aunt in the early 1990s, and we researched these families going back to early Plymouth with a descent from Governor William Bradford's step-son Constant Southworth and Mayflower passenger Stephen Hopkins. This got us excited and interested in joining the Mayflower Society.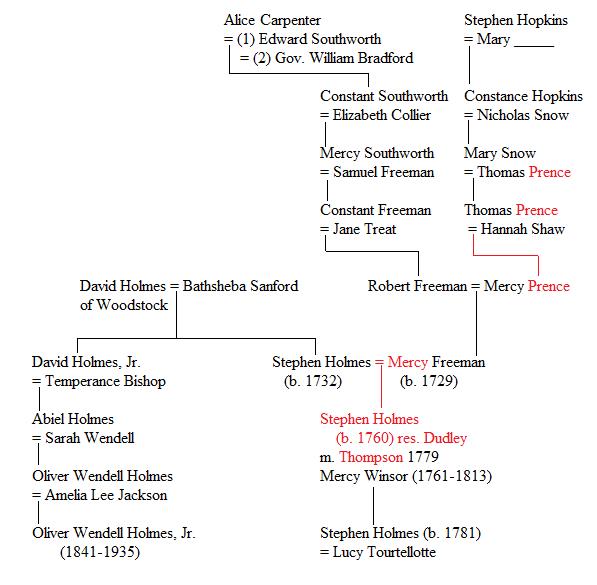 However our bubble was quickly burst as we identified several incorrect items on the above chart. Firstly the surname "Prence" should really be Paine. Robert Freeman had married Mary Paine, daughter of Elisha and Rebecca (Doane) Paine, and granddaughter of Thomas and Mary (Snow) Paine.[1] These corrections  still had us descended from Mary Snow, the granddaughter of Stephen Hopkins, but not for long.
While Robert and Mary (Paine) Freeman did move from Cape Cod to northeastern Connecticut, their daughter Mercy Freeman (born in 1735/36) married Stephen Olmstead, while their daughter Mary Freeman (born in 1729) married John Holmes (who moved from northeastern Connecticut to Dutchess County, New York, and did not have a son named Stephen).[2] The earlier mentioned Stephen Holmes, son of David and Bathsheba, did exist, but did not marry anyone named Freeman.[3]
Also, our "Stephen Holmes," husband of Mercy Winsor, was actually named Samuel Holmes (who never lived in Dudley, rather mainly in Smithfield, Rhode Island), and turned out to have been born in Scituate, Rhode Island, in 1754, son of Samuel and Elnathan (Brown) Holmes, with no connection to this Woodstock Holmes family behind the Supreme Court justice. (This senior Samuel Holmes of Scituate is still a brick-wall, while his wife descends from early Rhode Island families, none of them in Cape Cod.)[4] It would be another fifteen years before I found a "true" Mayflower ancestor, but as a result I learned a great deal about these early Holmes and Freeman families improperly melded together on an old ancestor chart.
Notes
[1] John D. Austin, Mayflower Families Through Five Generations Volume Six – Stephen Hopkins (Plymouth, Mass.: General Society of Mayflower Descendants, 2001), 1-8, 13-14, 40-41, 175. Obviously we used the earlier edition (published in 1992) in the 1990s. The basic summaries of these families discussed has not changed between the editions.
[2] Ibid., 176. I really didn't get that far at this point: I just turned the page! For John Holmes, also see Robert S. Wakefield and Margaret Harris Stover, Mayflower Families Through Five Generations Volume Seventeen – Isaac Allerton (Plymouth: General Society of Mayflower Descendants, 1998), 147. This John Holmes also had Mayflower descents from Isaac Allerton, Stephen Hopkins, and Francis Cooke. Oh, well!
[3] Clarence Winthrop Bowen, Donald Lines Jacobus, and William Herbert Wood, The History of Woodstock, Connecticut – Genealogies of Woodstock Families, 7 (1943): 91. This Stephen Holmes (1732–1773) left Woodstock, married Anna Paterson, graduated from Yale College, and settled in Saybrook, Connecticut.
[4] James Newell Arnold, Vital Record of Rhode Island …, 3 (Providence County, Scituate): 43.