I have written several blog posts on the contents of my grandfather's box of family papers, but even this seemingly inexhaustible resource must eventually run dry. I don't think I'm quite there, yet, although it's true that I am reaching the tail end of the easily identified documents and photographs. Now for one or two remaining mysteries.
My Steward great-great-grandparents lived in Manhattan and in Goshen, New York. I've written about their city and country lives, and, as much as I could, about the servants who formed part of the family in Goshen. (It's not clear to me whether or not the Goshen staff moved into the city for fall, winter, and spring.)
It's obvious that my great-grandfather, Campbell Steward, was close to the Goshen servants: see, for instance, Sylvester Jarvis's letter to him dated in January 1871. Other group photos, including the one above (about which I've also written here), show the Stewards and their servants in formal intimacy.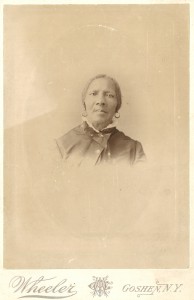 In the above photo, someone has identified Mary Jarvis at left and Charles O'Fake, standing, third from left. Among the loose photos in my grandfather's iron box are two, otherwise unidentified as to subject: I think they show Mary and Charles.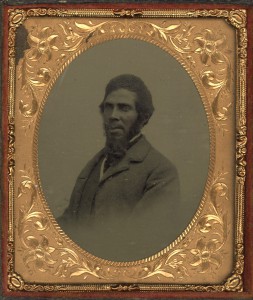 If so, these images speak to a relationship stretching through my great-grandfather's lifetime (he died in 1936, aged 84) and then my grandfather's, too. As impressive, perhaps, as the contents of this box have been, they actually represent an easily portable -- and small -- proportion of the family portraits, books, papers, and other objects my Steward forebears once possessed, both in Goshen and in New York, and are all the more precious for that.
Continued here.
Share this:

About Scott C. Steward
Scott C. Steward has been NEHGS' Editor-in-Chief since 2013. He is the author, co-author, or editor of genealogies of the Ayer, Le Roy, Lowell, Saltonstall, Thorndike, and Winthrop families. His articles have appeared in The New England Historical and Genealogical Register, NEXUS, New England Ancestors, American Ancestors, and The Pennsylvania Genealogical Magazine, and he has written book reviews for the Register, The New York Genealogical and Biographical Record, and the National Genealogical Society Quarterly.View all posts by Scott C. Steward →