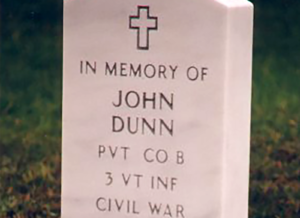 When I began researching my family history, I initially focused very little time on the Dunn family. The Dunn line had already been almost completely traced back to Ireland by cousins of my grandmother, and I had been given numerous notes and write-ups from over the years. The family was descended from Thomas Dunn and Mary Eagan, who lived in John's Well and Kilderry in Kilkenny County. Thomas and Mary had the following children:
James Dunn (1817-1873), my 3rd great grandfather
Michael John Dunn (1820-1901)
Patrick Dunn (1823-1869)
Thomas Dunn (1826-1918)
John Dunn (1829-1864)
Mary Ella Dunn (1832-1906)
Catherine Dunn (1835-1911)
Richard Dunn (1838-?)
Lawrence Henry Dunn (1840-1888)
Most of the research on the early generations of the Dunn Family (Thomas, Mary, and their children) came from the Dunn Family Bible, which had been owned by James Dunn and contained numerous notes on the family's arrival in America and whereabouts thereafter. Curiously missing from the bible was Richard—it was assumed he died young in Ireland. This story centers on this entry written by James Dunn about John Dunn (1829-1864):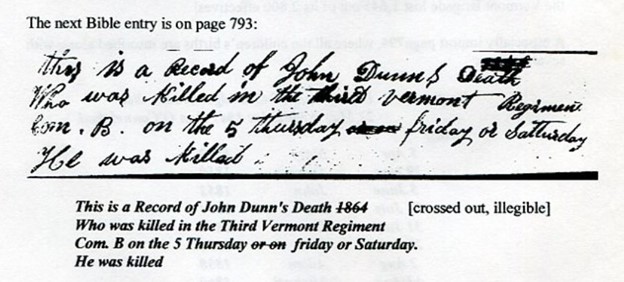 A search of John Dunn in Vermont Civil War records confirms that he died on 5th May 1864 at Battle of the Wilderness in Virginia. The family ordered a stone to be placed for John Dunn in 1999, and he was memorialized in an onsite ceremony during a family reunion that year. I was told this heartwarming story frequently when I began researching my family history.
Fast forward to 2017, when my grandmother took a DNA test. She was matched with a cousin who also shared connections to numerous descendants of Thomas Dunn and Mary Eagan. This cousin had an ancestor named John Dunn, born in Ireland around 1838, who claimed to have first lived in Vermont and Canada before moving west to Missouri and later Kansas in the 1870s. Was this evidence that our John Dunn actually survived the Civil War?
I dug back into local records (land deeds, court records, etc.) in Orleans County, Vermont where the Dunn family settled. That was when I made an interesting discovery: a court case from 1866, concerning John Dunn of Newport, VT and a man named John Gates. Apparently, in the spring of 1864, John Dunn left for New Hampshire, where he was to spend the summer season working. He contracted John Gates to cut hay on his large farm in Newport, leaving the price up to his brother James Dunn. Instead, James hired somebody else. Gates, citing the contract, brought John Dunn to court. Was this case brought against our John Dunn, who was apparently dead by May 1864 according to both the family bible and the military records, or were there two John Dunns?
Then, an 1873 land deed was discovered which showed John Dunn and his wife Emma, of Dodge City, Kansas selling his land in Newport, VT to Thomas Dunn (the same Thomas Dunn born c. 1826). This was proof that the John Dunn of Kansas, who was an ancestor to the DNA match, originally lived in Newport and was a close relative to the Dunn brothers. A chart was drawn up comparing John in Kansas to the John who died in the Civil War:
John Dunn of Newport, VT and later Kansas
John Dunn who died in Civil War

Born: 1837-1839 in Ireland
Moved from Vermont/Canada to Missouri to Kansas (this is according to state census records in Kansas)
Owned land in Newport, VT which he bought in 1861 from E.H. Bartlett, sold part to Lawrence Dunn (born c. 1840) in 1861 and sold the remaining in 1873 to Thomas Dunn (born c. 1826).
Married Emma Koopman before Oct 1873 and had seven children.
Died after Jan 1900 likely in Kansas.
He is referred to as John R Dunn by his son Thomas Jonah Dunn.

Born: c. 1825 in Ireland (his baptism states 1829)
Enlisted on 10 August 1863 at Burlington, VT as a substitute for Edward S Atherton.
Killed 5th May 1864 at Battle of the Wilderness
Local paper states the deceased was of Newport, VT and he appears in the James Dunn Bible arriving in America and a note is included about his death.
There is a John Dunn buying land in Newport from James Dunn beginning 1855 but he disappears by 1861. This is likely this John Dunn
When I reviewed this chart, a shocking realization dawned on me. Could John Dunn of Kansas be Richard Dunn, the missing child of Thomas Dunn and Mary Eagan? The age matched up, and while we had no mention of Richard in the bible, a Richard Dunn did appear on Civil War enlistment records from Woodstock, VT, and was wounded at the Battle of the Wilderness on the same day John Dunn (born c. 1829) died. He later deserted after leaving the military hospital.
I believe that this theory is the most likely scenario. More research needs to be done before we can conclusively say John R. Dunn (born c. 1838) is the same man as Richard Dunn (born c. 1838).
Share this: