I recently solved a long-standing family mystery after discovering a new DNA match to other descendants of my mother's Irish great-great grandparents, Dominick and Bridget (Flynn) Counihan. One of their children, with the surname "Cronan"—who I long thought to have moved to Clearwater, Nebraska—actually lived in the Boston area for forty years. Understanding how I (literally) misplaced Dominick and Bridget's daughter, Jane, baptized on 21 July 1839 in Abbeydorney, County Kerry, and failed to connect her to husband Daniel Cronin, requires some unfolding of previous research.
The Counihans present a fascinating study of global migration from poverty-stricken County Kerry, Ireland in the 1860s. Baptismal records of their seven known children show movement among four townlands within a radius of thirty miles. On 21 March 1863, daughters Margaret and Ellen Counihan, among 600 passengers, sailed aboard the Beejapore from Cork to Keppel Bay, Queensland, a journey that took 140 days. Their passage, undoubtedly funded by the Catholic Church, was granted with the expectation that they would marry and raise Catholic children. They did indeed marry, and between them produced twenty children! Australia's records of birth, marriage, and death document these families in extraordinary detail. Of course, Margaret and Ellen never saw their parents and siblings again. But, as revealed below, Ellen kept track of her relatives in Massachusetts.
By 1867, Dominick, Bridget, and children Bridget, Mary, Maurice, Patrick, and William Counihan all left Ireland and immigrated to East Boston. In 1877, my ancestor Mary Counihan, with a canonical dispensation, married an English Protestant widower named William H. Rhodes and had thirteen children with him, the last one born when she was 48.1
By contrast, Mary's sister Bridget Counihan [Cornay in the marriage record] married fellow immigrant William Heffernan. They lived in Dedham, Massachusetts, and had no children. As indicated by Bridget Heffernan's 1904 will and the distribution of her estate, she enjoyed the highest standard of living among her siblings. Within her extensive probate file, two letters survive from Ellen (Counihan) Bielenberg of North Crowdon, Queensland, Australia, inquiring if she would be receiving a legacy from her sister Bridget—in short, no. Bridget made a $100 bequest to sister Mary Rhodes of Westerly, Rhode Island; and among other named relatives, another $100 bequest to niece Nellie Cronan.
How did Nellie fit into the family? Mary Rhodes's son Rodney meticulously chronicled family relationships in almost forty years of keeping diaries. He claimed his mother's sister, "Cronan," settled in Clearwater, Nebraska. For decades, my searches in Nebraska census records have failed to make the pieces fit. Add to this the fact that no one named Cronan was listed among Bridget Heffernan's next-of-kin, leading me to believe Nellie must have been related through the Heffernan side of the family.
In the end, genetic evidence [103 cMs of shared atDNA from my mother to Jane Cronin's descendant] cleared the way through incorrect and garbled surnames, misidentified parents, and out-of-sync geography that at last secured the place of Jane in the Counihan family. Documents support the genetic connection.
Jane's marriage to Daniel Cronan on 1 May 1864 had her named spelled as Cooney until later corrected.
Jane Cronin died in on 9 April 1904 at her sister Bridget Heffernan's house, 233 Whiting Avenue, Dedham. Talk about being hidden in plain sight! Note spelling variations of Counihan.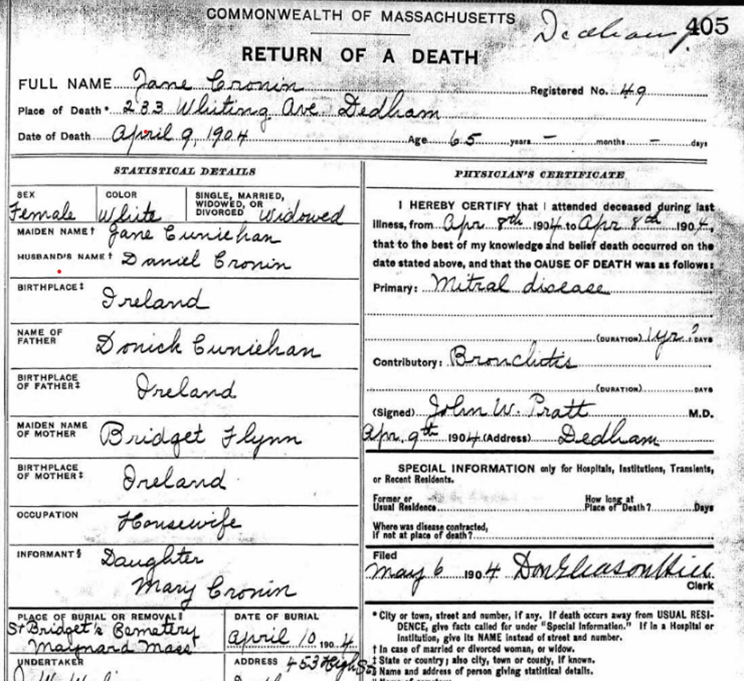 Only one of Daniel and Jane's sons survived to adulthood. His baptism, from the register of St. Mary's in Dedham, Massachusetts, appears below. Once again, the same priest, Rev. John Brennan, initially misspelled the name as Connor until corrected.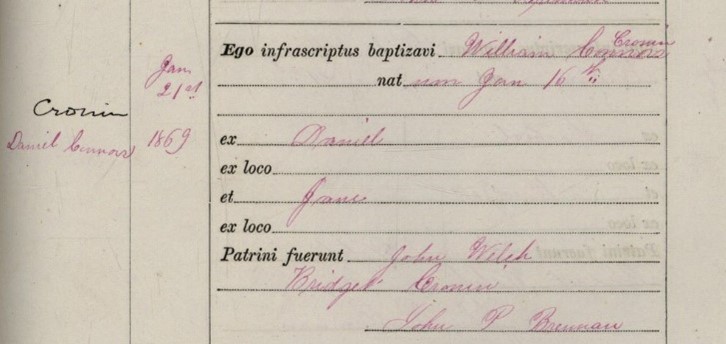 William Cronin, who went by the name Joseph, enlisted in the United States Army during the Sioux campaign of the 1890s. While stationed in Nebraska, "Joseph" Cronin married German-born immigrant Wilhelmena Holtz.

Note that Joseph's mother is listed as Jane Carnahan [sic]. After several moves, this couple settled in Clearwater, Antelope County, Nebraska, where they were counted in the 1910 census. Rodney Rhodes was correct about Nebraska connection, but not in the correct generation.
Notes
1 For more on Mary's life, see "Mary Rhodes: An Arduous Journey to Westerly," Rhode Island Roots 37 (2011): 17-27.
Share this: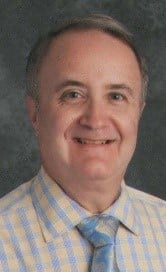 About Michael Dwyer
Michael F. Dwyer first joined NEHGS on a student membership. A Fellow of the American Society of Genealogists, he edits Vermont Genealogy. His articles have been published in the Register, American Ancestors, The American Genealogist, The Maine Genealogist, and Rhode Island Roots, among others. The Vermont Department of Education's 2004 Teacher of the Year, Michael retired in June 2018 after 35 years of teaching subjects he loves—English and history.View all posts by Michael Dwyer →