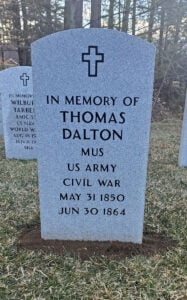 The story of Thomas Dalton is a tragic one, and one that had been forgotten for many years, until a DNA match brought the truth of his brief life to light. I stumbled across the Dalton family years ago when investigating the origins of my own 2nd great-grandmother Mary Ann Dalton, who was born in 1828 in Antigonish, Nova Scotia. I'd been having a difficult time finding Mary's parents when I discovered a handful of DNA matches for descendants of two Dalton brothers, sons of Irish immigrants Peter Dalton and Ann McDonnell, who had also been born in Nova Scotia but moved away young: James Dalton, born 1826, who moved to Lowell, Massachusetts before 1849, and John Thomas Dalton, born 1830, who moved to Ballarat, Australia around 1852.
These Dalton descendants shared the right amount of DNA with my grandfather to indicate that my ancestor Mary Ann Dalton was a close relative of John Thomas and James (likely their sister or cousin). The subject of my story today, Thomas Dalton, was the first son of James and his wife Eliza McNally, born 31 May 1849 in Lowell.
Thomas's tragedy began on 21 July 1854, when his father died of smallpox just 11 days after the birth of the family's second child, Margaret Alice Dalton. Thomas was only 4 years old at the time, and his mother Eliza was left to raise him and his newborn sister alone. The family would live in Lowell until around 1860, when they moved to Manchester, New Hampshire to work in the mills there. On 30 January 1862, Eliza (McNally) Dalton married again to a Michael Dalton, unrelated to her first husband and children. Eliza and her children quickly realized that Michael was not a good man, as he refused to work, drank heavily, and hit Eliza frequently. Seven months after his marriage to Eliza, Michael Dalton enlisted in the army and went off to war. He deserted his position in September of the same year, and disappeared for at least a year after.
By this point, twelve-year-old Thomas was working in the mills with his mother and contributing his wages to the family. Likely seeing the struggling financial situation of his family, Thomas traveled to Concord, New Hampshire on 16 December 1863 and enlisted as a musician. He claimed to be 15 years of age, but was in truth only 13 years old. Nevertheless, Thomas enlisted, and one of the first things he did was to send his $200 bounty to his mother, a testament of his dedication to his family. Thomas Dalton served in the 12th New Hampshire Volunteer Infantry in Company G, and likely spent the first 6 months of his service at Point Lookout in Maryland, where his unit was tasked with guarding confederate prisoners. On 7 April 1864, the 12th NH left Point Lookout and began marching south into Virginia, fighting in numerous battles along the way, including Swift Creek on May 9, Drewry's Bluff on May 14, Bermuda Hundred on May 16, Cold Harbor on June 1, and finally Petersburg on June 16.
The siege of Petersburg lasted from June 1864 until March 1865. On 30 June 1864, Thomas was struck in the thigh with a shell and died almost instantly at the age of 14. Asa W. Bartlett describes Thomas Dalton's death in his book History of the Twelfth Regiment, New Hampshire Volunteers in the War of the Rebellion , in an entry for June 30th:
"Charge made on rebel works at 4 p.m. After our repulse the enemy shell us most unmercifully; they evidently mean to learn the "Yanks" better than to try and break their ranks again. Heavy musketry and artillery fire for two hours. Thomas Dalton, drummer of Company D, killed and Frank Glancy, Company G, severely wounded in arm. Dalton had just been playing cards with some of his comrades. He lived but a few minutes after his thigh was shattered by a shell. When asked if he wanted to send any word to his mother, who lived in Manchester, N.H., he said: "Tell her I am dead," and immediately expired. He died and was buried near where he received the fatal wound."
Thomas Dalton's stoicism and bravery in the face of certain death was something that stood out to me when I first stumbled upon the details of his death a year ago. I quickly compiled all the documents together and sent them to a cousin, a great-grandson of Thomas Dalton's sister Margaret, who had also been researching the Dalton lineage. He was shocked, as up until then we had no idea what had happened to Thomas after his birth. The fact that this brave young man did not have a proper burial site was something I had to change, so in October 2021, I wrote to the NH State Veterans Cemetery to see if they would order a stone for Thomas. In April 2022 the stone was set, finally memorializing a soldier whose story had been lost to history for over 150 years.
The final part of Thomas Dalton's tragedy belonged to his mother. Due to an inability to read and write, the military desertion of her 2nd husband, and disbelief from the government that her 13-year-old son was able to support his family, Eliza was forced to wait 19 years to receive a pension for her son's service. Thomas Dalton's bravery and sacrifice will never be forgotten, as now anyone who walks through the NH State Veterans Cemetery will see the headstone for a 14-year-old drummer boy who gave his life in an effort to provide for his family.
Share this: