Jeff Record's recent post on "A 'Relative' Hoax" reminded me of a few genealogical hoaxes I have encountered. In our open houses to staff on Mayflower genealogy, one of the subjects I review is the various frauds that have occurred in the genealogical field over time.
Robert S. Wakefield (1925-2002) wrote a detailed list of many of these Mayflower fables in a 1993 article in the Mayflower Descendant.[1] These include a fictional ancestry for passenger Edward Doty that was created by the well-known genealogical fraud Gustave Anjou; the claim that "Constance Dudley" was the first wife of passenger Stephen Hopkins (now identified as Mary Kent alias Back); and the false claim the Peter Brown of Windsor, Connecticut, was the son of the Mayflower passenger of the same name. (Brown of the Mayflower only had daughters.)[2]
While Wakefield cites the articles that refute these claims (and the identity of Hopkins's first wife was given in a more recent article), with trees going online these fables run their course again and again. The first subject of Wakefield's article, and perhaps the most impressive Mayflower hoax, concerns passenger Wrestling2 Brewster (William1).
William and Mary Brewster sailed on the Mayflower with their sons Love and Wrestling. Their other children – Jonathan, Patience, and Fear – arrived in Plymouth later. Governor William Bradford clearly writes in his list of passengers concerning William Brewster that "His sone Wrastle dyed a yonge man unmarried." Yet Rev. Ashbel Steel's 1857 Life and Time of Elder Brewster claimed Wrestling Brewster settled in Piscataqua, New Hampshire. Steele claimed various "contemporary" documents (in the possession of Dr. George Gaines Brewster) that put Wrestling in Portsmouth, New Hampshire, between 1629 and 1636. In 1860, James Savage noted these documents were "three piles of fictious paper."
Scott Andrew Bartley revisited this problem in an article in the Mayflower Descendant in 2013.[3] Prior summaries of this problem could easily show these documents had verbiage not consistent with the seventeenth century and the red flag of a child with two forenames, and Dr. George Gaines Brewster was fingered as the source of this hoax in 1928. However, the interesting item Bartley examined were the references to Wrestling Brewster that appear in the published New Hampshire State Papers, volume 40, covering court records 1640-92. These records were published in 1942, long after this claim of Wrestling Brewster being in New Hampshire was established as a hoax. Yet Hammond had transcribed the seventeenth-century documents held at the New Hampshire State Archives. Bartley, along with Robert Charles Anderson, examined the microfilm version of these records. One such image appears below (see the cited article for the full summary).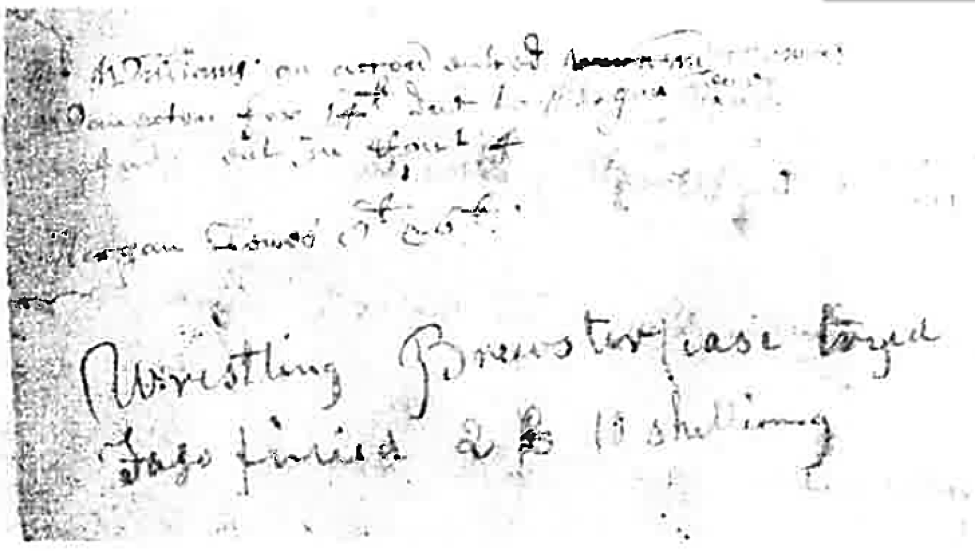 These entries were in black ink and do not match the hand and ink around it, and they do not make legal sense. They were all clumsy forgeries that have actually made it into official transcriptions of court records. This is a fairly brazen fraud. At some point during the nineteenth century, Dr. George Gaines Brewster – or someone working on his behalf – altered official New Hampshire records from two hundred years before! This was all before the Mayflower Society was even formed, but fraudsters have a lot of nerve!
Notes
[1] Robert S. Wakefield, "Wrestling2 Brewster: an Old Hoax Resurfaces and Other Mayflower Fables," Mayflower Descendant 43 [1993]: 13-16.
[2] For the true identify of Stephen Hopkins's first wife, see Simon Neal, "Investigation into the Origins of Mary, Wife of Stephen Hopkins of Hursely," Mayflower Descendant 61 [2012]: 38-59. For additional context behind Gustave Anjou's frauds and his interesting life, see these two articles from Genealogical Journal (Utah Genealogical Association), Robert Charles Anderson, "We Wuz Robbed! The modus operandi of Gustav Anjou," 19 [1991]: 47-58, and the article immediately following, Gordon L. Remington, "Gustave, We Hardly Knew Ye: A Portrait of Herr Anjou as a Jungberg," 59-70.
[3] Scott Andrew Bartley, "Wrestling2 Brewster - A Hoax Revisited, Again," Mayflower Descendant 62 [2013]: 123-28.
Share this:

About Christopher C. Child
Chris Child has worked for various departments at NEHGS since 1997 and became a full-time employee in July 2003. He has been a member of NEHGS since the age of eleven. He has written several articles in American Ancestors, The New England Historical and Genealogical Register, and The Mayflower Descendant. He is the co-editor of The Ancestry of Catherine Middleton (NEHGS, 2011), co-author of The Descendants of Judge John Lowell of Newburyport, Massachusetts (Newbury Street Press, 2011) and Ancestors and Descendants of George Rufus and Alice Nelson Pratt (Newbury Street Press, 2013), and author of The Nelson Family of Rowley, Massachusetts (Newbury Street Press, 2014). Chris holds a B.A. in history from Drew University in Madison, New Jersey.View all posts by Christopher C. Child →