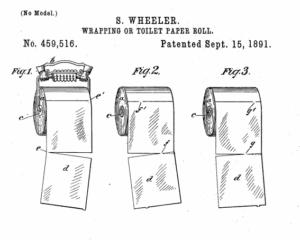 In this period of self-isolation, the imagination of genealogists will likely extend significantly. Frequent Vita Brevis writer Jeff Record recently shared with me an online tree that purportedly gave a Mayflower line back to Seth Wheeler (1838-1925) of Albany, New York, known as the creator of perforated paper, who obtained the earliest patents for toilet paper and dispensers in 1883. The tree depicted a descent from Mayflower passenger Francis Cooke by calling Francis the father Henry Cook of Salem, Massachusetts! Francis did not have a son named Henry, and the origins of Henry Cook (who was in Salem by 1638) are unknown. So, unfortunately, I had to tell Jeff that the Mayflower line was worthless, but at least we can thank Wheeler for toilet paper!
Still, this got me looking around the rest of Seth Wheeler's ancestry. The initial tree had too many errors to go through, so I'd rather not reproduce it here. Seth Wheeler is included in The Genealogical and Encyclopedic History of the Wheeler family in America, published in 1914, during the Mr. Wheeler's lifetime, identifying his parents as Alonzo Wheeler and Harriet Hatch Bishop, daughter of Richard Ward and Abigail (Hatch) Bishop. This last Abigail was the daughter of Azel Hatch (1767-1821) and Eunice Hovey, who married at Lebanon, Connecticut on 4 May 1791 and moved to Columbia, Herkimer County, New York.[1]
It was at the generation of Eunice Hovey's parents that I was able to find some familiar families. The Historical gazetteer of Tioga County, New York, 1785-1888 gives a biography of Nathan Hovey (1741-1829) and his wife Jemima Phelps, who went from Lebanon to Newark Valley, Tioga County, New York.[2] The book asserts that "They had eleven children," listing nine, including "Eunice, [who] m with Asahal [sic] Hatch."
It was at the generation of Eunice Hovey's parents that I was able to find some familiar families.
Jemima Phelps I recognized as a matrilineal descendant of Alice (Freeman) (Thompson) Parke (ca. 1595-after 1658) of Preston Capes, Northamptonshire; Roxbury, Massachusetts; and New London, Connecticut. Alice has a documented royal descent from Ethelred II, "the Unready," King of England (died 1016), and is an American ancestor of the late Diana, Princess of Wales (as well as her sons William and Harry), as well as U.S. President Warren G. Harding.[3] Her matrilineal descendants have been a major work of my colleague Julie Helen Otto. Using her manuscript (of over 600 pages), as well as the sources above, gives us the following line of descent:
Alice Freeman = (1) John Thompson = (2) Robert Parke
Bridget Thompson = George Denison
Hannah Denison = Joseph Saxton
Mercy Saxton = William Dewey
Jerusha Dewey = Paul Phelps
Jemima Phelps = Nathan Hovey
Eunice Hovey = Azel Hatch
Abigail Hatch = Richard Ward Bishop
Harriet Hatch Bishop = Alonzo Wheeler
Seth Wheeler (1838-1925)
Matrlineal studies can often be used for comparison of living descents using mitochondrial DNA (mtDNA). Seth Wheeler would have had the same mtDNA as his matrlinieal immigrant ancestor Alice. While Seth Wheeler has descendants, as a male, he does not pass his mtDNA on to his children, and Seth's three sisters all died unmarried without children. I could make some joke here about DNA and toilet paper, but I'm flush out of puns.
Notes
[1] Lebanon Church Records, 7:27; Alice Griffin Hatch (1847-1937), Genealogies Compiled by Mrs. Alice G. Hatch, a biography of Azel Hatch referring to them as ancestors of Seth Wheeler of the Albany paper company.
[2] This work incorrectly calls him "Azel Hovey," which was the name of the son with whom he lived. All census, vital, and military records refer to him as Nathan Hovey.
[3] Gary Boyd Roberts, The Royal Descents of 900 Immigrants (Baltimore, 2018).
Share this:

About Christopher C. Child
Chris Child has worked for various departments at NEHGS since 1997 and became a full-time employee in July 2003. He has been a member of NEHGS since the age of eleven. He has written several articles in American Ancestors, The New England Historical and Genealogical Register, and The Mayflower Descendant. He is the co-editor of The Ancestry of Catherine Middleton (NEHGS, 2011), co-author of The Descendants of Judge John Lowell of Newburyport, Massachusetts (Newbury Street Press, 2011) and Ancestors and Descendants of George Rufus and Alice Nelson Pratt (Newbury Street Press, 2013), and author of The Nelson Family of Rowley, Massachusetts (Newbury Street Press, 2014). Chris holds a B.A. in history from Drew University in Madison, New Jersey.View all posts by Christopher C. Child →