[Editor's note: This blog post first appeared in Vita Brevis on 20 March 2017.]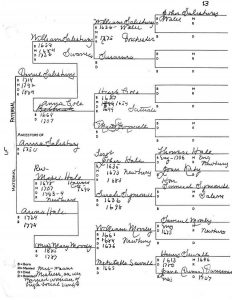 Following up on correcting the charts in my Seeing double blog post, the chart showing my ancestor Anna (Salisbury) Slade was a recent disappointment and involved removing some ancestors from my charts. The chart identified Anna's parents as Daniel Salisbury and Anna Hale, and had Anna as the child of Rev. Moses Hale (Harvard 1699) and Mary Moody of Newbury, with several early Newbury ancestors including Henry and Jane (Dummer) Sewall, who were the parents of Judge Samuel Sewall (1652–1730), known for his involvement in the Salem witch trials.
Through a different part of my family, I descend from Jacob Towne (1632–1704) of Topsfield, Massachusetts, who was a brother of Mary (Towne) Esty and Rebecca (Towne) Nurse, both of whom were executed for witchcraft at Salem in 1692. So I liked to say I was the several greats nephew of two accused witches, as well as one of the judges who sentenced them. [1]
While there are several items wrong on the above chart (the name of Daniel Salisbury's mother for one), I had not researched everything, and I had not come across anything to make me question Anne Hale's parents and thus my Sewall descent. In 2007, when we published Eben Graves's The Descendants of Henry Sewall, I happily looked at the book for my line of descent, which went down to the above Moses Hale and his wife Mary Moody but did not include their children. I had also done various research over the years on some of the Sewall and Dummer ancestors in England.
In the fall of 2015, I gave a talk to the Sons and Daughters of the First Settlers of Newbury, Massachusetts, and I thought I would briefly mention what I thought were my several early Newbury ancestors. I went over what I thought would be a quick confirmation of the various ancestors. I found the 1770 gravestone of Anne (Hale) Salisbury on findagrave (which actually lists her maiden name as Hale!). However, on the memorial the contributor had said she was a daughter of John Hale/Haile and Elizabeth Mason of Swansea, Massachusetts. Were the parents I had wrong? This was quite easy to confirm. The 1997 Descendants of Richard Haile of Swansea (1640–1729) shows the family of John Haile and Elizabeth Mason and provides a verbatim transcription of the 1743 administration of John Haile in which it says "Item We have divided to Anne the wife of Daniel Salisbury the only Daughter…"
So in one swoop, I lost nearly all of my Newbury ancestors...
Clearly I had the wrong parents! I could definitely have found this years earlier had I looked. The sketch of Moses Hale in Sibley's Harvard Graduates says he had three sons and seven daughters, citing the 1889 Genealogy of Descendants of Thomas Hale [of Newbury]; had I consulted that work, I would have seen that Moses did not have a daughter named Anne (from his will, which listed all of his surviving daughters).
So in one swoop, I lost nearly all of my Newbury ancestors and gained several new Swansea ancestors. I told the Newbury group I now only had one single early Newbury ancestor – Anthony Morse, through a different (and researched) side of my family. While I still am a several greats nephew of the accused witches, I can say bye-bye as a several greats nephew to one of the judges.[2]
Notes
[1] Their sister Sarah Cloyce was also accused of witchcraft but was released from jail in 1693.
[2] My Town ancestors are included in Lois Payne Hoover, Towne Family – William Towne and Joanna Blessing Salem, Massachusetts 1635 (Baltimore: Otter Bay Books, 2010); the line is well-documented going down to my ancestor Elizabeth Davis (daughter of Tamar Town) and her husband John Eliot Eaton. I documented the generations from John and Elizabeth down to myself as part of an application to the Jamestowne Society through John Eliot Eaton's descent from Major-General Daniel Gookin (ca. 1612–1687), briefly of Virginia and later of Cambridge, Massachusetts.
Share this:

About Christopher C. Child
Chris Child has worked for various departments at NEHGS since 1997 and became a full-time employee in July 2003. He has been a member of NEHGS since the age of eleven. He has written several articles in American Ancestors, The New England Historical and Genealogical Register, and The Mayflower Descendant. He is the co-editor of The Ancestry of Catherine Middleton (NEHGS, 2011), co-author of The Descendants of Judge John Lowell of Newburyport, Massachusetts (Newbury Street Press, 2011) and Ancestors and Descendants of George Rufus and Alice Nelson Pratt (Newbury Street Press, 2013), and author of The Nelson Family of Rowley, Massachusetts (Newbury Street Press, 2014). Chris holds a B.A. in history from Drew University in Madison, New Jersey.View all posts by Christopher C. Child →