I've always wanted to know more about the life of my great-grandmother Opal Young (1895–1978). To do this, I decided to see what researching her siblings might reveal about her. By and large, information about her siblings has been limited to meager 'raw data.' An interesting exception to this has been the life of my great-grandmother's brother John Alfred Young (1890–1960). He is called Johnnie on the back of this Hitchcock-like cameo – it is the only known photograph to show him.[1]
Johnnie Young came to California about the time his sister Opal did in the late 1920s. Their lives as children back in Kansas seems to have been pretty normal – other than there were a LOT of people living with them in the Young household.[2]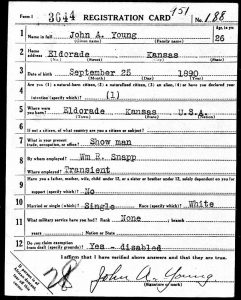 The next record I found for Johnnie was his World War I Draft Card. He's still residing in El Dorado, Kansas, and claiming a significant disability – a disability that did not prevent him from military service. However, for me the more interesting part on this form is that he lists himself as a "Show man" for an employer called "Wm R. Snapp."
The Snapp Brothers' operation was an "on the road" carnival, with their erstwhile success destroyed by the Great Depression.[3] Uncle Johnnie traveled with the Snapps until his time as a doughboy.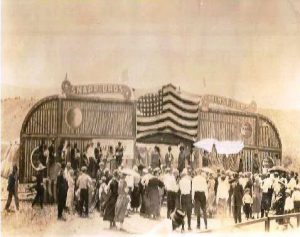 By 1925 "Uncle Johnnie" had made his way to California. His job with the Snapp Brothers Shows apparently over, he was working as a "salesman" in Redondo Beach.[4] Uncle Johnnie managed to "ditch" the 1930 U.S. Federal Census, but he stayed in Redondo Beach. In 1931 both his address and employment have changed – he is now listed as a "clerk."[5] Since I was coming up with two different 'scenarios' for Uncle Johnnie, I wanted to dig a little bit deeper to make sure I had the right John A. Young.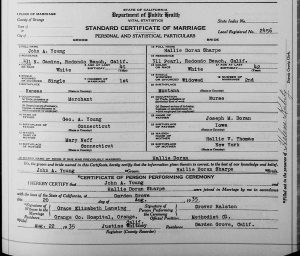 The answer to these questions came in the form of a marriage license issued 22 August 1935. Uncle Johnnie Young, who isn't so "young" anymore, married Hallie Doran Sharpe.[6] The verification that I'd found the right John A. Young is found on their marriage license.
Living in Oakland, California by 1942 and registering for the Selective Service, Johnnie's next of kin is Mrs. H.L. Everett of Los Angeles, his kid sister Opal Young. This may not seem particularly relevant, but it is telling about the close relationship between brother and sister – more to follow.
What is interesting here is that Uncle Johnnie has gone back into "Shows." He has again ditched the census (of 1940) and lists his place of residence with his employer – Foley and Burk Shows, a road carnival/circus, active from about 1914 through the mid-1960s. [7]
An article in Billboard names Foley and Burk's equipment operators with one in particular standing out – John Young ran The Octopus.[8]
Tracking Uncle Johnnie throughout the 1940s and '50s has been difficult. While there are scattered men named John A. Young in Oakland and the Central Valley of California, there is no way of knowing which one is the correct "Uncle Johnnie." Clearly, the old carnival shows had moved on.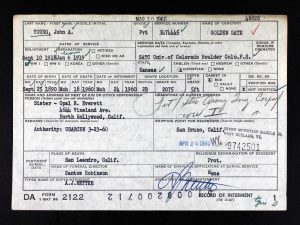 I believe Uncle Johnnie stayed in contact with his family – at least with sister Opal. She probably worried after him, never knowing where Brother John was at any given time. There is one final document showing that brother and sister were truly very close. In the end, it was his sister Opal who made sure that Johnnie received the burial and headstone he had earned, and no doubt deserved.
I imagine my great-grandmother Opal Young came out to California because Uncle Johnnie had told her of all of its golden wonders. Ah! There are so many untold stories and happy conversations between a brother and sister. Wherever you are now, Uncle Johnnie, we hope that you rest in peace …
Notes
[1] The picture was taken at the ocean, presumably in California before 1935 (cropped from a larger snapshot), showing Johnnie with his father George Alfred Young. Johnnie was living in Redondo Beach, California in 1935, and father George A. Young died in 1936 – so the dates are approximate.
[2] Kansas State Census for 1905: Opal Young is on line 11, aged 9 years old, and her older brother John is on line 8 aged 14 years old – in a household of thirteen family members. By the U.S. Federal Census (1910), John Young is absent from the household.
[3] "There is no archive of 'Snapp Bros. Shows' documentation known to exist. What little information that does exist is as follows: Belle Snapp married Clarence A. Wortham, a great railroad carnival owner in the early 20th century. Wortham got the nickname 'The Little Giant'… Her two [Snapp] brothers joined their brother-in-law in the carnival business, becoming ride men in his employ in 1914. They were with 'Wortham's Great Alamo Shows' in 1918 and 1919. The brothers banked their earnings, investing a reported $80,000 to $100,000 in their entirely new 'Snapp Bros. Shows… The Snapp Bros., like so many other carnivals, was killed off by the great Depression. Widower Belle Snapp Wortham put a thirteen-car Snapp property up for sale in early 1930. No buyer identity has been found and whether it sold as one lot or piecemeal is unknown." – Source: www.docsmidwaycookhouse.com.
[4] Ref: U.S. City Directories 1822-1995 for Redondo Beach, California (1925) – for N. Camino address.
[5] Ref: U.S. City Directories 1822-1995 for Redondo Beach, California (1931) – for Pearl Street address.
[6] Not much is known about Johnnie's wife Hallie J. Doran Sharpe. Born in Montana about 1892, she had a daughter Myrtle with Mr. Sharpe. Myrtle was just 13 years old when she served as a witness to her mother's marriage to Mr. Young. We know that Mr. Sharpe died 8 February 1935 in a Los Angeles home for Soldiers and Sailors. Hallie's daughter did not live with her mother in 1930, but with Hallie's parents. Whatever the circumstances, Hallie Young disappears from Uncle Johnnie's life by 1937. There is a claim filed against her name dated for March 1937.
[7] "Foley and Burke was a fifteen car railroad show, the only one in the west. It played the same locations every year, [as it was] limited to going where the railroad lines went." Source: www.sideshowworld.com.
[8] Billboard, 19 April 1952, 57.
Share this: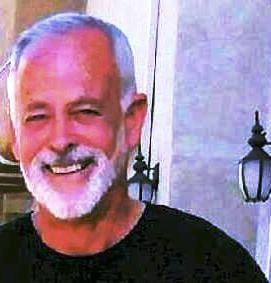 About Jeff Record
Jeff Record received a B.A. degree in Philosophy from Santa Clara University, and works as a teaching assistant with special needs children at a local school. He recently co-authored with Christopher C. Child, "William and Lydia (Swift) Young of Windham, Connecticut: A John Howland and Richard Warren Line," for the Mayflower Descendant. Jeff enjoys helping his ancestors complete their unfinished business, and successfully petitioned the Secretary of the Army to overturn a 150 year old dishonorable Civil War discharge. A former Elder with the Mother Lode Colony of Mayflower Descendants in the State of California, Jeff and his wife currently live with their Golden Retriever near California's Gold Country where he continues to explore, discover, and research family history.View all posts by Jeff Record →