Some of the most exciting news lately for people with New York State ancestry has been the releasing of the New York State vital records indices through the fantastic group Reclaim the Records.
For those unfamiliar with New York genealogy, the state of New York has two departments of health, one for New York City and one for the rest of the state (there are some additional caveats to this). New York State began mandating vital record reporting starting in June 1880, although compliance was slow at first.
The indices to these vital records (as late as permissible by state law) have been kept at several repositories on microfiche in New York state, but not online. For years, I have relied on the wonderful assistance of the Onondaga County Public Library in Syracuse, the staff of which has done free lookups in their index.
Through Freedom of Information requests, Reclaim the Records has obtained these indices, and even more recently Ancestry.com has made this available as a database. This is fantastic for anyone researching their New York ancestors after 1880.
My own challenge has been with trying to find the deaths of my great-great-great-grandparents, Steven Henry Shank and his wife Lurancy Perry of Allegany County, New York. Steven last appears in the 1880 U.S. census with his wife in Oramel, Allegany County. Oramel is a village within the town of Caneadea and borders Rushford. Years ago I visited the Rushford town hall and found that Lurancy (as a widow) married secondly in 1892 to a fellow widower named Rial V. Wheeler. I have not found Steven's death between those years of 1880 and 1892, but do understand early compliance was not always consistent.
...I looked at everyone named Wheeler and did wildcard searches for the first name Lur*.
More recently I discovered my ancestor Lurancy moved with her second husband to Allegany (the town) in Cattaraugus County, New York. I found their gravestones in Allegany Cemetery and her headstone above. Still, I could not find a reference to her death from people looking in the vital records index. I wondered if Lurancy might have died in Pennsylvania or somewhere else. When Reclaim the Records got the full index, I wanted to check the records again myself!
And still I could not find her death. Once Ancestry indexed the records, I looked at everyone named Wheeler and did wildcard searches for the first name Lur*. Still nothing. There were a few people named "Laura Wheeler," but she was not my person. I decided to see if the cemetery might have more information. It turned out the cemetery records were turned over to the town.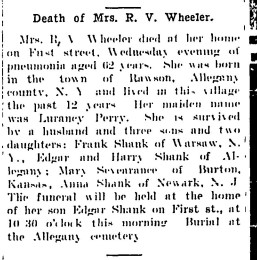 My e-mail to the town was quickly answered. While the cemetery records did not say anything further than what was on the stone, the clerk added that Lurancy's death appeared in the vital records of Allegany on 1 June 1904, plus her obituary from the Allegany Citizen mentioned, among others, Lurancy's daughter: my great-great-grandmother Mary Severance of Burrton, Kansas.
Clearly Lurancy had died in Allegany. Why couldn't I find her? In many of my talks on New York state research, I had stated that I had not found a case in the state after 1880 where either the town had the record and the state did not, or vice versa. Knowing the above information, I then searched Ancestry's new database for any death in 1904 in the town of Allegany, Cattaraugus County. There were only 37 of them. I found my ancestor Lurancy Wheeler, but indexed as "Queancy Wheeter." Looking at the index entry, one can begin to see the problem:

Now I'll go ahead and get my ancestor's death certificate, but in the meantime my ancestor Lurancy (Perry) (Shank) Wheeler can go by the pseudonym Queancy Wheeter.
*Thanks to Michael Meggison and Stephanie Guthrie for their assistance in this research.
Share this:

About Christopher C. Child
Chris Child has worked for various departments at NEHGS since 1997 and became a full-time employee in July 2003. He has been a member of NEHGS since the age of eleven. He has written several articles in American Ancestors, The New England Historical and Genealogical Register, and The Mayflower Descendant. He is the co-editor of The Ancestry of Catherine Middleton (NEHGS, 2011), co-author of The Descendants of Judge John Lowell of Newburyport, Massachusetts (Newbury Street Press, 2011) and Ancestors and Descendants of George Rufus and Alice Nelson Pratt (Newbury Street Press, 2013), and author of The Nelson Family of Rowley, Massachusetts (Newbury Street Press, 2014). Chris holds a B.A. in history from Drew University in Madison, New Jersey.View all posts by Christopher C. Child →