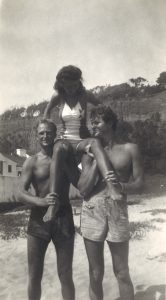 My photography collection recently took a decided step into new territory when I started acquiring vernacular photographs – images characterized, generally, by their lack of provenance and offering limited opportunities for identifying the subject. When I bought one large lot, though, I was surprised and pleased to find quite a lot of information on the reverse of the prints, enough that I am hopeful more can be learned about the people shown.
For starters, the (presumably female) scribe who wrote neatly on most of the prints dated them precisely: most are from 3 September 1944, with one or two from four days later. The focus of her interest is clear: Wayne Ehler, whose gymnastic endeavors she much admires. Two photos are marked in another hand, and perhaps this one is male, since he subtly denigrates Wayne and boasts of his own comparable accomplishments (not shown).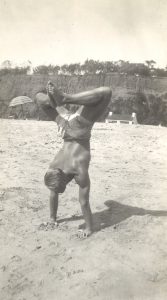 It looks like this lot of eleven images belongs together, although another two are unmarked.
Based on a hunch that this is a beach in Southern California, I went looking for a Wayne Ehler there, and found him in the 1940 Census living on Melbourne Avenue in Los Angeles with his parents, Otto and Pearl.[1] An Arthur Wayne Ehler, born in 1922, died in Los Angeles County in 1994 at the age of 71.[2]
Another suggestive find is the marriage of Arthur W. Ehler and Norma L. Karns in Los Angeles County in 1957,[3] since "Norma" is shown in one of the photographs – perhaps it is she who wrote the text on Wayne's 1944 photos, and she who was the focus of another suitor's jocular attempts to one-up a rival.
According to a list of University of Southern California alumni in physics,[4]  Dr. Arthur W. Ehler received his Ph.D in 1955, perhaps accounting for his late marriage, when he was 35. A further search turns up his February 1945 commissioning as an ensign in the U.S. Navy, and indicates he received a B.S. in Mechanical Engineering in 1947 and an M.S. in 1950, both, like his doctorate, from U.S.C.[5]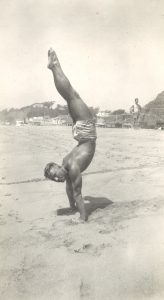 It all fits together nicely, and I wonder if it is so: that Wayne Ehler and some friends spent a couple of afternoons at the beach in 1944, while in 1945 he was commissioned into the Navy, thereby delaying his graduation from U.S.C. until 1947, after which he continued his work toward a Ph.D in physics. Perhaps, too, in marrying Norma Karns he was marrying an admirer from those long-ago days at the beach!
Perhaps someone out there knows…
Notes
[1] 1940 Federal Census, T627_393, p. 14B, E.D. 60-85. The roof-line of Marion Davies' Ocean House in Santa Monica can be seen in the background of some of the other photos.
[2] U.S. Social Security Applications and Claims Index, 1936-2007 [database on-line]; California Death Index, 1940-1997 [database on-line].
[3] California Marriage Index, 1949-1959 [database on-line].
[4] http://www.usc.edu/dept/physics/people/Alumni/E.html.
[5] http://homepages.rootsweb.ancestry.com/~uscnrotc/Decades/d-1940/c1945bio/b45EHL.htm.