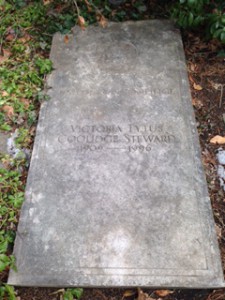 Riffing on something Chris Child wrote about collecting photos of family members in July, I thought I might do something similar with information about family burial plots. Such an exercise leans heavily on Findagrave.com (where some of the images may be found), although in my case I also have the notes compiled by my great-aunt Margaret Steward in 1966 as a resource for my research.
My grandparents are easy: my father's parents (and stepmother) are buried at Hamilton Cemetery in Massachusetts, while my mother's parents (and stepmother) are buried at Arlington National Cemetery in Virginia. I was present for my paternal grandfather's memorial service in 1991, my maternal grandfather's burial in 1994, and for my paternal step-grandmother's memorial service in 1996.
The further back one goes, the more complex the landscape becomes. My Steward great-grandparents were buried in the family burial ground in Goshen, New York, but when the family property there was sold – as recounted in Aunt Margaret's notes – their remains were moved to Slate Hill Cemetery, also in Goshen. My Ayer great-grandparents are buried in separate places; it's hard to know whether that reflects a cleavage in the relationship or just my great-grandfather's desire to be buried with his father and mother. In any case, my great-grandfather Ayer is buried in the family plot at Lowell Cemetery in Lowell, Massachusetts; his first wife is buried near my grandparents at Hamilton Cemetery; and his second wife – who outlived him by 43 years – lies with her family at Mount Auburn Cemetery in Cambridge, Massachusetts.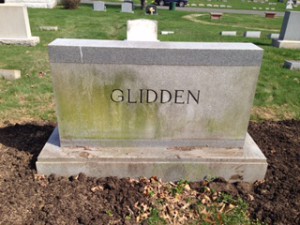 My Bell great-grandparents are buried at Forest Lawn Cemetery in Norfolk, Virginia; again, though, my maternal grandfather's parents were buried in the same plot, while his stepmother lies elsewhere, near her mother and brother. On the other hand, my estranged (perhaps even divorced) Glidden great-grandparents are buried together at Druid Ridge Cemetery in Pikesville, outside Baltimore; their daughter Miriam is there with them, while her husband is buried elsewhere with his family.
As Chris found, with great-great-grandparents the distances (and the absence of documentation) can prove troublesome. I assume the Stewards were moved to Slate Hill; the Beeckmans are buried with their son and daughter-in-law at Sleepy Hollow Cemetery in Sleepy Hollow (Tarrytown), New York. The Ayers – my great-great-grandfather, his two wives, one son (my great-grandfather), daughter, and son-in-law – lie in Lowell Cemetery. The Ilsleys are at Mount Pleasant Cemetery in Newark, New Jersey, as are their two sons.
My Bell great-great-grandparents, who died in Norfolk, are buried near my great-great-grandmother's family at Hollywood Cemetery in Richmond, Virginia. My rascal great-great-grandfather O. D. Jackson (1848–1915) lies at Forest Lawn Cemetery near his daughter (my great-grandmother), while I cannot find his widow – who moved to Phoenix and then Long Beach, surviving the great earthquake of 1933 and dying (as Jennie Waterman) in 1937 – in a California cemetery. My Glidden great-great-grandparents are buried at Lake View Cemetery in Cleveland, while my Boucher great-great-grandparents are to be found in a handsome plot at New Cathedral Cemetery in Baltimore County along with my matrilineal great-great-great-grandmother, Mary Josephine Eliza (McNulty) Malloy (1825?–1891).