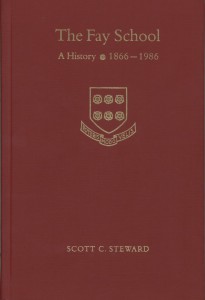 Genealogists can find useful information in a variety of unlikely places. Local histories, with their lists of nineteenth-century aldermen and the minutes of long-ago meetings, can be a valuable resource; so, too, can school and college histories. (NEHGS has a whole floor largely devoted to these two types of books.) My first book was a history of the nation's oldest elementary boarding school, and as a genealogist – as well as an historian – I made sure to include genealogical information about the school's founders and its headmasters, teachers, trustees, and students.
The Fay School in Southborough, Massachusetts, was founded almost 150 years ago by two sisters, Eliza Bell Burnett Fay (1826–1896) and Harriet Marcella Burnett (1832–1890). My book, The Fay School: A History, 1866–1986 (1988), followed the school chronology, but in the footnotes may be found full genealogical details of the founding Burnett and Fay families, among others.
Fay was a "dame school," founded by women, and I wanted to restore the Burnett sisters' mother, Dolly Bellows Burnett Little (1804–1887), to the position of prominence she enjoyed during her lifetime: it was her open purse that kept the school afloat in the early days. I spent a lot of time in the Worcester County Registry of Deeds, tracing the purchase and sale of the school lands in Southborough. Knowledge of the relationships between assorted family members was vitally important to understanding this step-by-step accumulation, and I included this information where appropriate in the book, both in the text and in the notes.
At the time I wrote the book, the school's history spanned more than 120 years, with some families – Burnetts, Choates, Harlows, and even Stewards – appearing on many of the volume's pages. It was a help to the history to explain and document who-was-who, and while the Fay family of Fay School line has now died out, my book provides an extended account of the descendants of Sylvester Chamberlain Fay and Eliza Bell Burnett, as well as Waldo Burnett Fay, who succeeded his mother as headmaster, and his wife Mary Elizabeth Winchester.
My approach is not unique, and I suspect that most school histories will have a similar emphasis, which is ideal for genealogical researchers seeking information on the location(s) in which the school (or college) operates.