William Boucher Jr. had children born over a period of forty years (1847–1887); his grandchildren were born between 1877 and 1925. Boucher's great-grandchildren span more than a half century: the first was born in 1911 and the last, so far as I can tell, in 1965. I am a great-great-grandchild, born in the 1960s, and I think it quite likely that a few more of us will be born later in the 2010s. This generation will span something like seventy years.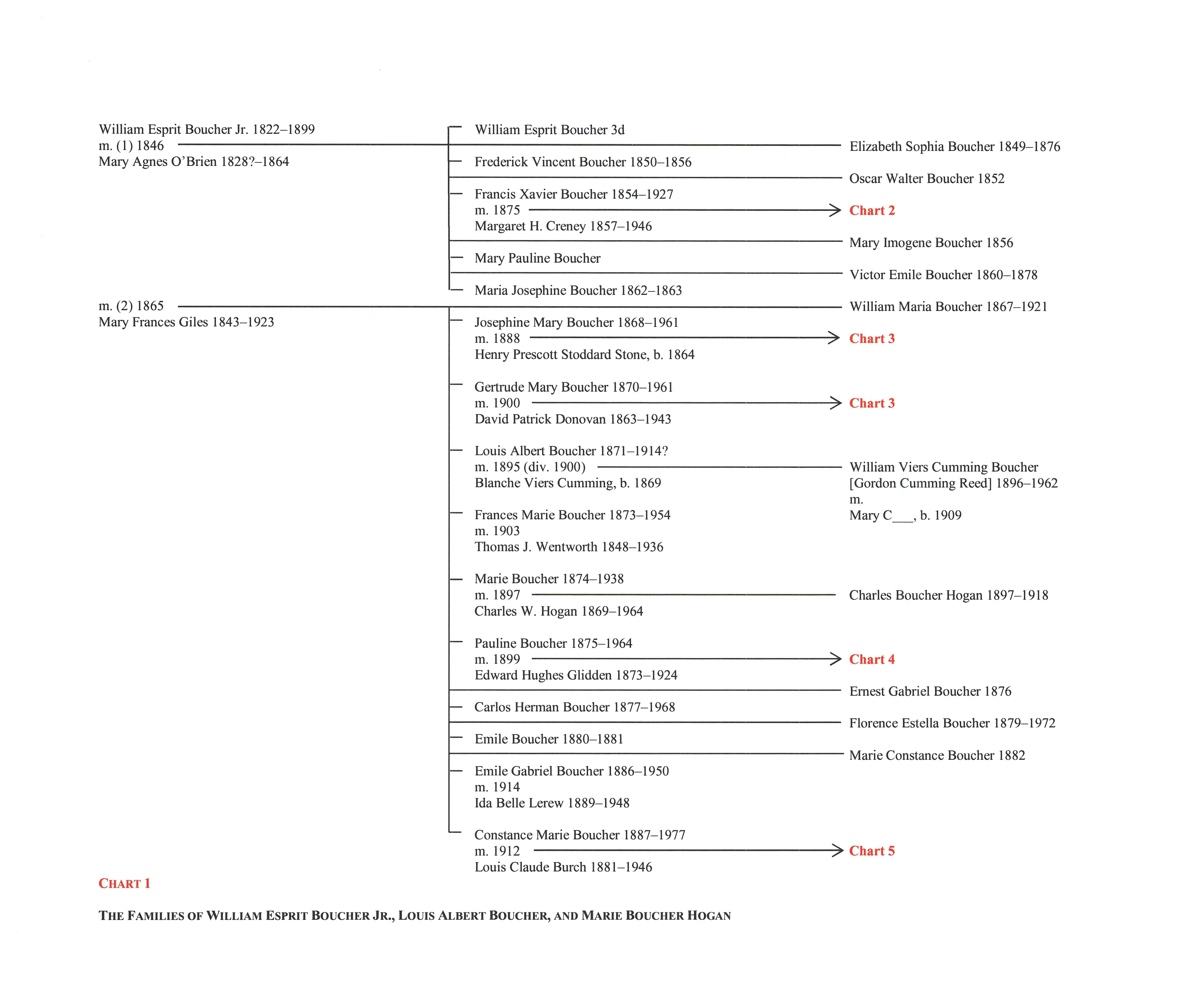 As part of organizing the Boucher reunion this year, I have been working with some of my cousins to identify William Boucher Jr.'s descendants. I find it useful to create charts to show relationships – for one thing, one can see some larger family dynamics when looking at siblings and cousins on the same page. I have created charts showing the children of William Boucher Jr. (twenty-three of them) and then individual charts for the five families with descendants living today.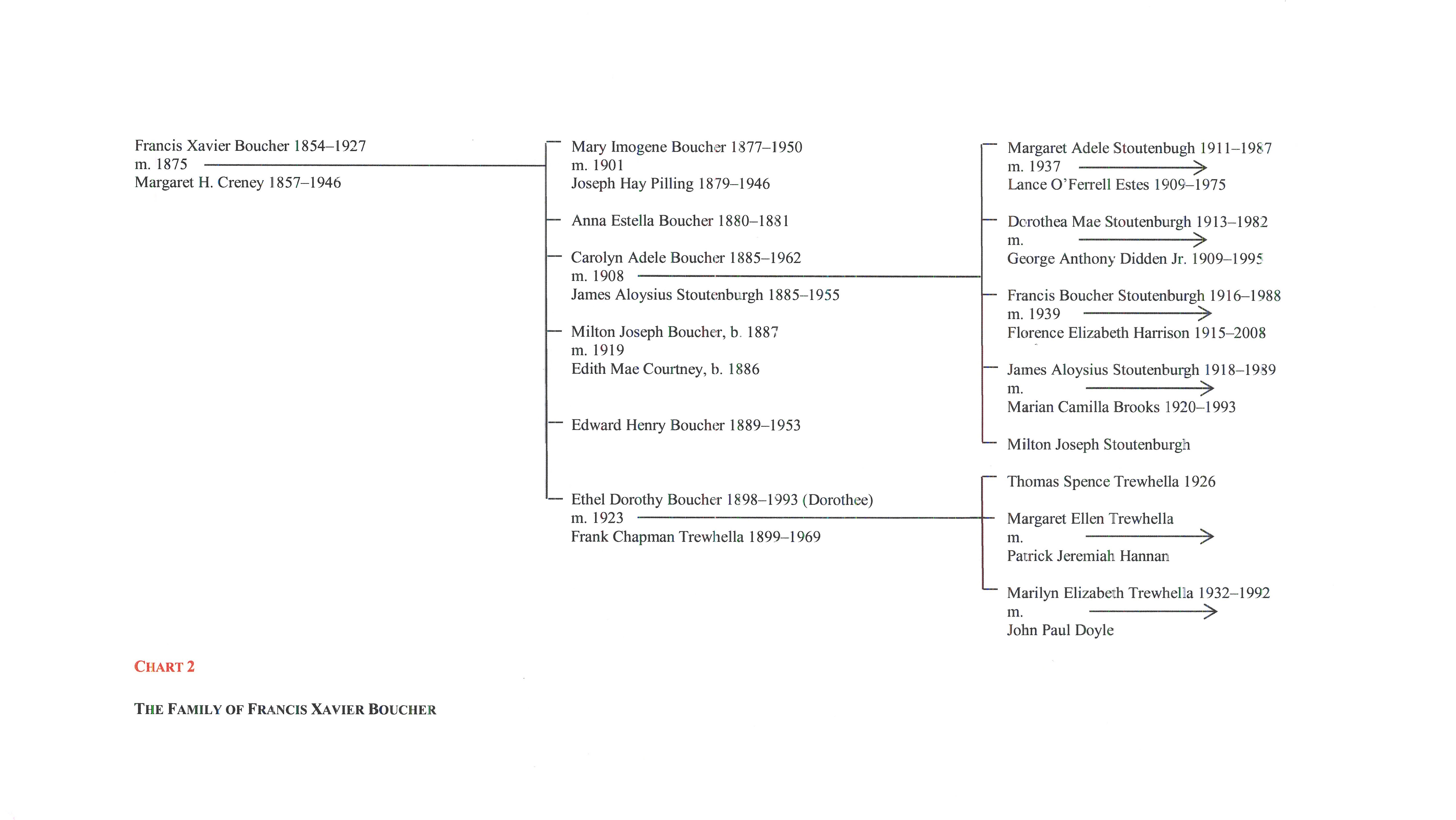 Francis Xavier Boucher (1854–1927) left Baltimore and moved to Washington, D.C.; many of his descendants – the Stoutenburghs, Trewhellas, Estes, Diddens, Hannans, and Doyles – settled in Northern Virginia.
The descendants of Josephine Mary (Boucher) Stone (1868–1961) stayed in the Baltimore area. Her progeny includes Brookses, Peterses, and Clarks.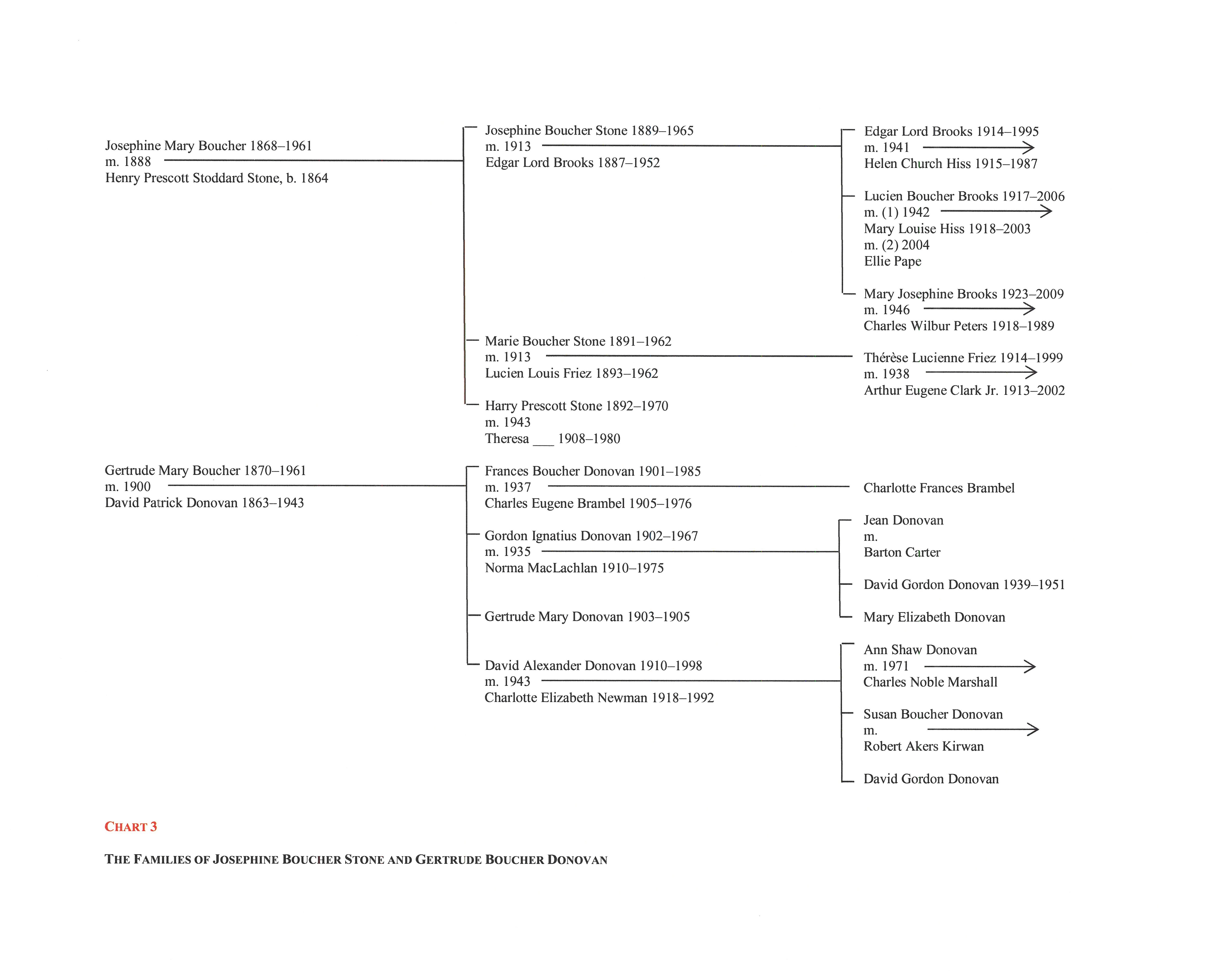 The family of Gertrude Mary (Boucher) Donovan (1870–1961) scattered to Indiana, New Jersey, and Pennsylvania, as well as Maryland. Her descendants include Donovans, Brambels, Carters, Marshalls, and Kirwans.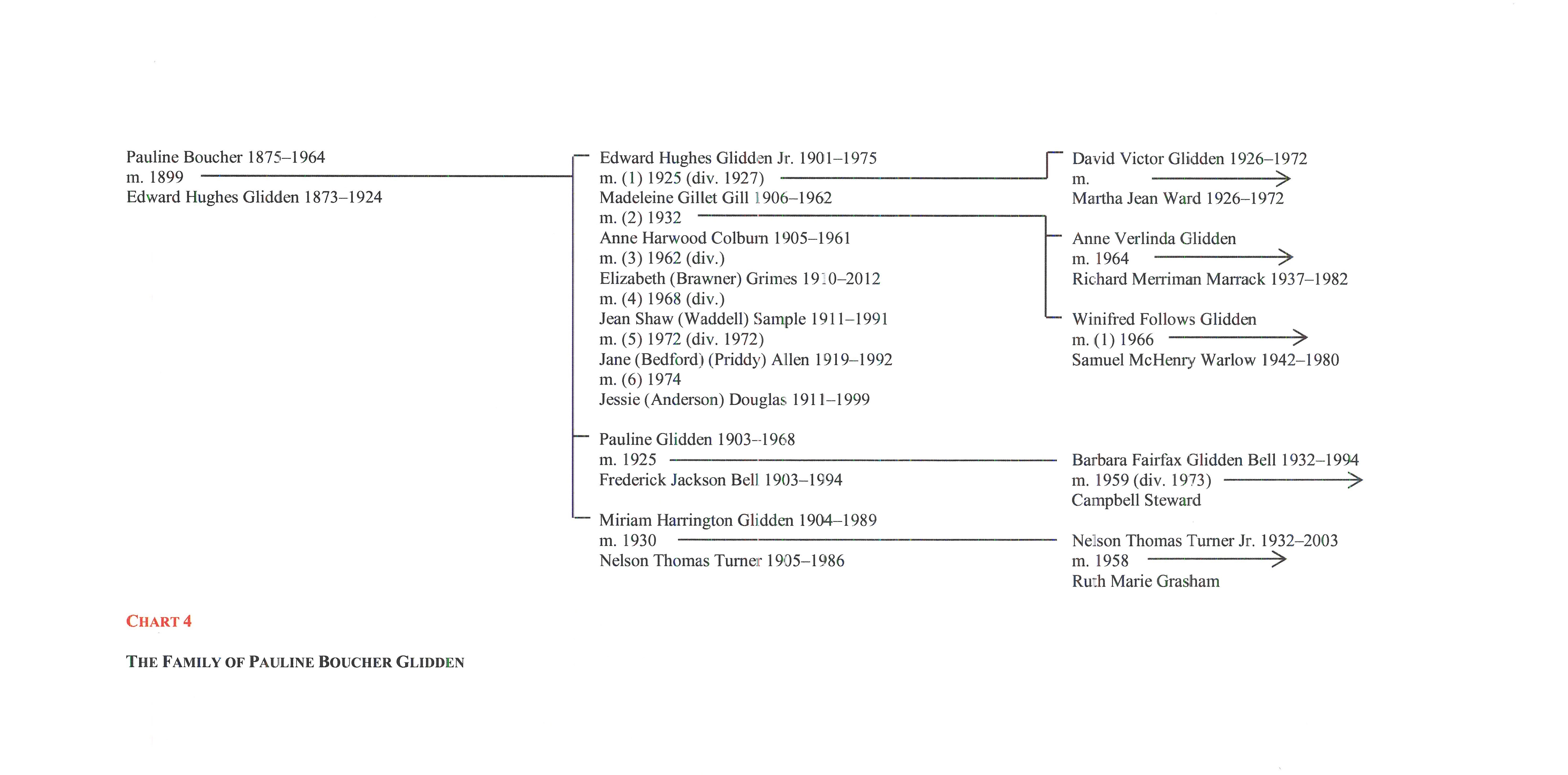 My great-grandmother, Pauline (Boucher) Glidden, has progeny in Maryland (Warlow and Turner), Delaware (Jackson), Georgia (Marrack), Massachusetts and California (Steward), and Maine (Campbell).
The descendants of Constance Marie (Boucher) Burch (1887–1977) have settled in Maryland, Pennsylvania, New York, and Wyoming. Their surnames include Burch, Plummer, Mollett, Jenkins, McGrain, Farrell, Marini, and Hayes.
By now the descendants of William Boucher Jr. and his two wives must number more than 200, of whom I have been able to trace about 175 to date. I suspect that the family has not really gathered together since 1923, when Frances Giles Boucher died, although even then her daughter Pauline Glidden missed the funeral, as my great-grandmother was traveling in Europe with my grandmother and great-aunt at the time. Perhaps, then, a family wedding (Constance Boucher and Claude Burch in 1912, or Adele Boucher and James Stoutenburgh in 1908) marked the last time the Bouchers gathered en masse: in which case, a family reunion is long overdue!
The series continues here.
Share this:

About Scott C. Steward
Scott C. Steward has been NEHGS' Editor-in-Chief since 2013. He is the author, co-author, or editor of genealogies of the Ayer, Le Roy, Lowell, Saltonstall, Thorndike, and Winthrop families. His articles have appeared in The New England Historical and Genealogical Register, NEXUS, New England Ancestors, American Ancestors, and The Pennsylvania Genealogical Magazine, and he has written book reviews for the Register, The New York Genealogical and Biographical Record, and the National Genealogical Society Quarterly.View all posts by Scott C. Steward →