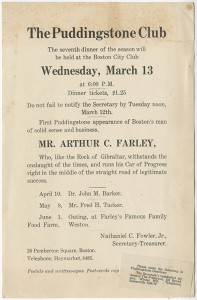 I am currently at work processing the Farley Family Papers, a large collection that includes hundreds of letters, photographs, estate records, and military records created by several generations of Farleys in Massachusetts. The wide variety of documents found in the collection creates a vivid picture of what life was like for this family. Among other things, this collection contains two long photographs, originally rolled together and stored in a tube, of the members of the Puddingstone Club, as well as letters from the club's members to Arthur Christopher Farley (1851-1919).
A partner in Farley, Harvey & Co., a dry goods company founded by his father, Arthur had joined the Puddingstone Club by June 1916, when he was included in a picture of the club's members on their annual outing at the home of his brother, William T. Farley, in Weston. Arthur is seated on the ground near the center of the photograph.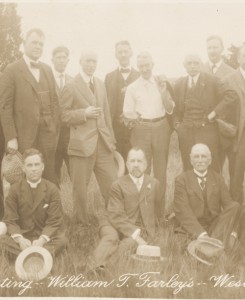 Two years later, Arthur was asked to be the toastmaster at the Puddingstone Club dinner of 13 March 1918. Several members of the club protested after the announcement. Six men wrote to Arthur, urging him to refuse to lead the meeting out of respect for the Puddingstone Club's high standards. One of the men was Arthur's brother, William, who wrote:
You'll only show up the family. Who ever heard of you presiding at anything! You can't even preside over your own household; Helen [Arthur's wife] does that even if you don't know it. Of course I wouldn't care how big an ass you made of yourself, if you could avoid dragging my name into it. Besides, I want a few to come to my picnic next June.
The other letters were similar in tone. While each letter claimed that Arthur was not fit to be toastmaster at a Puddingstone Club meeting, the letters were clearly written in jest and intended to be humorous. Nathaniel C. Fowler, Jr., the secretary and treasurer of the club, also wrote to Arthur:
I appointed you toastmaster for March 13th because of my respect for you and because I consider you a man of enormous mental capacity as well as of heavy financial weight… I have no objection to your appreciating my support, especially in a financial manner. Check or cash will be gratefully received.
Little information has been published about the Puddingstone Club, so these mementos of the club were difficult to understand at first, but apparently the humorous, mocking tone was typical. The club was established in 1903 as the Winship Club, and it became known as the Puddingstone Club in 1907. The club's members were "alleged literati," all well-educated and well-respected men in Boston society.
Many of the members were newspaper editors, professors, lawyers, and literary men, who met for dinner once a month. Nathaniel C. Fowler, Jr., wrote a novel, The Knockers' Club, in 1913, which was directly inspired by the Puddingstone Club and some of its members. Fowler wrote that the members of the club "make a specialty of knocking one another," or criticizing each other, whenever they met. Although Arthur C. Farley's letters and photographs from the Puddingstone Club do not contain any genealogical data, they do provide some clues about his social life and lifestyle.
The records of the Puddingstone Club, including some membership directories, are part of the manuscript collection at Houghton Library at Harvard University. The Society's processing of the Farley Family Papers (Mss 1100) will be completed and available to NEHGS members later this year.
Share this:

About Sally Benny
Sally Benny joined the staff of NEHGS in 2010 and works in the R. Stanton Avery Special Collections Department. She has an M.S. in library science with a concentration in Archives Management from Simmons College. She previously worked at the Schlesinger Library on the History of Women in America. Her interests include digital preservation; digitization; and genealogical research in Nantucket, Virginia, North Carolina, Cornwall, Finland, and Sweden.View all posts by Sally Benny →