I have been researching a group of Irish folks who came to Buffalo, New York by way of Montreal. Although the State of New York did not mandate vital registration until 1881, the city of Buffalo began keeping its own vital records decades earlier—deaths starting in 1852, marriages starting in 1877, and births starting in 1878. Encouraged by this broad availability, I ordered three death certificates from the city clerk's office to verify my research subjects and (hopefully) learn the names of their parents.
Of the three that I ordered, Jennie Franklin's is a model death certificate. Dated 16 Jan 1916, it lists her birthdate as 10 Jul 1868, her birthplace as Montreal, Canada, and her parents' names as John O'Leary and Catherine Masterson. But most impressive of all: rather than merely naming the parents' country of origin as Ireland, as I had expected, the record also lists their counties of origin: Tipperary County for John and Dublin County for Catherine. 1 Their parishes of origin were not listed, but I felt good about my research progress already. The informant on the death record is Jennie's husband, Arthur C. Franklin, who presumably supplied the information in Jennie's death notice as well. Next, I managed to locate the records that corroborated Arthur's knowledge of his wife's family: baptismal records for Jennie and her siblings, census records, and obituaries for other members of her family.
My other two orders resulted in some disappointment. One death record was not found. The other, for Mary Campbell, states she died on 05 Feb 1895 of peritonitis at the age of 51. 2 She was born in England, died at 473 Seneca Street, and was buried at Forest Lawn Cemetery. Cross-referencing her death notice, I verified that Mary Campbell had formerly been the widow of Joseph Neill, but otherwise learned nothing beyond what had been provided in her death record. 3
It was only when I found records from Buffalo's Forest Lawn Cemetery that I realized my good fortune to be researching someone who was interred there. Forest Lawn maintains a current, professionally-designed website which includes a searchable online burials database. Even better, according to said website, Forest Lawn is the steward of "the most extensive collection of cremation and burial documents in Western New York, including the most comprehensive family archives." Their database not only includes burials and cremations at Forest Lawn, but also St. Matthews in West Seneca, Lakeside in Hamburg, Lancaster Rural Cemetery, Williamsville Cemetery, and Gethsemane (also in Williamsville). Users can search the database by last name, first name, death year, and cemetery.
There she was: Mary Campbell, died 05 Jan 1895, buried in Section 39. But this database isn't simply an index of burials and cremations—it also provides links to digital images of burial permits, lot registers, and death registers! I was able to view the page of the city death register in which Mary Campbell appears, which provided the exact same information I had obtained from the city clerk's office.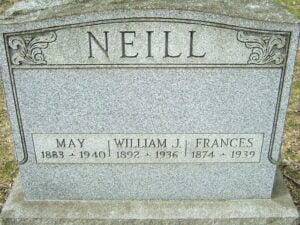 Many individuals with the surname "Neill" are buried at Forest Lawn. Having learned the names of Mary Campbell's children with her first husband Joseph Neill from census records, I tried searching for them in the burials database. One daughter, Frances C Neill, died on 31 May 1939 and was buried the following day. I did not see her listed in an extract from the death register pages of the "N" surnames, but her burial permit gives her age as 64 years, 9 months, and 9 days, her birthplace as Buffalo, and her parents' names as Joseph Neill and Mary Travis. 4 The burial permit for her sister, May Neill, lists the same parents' names and the nearest relative as Cora Austin, another married sister. 5 These permits list not only the lot owner, but also the relationship of the deceased to the lot owner. The lot register for no. 389 shows that Frances Neill bought the lot on 26 Jun 1936, four days after the death of William J Neill. Three individuals are buried here as listed in the following record:6

Without checking the lot register, I would not have noticed a discrepancy in the burial permits for William, Frances, and May Neill. As stated previously, burial permits for both Frances C Neill and May Neill list their parents' names as Joseph Neill and Mary Travis. William J Neil, born 15 Jul 1892 at Buffalo, is referred to as the son of Frances C Neill, but his burial permit lists his parents as Joseph Neill and Frances Travis.7
Calculating the age on the burial permit for Frances C, she was born 23 Aug 1874. Indeed, "Francie" Neal [sic] appears in the 1880 census of Buffalo with her parents Joseph Neal and Mary A Neal, and siblings Margaret, Jane, Joseph, John, Samuel, Cora, Henry, "Essa" [Esther], William, and Susan. 8 In the 1892 census of Buffalo, Francis Neil [sic], age 20 and about five months pregnant, lived in the household of her brother-in-law John Leary [sic], age 28, her sister Margaret Leary, age 25, and their son Frank Leary, age 6. 9 This census was enumerated in February 1892—Frances's son William would be born four months later. By 1900, eight-year-old William Neill lived with four of his unmarried maternal aunts and uncles: Jane, William, Susan, and May Neill.
Based on the evidence in census records and obituaries, it seems likely that William's mother was the unmarried Frances C. Neill, and that the "father" named on his burial permit was actually his maternal grandfather. The surname "Travis" was that of Frances Neill's mother, Mary (Travis) Neill Campbell. No informant is listed for the burial permit information, but whoever gave these names for William's parents may have repeated incorrect information conveyed by William himself.
In the case of the Neill family of Buffalo, burial permits and lot registers confirm the relationship between sisters Frances C. Neill and May Neill, and led to a closer examination of William J Neill. I never would have put the puzzle together if not for Forest Lawn Cemetery's collections, which offer researchers digital access to death registers, burial permits and lot registers, unique record types that are often difficult or impossible to locate online. You can search Forest Lawn's collections at their website.
Notes
1 Death certificate for Jennie Franklin, d. 16 Jan 1916, Buffalo, Erie County, New York, no. 400.
2 "Death Work Sheet" for Mary Campbell, d. 05 Feb 1895, Buffalo, Erie County, New York, page 53.
3 Death notice for Mary Campbell, widow of Joseph Neill, Buffalo News, 06 Feb 1895, page 1.
4 Forest Lawn Cemetery. Burial permit for Frances C Neill, 01 Jun 1939, permit no. 6904.
5 Forest Lawn Cemetery. Burial permit for May Neill, 06 Jan 1940, permit no. 430.
6 Forest Lawn Cemetery. Lot register, Division: W. Pt, Lot No. 389, Section 20, purchased by Frances Neill on 26 Jun 1936.
7 Forest Lawn Cemetery. Burial permit for William J Neill, 22 Jun 1936, permit no. 3667.
8 1880 United States Federal Census; Buffalo, Erie County, New York; dwelling 3, family 5, household of Joseph Neal; image 1/43 (Ancestry).
9 New York, U.S., State Census, 1892; Enumeration District 5, Buffalo Ward 19, Erie County; image 12/13 (Ancestry).
Share this: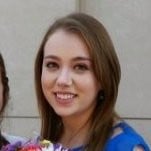 About Jennifer Shakshober
Jen Shakshober earned a dual BA in English and Economics from Westfield State University, an MFA in Creative Nonfiction from Bennington College, and a certificate in Genealogical Research from Boston University. She is currently pursuing an MLIS in Archives Management from Simmons University. Her past research has involved nineteenth and twentieth-century Vermont records from local and state-level repositories. Most recently she wrote two articles about the murder of labor organizer Joseph Shoemaker for The Walloomsack Review, a biannual publication of the Bennington (Vt.) Museum, and she is always interested in crafting narrative genealogical reports.View all posts by Jennifer Shakshober →