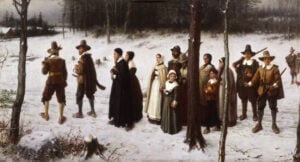 An occasional project I have worked on is compiling a list of "near- Mayflower" families. These are families who were not on the 1620 voyage themselves, but most or all of whose present-day descendants share Mayflower ancestry. There are easy cases at the first or second generation like Robert Cushman (whose only surviving child Thomas married passenger Mary Allerton), Thomas Little (who married Ann Warren, daughter of passenger Richard Warren), and my ancestor Christian Penn (spouse of passengers Francis Eaton and Francis Billington). Others are more complicated.
My serial article in the Mayflower Descendant on the Orcutt family of Scituate, Bridgewater, and Weymouth, Massachusetts has shown that of William and Martha (Lane) Orcutt's 47 grandchildren born between 1693 and 1727, two were themselves descendants of Francis Cooke, and 8 other grandchildren married descendants of the Chilton, Cooke, or Priest families. The number of Mayflower marriages increases further in the next two generations.
Philip Delano, who arrived on the Fortune in 1621, boasts the only non-Mayflower genealogy published by the Mayflower Society . Through that series, the number of intermarriages is numerous. Philip had nine children, resulting in 52 grandchildren, 33 of whom were of Mayflower descent (Alden, Soule, Mullins, Standish, and Warren). Of Philip's 213 great-grandchildren in the next generation, 170 were of Mayflower descent (adding Brewster, Doty, and Samson), many of them in multiple ways. It is possible to be a Delano descendant and have no Mayflower ancestry, but it is less likely.
Now for the Snow family. There were three Snow immigrants to Plymouth Colony, and each of these men had wives of Mayflower descent. Nicholas Snow of Plymouth and Eastham, who arrived on the Anne in 1623, married passenger Constance Hopkins (daughter of passenger Stephen), and their descendants are quite numerous. Anthony Snow of Plymouth and Marshfield arrived by 1637 and married Abigail Warren, daughter of passenger Richard Warren . The last was William Snow of Plymouth and Bridgewater, who was here by 1638 and married Rebecca Brown, daughter of passenger Peter Brown .
Whether any of these three "Snow men" were related to one another is unclear. The origins of Anthony and William are unknown, and Nicholas Snow could be the same individual as a Nicholas Snow baptized at Leonard Shoreditch, Middlesex, 25 January 1599/1600, son of Nicholas and Elizabeth (Rowlles) Snow.[1] Peter Brown, Stephen Hopkins, and Richard Warren all survived the first winter in Plymouth, and within thirty-five years the three men all had sons-in-law with the same wintry surname.
Note
[1] Clarence Almon Torrey, " Nicholas1 Snow's Mother ," The American Genealogist, 14 (1938): 229.
Share this:

About Christopher C. Child
Chris Child has worked for various departments at NEHGS since 1997 and became a full-time employee in July 2003. He has been a member of NEHGS since the age of eleven. He has written several articles in American Ancestors, The New England Historical and Genealogical Register, and The Mayflower Descendant. He is the co-editor of The Ancestry of Catherine Middleton (NEHGS, 2011), co-author of The Descendants of Judge John Lowell of Newburyport, Massachusetts (Newbury Street Press, 2011) and Ancestors and Descendants of George Rufus and Alice Nelson Pratt (Newbury Street Press, 2013), and author of The Nelson Family of Rowley, Massachusetts (Newbury Street Press, 2014). Chris holds a B.A. in history from Drew University in Madison, New Jersey.View all posts by Christopher C. Child →