Reading Chris Child's last post inspired me to look at some of my own patriotic connections among ye olde branches. Unfortunately, most of what I find are the same mythic characters and stories I've looked at before, and those contain little to no proof. I tend to discover individuals and/or "stories" that (only) might connect my family to patriotic acts or kinfolk. As with any aspect of genealogy, discerning what's real (patriotic or otherwise) or that which boils down to wishful thinking can be tough. Because of this, I figured it might be a good time to attempt some of what I like to call family history "myth-busting."
One of those connections (and potential myths) is a naming tradition found in my Clark family. If the myth "holds true," it's a connection that links those lines to the fifth vice president of the United States, Elbridge Gerry.[1]. Discerning the truth here though may take some heavy "gerrymandering" to find what's really behind this family legend.[2]
In the Clark family, the name "Elbridge Gerry" has been a popular one. Indeed, naming babies after this vice-president and governor of Massachusetts was a popular choice for not only the Clarks but for many other early nineteenth-century families. By rough estimate, at least 10 "Clark" baby boys were named some variation of "Elbridge G. Clark" between the years 1800 to 1820 in the state of Massachusetts alone.[3] My particular Clark line contains at least two early nineteenth-century native sons named "Elbridge Gerry Clark."[4]
Distinguishing between the different men called "Elbridge Gerry Clark'' among the various Clark branches is also a challenge. Massachusetts birth records even show (what looks to be) two "Elbridge Gerry Clarks" born the same day, March 10, 1810. However, the possibility of my Clark family connection to the father of gerrymandering isn't limited to distinguishing the persons saddled with some ill-defined nomenclature among the Clark men. My problem has been unraveling just how "my" particular "Elbridge Gerry Clark"[5] came to be called so in the first place.
I first encountered Elbridge Gerry Clark in the Patten genealogy.[6] "Elbridge Clark" was the third son of my great-great-great-great-great-grandparents, John Clark and Prudence (Merritt) Clark. His birth is recorded in Spencer, Worcester County, Massachusetts on March 10, 1810, where his parents are named.[7] This record is consistent with the information on the family in the Patten genealogy and elsewhere. While not the best source for citations, the Patten genealogy is a decent compilation of anecdotal Clark family history and lore. Written in 1990, it relates the tale about why "Elbridge was named Elbridge,'' but can read as if it were written alongside those flattering genealogical tomes of the 1880s. While providing some clues, the statements made about the naming of Elbridge Gerry Clark really just don't seem to go anywhere:

Using a broad paint stroke for proof, it's clear that "an in-law of the Merritt family" means just about anyone who ever married a Gerry, Clark, or Merritt. A look at the generations surrounding these families led to no clear connection between the father of gerrymandering and my own "Uncle Elbridge." It's also difficult to discern "which Elbridge was which" among the entirety of the Clark clan. With two men named "Elbridge Gerry Clark" born on the same day in Massachusetts, it's conceivable that the author of Patten genealogy mixed up our Uncle Elbridge with someone else's. While the Patten genealogy is specific in that he was "an in-law of the Merritt family," I think it's safe to say I'm gonna need a whole lot more proof.
The next mention of my "Uncle Elbridge" is found in History of LaSalle County, Illinois and is almost as cryptic as the last.[8] In this next passage, the relationship is narrowed down a bit further. This particular "Elbridge" story loses any family surname connecting the Gerry family to the Clarks. It is, however, filled with other interesting clues that might solve (or debunk) the myth of Elbridge. Most notably it refers to the vice president as "the uncle" of Elbridge Gerry Clark, but the relationship is still not clear: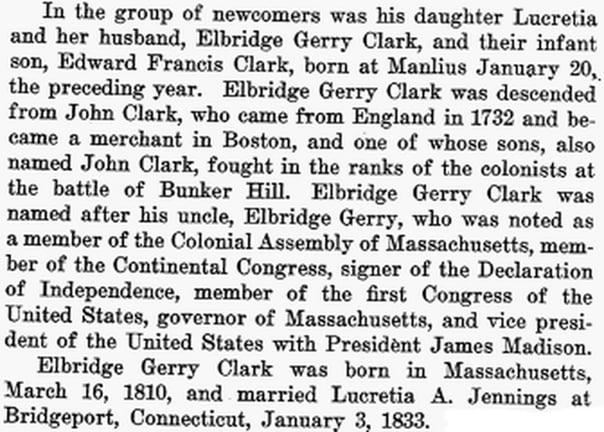 The phrase "Elbridge Gerry Clark was named after his uncle Elbridge Gerry" doesn't indicate which generation "that uncle" came from. While it is easy to assume that this uncle was possibly his mother's brother-in-law, it's just as easy to consider that "his uncle, Elbridge Gerry" was a relationship connected to a senior member of his father John Clark's family and not his mother's relative at all. Further, Elbridge Gerry Clark may have been named after someone who only "served" like an uncle and simply had the same name.
The clues in this county's history may only reflect ardent family hearsay. For instance, while it is true that there was an "Elbridge Clark who was the son of John Clark who was in turn the son of another John Clark," the biography claims without references that this latter John Clark came from England in 1732. (All other indicators show that my Elbridge's ancestor had been here long before.) There are also claims that Elbridge Gerry Clark's father John fought at Bunker Hill. Again, so far nothing has come to light indicating that "our" John Clark was ever at Bunker Hill. There is also no mention of Elbridge Gerry Clark's mother, or her family (the Merritts), which compounds resolving the myth or aligning it with the Patten genealogy.
It seems reasonable that the man in the county biography is likely the same man in the Patten genealogy.
The birth date of March 16, 1810 for "Elbridge Gerry Clark" in the county history reconciles fairly well with the Spencer, Massachusetts birth record of March 10, 1810. The birth record also agrees with the county history's account that Elbridge's father's name was John. The county history also follows the Patten genealogy in that Elbridge Gerry Clark also came from a succession of men named John Clark. It seems reasonable that the man in the county biography is likely the same man in the Patten genealogy.[9] (The only other "Elbridge G. Clark," born March 10, 1810, at Grafton, Worcester Co., Mass., verifies as a completely different man.[10]) While I haven't proven it, I am fairly comfortable that Elbridge Gerry Clark was named after a family member who was (also) likely his mother's relative. However, this is where any comfortable assumptions stop. Naming someone after a vice president doesn't imply any more of a close relationship than it would if my next grandson were named "Donald Trump Record." There absolutely, positively, isn't one.
Elbridge Gerry Clark died in 1847. The LaSalle county history was compiled in 1924 with the information compiled from the memories of his daughter Hannah, who was twelve years old at the time of her father's death. Recounting a family's history through a child's memories (and hearsay) so many years after the fact makes it easy to see how dates and relationships get a little bit fuzzy. It's also easy to see how the myth surrounding her father's name may have grown in the intervening seventy-five years between his death and her telling the tale.
I suppose the truth here is that while I've examined the myth of Elbridge's name I've done little more than pick apart its components. It is interesting that the 1990 Patten genealogy and in the 1924 county history have both perpetuated a narrative that can only be described as "mythical." I think there were many families of the time who wanted to have their son grow up and be a successful statesman like Elbridge Gerry. I think that linking the name of a famous American to one's child was just a simple accolade. The myths that grow up around these "named" characters can be formidable. It's really quite amazing, too, that without proof, the name of Elbridge Gerry has been copied and pasted in some form or another into my family's tree for over two hundred years now. So here's to you, "Uncle Elbridge," whoever you are. May the proof of our kinship come out someday, or the myth of it all finally be broken.
Notes
[1] Vice President Elbridge Gerry (1744-1814).
[2] Per Wikipedia: "The term gerrymandering is named after American politician Elbridge Gerry, Vice President of the United States at the time of his death, who, as Governor of Massachusetts in 1812, signed a bill that created a partisan district in the Boston area that was compared to the shape of a mythological salamander."
[3] As reflected in a quick search of Massachusetts birth records on Ancestry.com for that time period.
[4] Elbridge Gerry Clark (1858-1936).
[5] Elbridge Gerry Clark (1810-1847).
[6] Malcolm Clark Patten, Patten Genealogy: An Elaboration Upon One Line Descending from William Patten of Cambridge, 1635 (Newport Beach, Calif.: Powell & Taylor Publishing Company, 1990), 229.
[7] "Elbridge Clark," in the Massachusetts, U.S., Town and Vital Records, 1620-1988 on Ancestry.com.
[8] Michael Cyprian O'Byrne, History of LaSalle County, Illinois (Chicago and New York: The Lewis Publishing, Co., 1924), 3: 619-22.
[9] It should also be noted that the March 10, 1810, birth record for "Elbridge Clark" in Spencer, Worcester Co., Mass., while listing his father as "John Clark," does not list his middle name as "Gerry" or even a middle initial of "G." All this again leads me to wonder if I indeed do have the correct "Elbridge Gerry Clark."
[10] Elbridge Gerry Clark (1810-1877). See FindAGrave.com memorial no. 175390195.
Share this: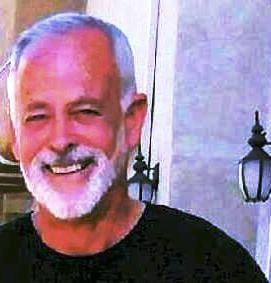 About Jeff Record
Jeff Record received a B.A. degree in Philosophy from Santa Clara University, and works as a teaching assistant with special needs children at a local school. He recently co-authored with Christopher C. Child, "William and Lydia (Swift) Young of Windham, Connecticut: A John Howland and Richard Warren Line," for the Mayflower Descendant. Jeff enjoys helping his ancestors complete their unfinished business, and successfully petitioned the Secretary of the Army to overturn a 150 year old dishonorable Civil War discharge. A former Elder with the Mother Lode Colony of Mayflower Descendants in the State of California, Jeff and his wife currently live with their Golden Retriever near California's Gold Country where he continues to explore, discover, and research family history.View all posts by Jeff Record →