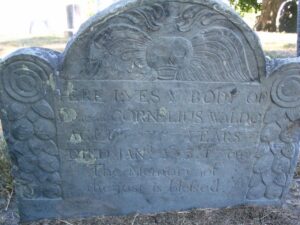 Over the fall, our daughters took an art class at the Museum of Fine Arts each Sunday. This gave my wife and me two hours to stroll around the museum, enjoy a leisurely lunch or, weather permitting, enjoy the outdoors. While visiting a section of Japanese art, I noticed a lot of the art work was donated by American art collector Denman Waldo Ross (1853-1935), a trustee of the museum. I have encountered Ross's middle name of Waldo several times over the years, and for New Englanders this usually indicates a descent from Cornelius Waldo of Ipswich and Chelmsford, Massachusetts.
Cornelius Waldo first appears in New England in 1647 living in Ipswich. He married Hannah Cogswell by 2 January 1651/52, when Hannah's father conveyed land to "my sonne in law Cornelius Waldoe…" The Waldo family moved to Chelmsford by about 1668, and Cornelius died there in 1700. Hannah died four years later in Charlestown, Massachusetts, where she had probably moved to live with her daughter Rebecca.[1]
Hannah (Cogswell) Waldo was the daughter of John and Elizabeth (Thompson) Cogswell, who were natives of Westbury Leigh, Wiltshire. The Cogswell family arrived on the ill-fated Angel Gabriel, which "burst to pieces and [was] cast away" in a storm at Pemaquid in August 1635. The Cogswell family survived (although some of their provisions did not) and soon settled in Ipswich. In a prior post, I noted how Hannah's brother William Cogswell was an ancestor of U.S. Secretary of Transportation Pete Buttigieg, Presidents John and John Quincy Adams, and Diana, Princess of Wales and her sons William and Harry. All descendants of Cornelius Waldo would likewise be related to those individuals.
The Cogswell family survived (although some of their provisions did not) and soon settled in Ipswich.
Besides Denman Waldo Ross, other Waldo descendants include President Calvin Coolidge, First Lady Mamie Eisenhower, and the transcendentalist Ralph Waldo Emerson (1803-1882). Emerson's legacy has also led to numerous namesake individuals carrying Waldo as a middle name who are likely not descendants of Cornelius (see my post on Presidential surnames), as findagrave has gravestones of more than one hundred later men named Ralph Waldo Emerson![2]
Cornelius and Hannah are also ancestors of the genealogist Waldo Lincoln (1849-1933), who served on the NEHGS council and other committees, and was president of the American Antiquarian Society 1907-27. He authored two lengthy genealogies, appropriately on the Waldo (1902) and Lincoln (1923) families, the latter of which included in the New England descent of President Abraham Lincoln.
I had expected to include the genealogist Waldo Chamberlain Sprague (1903-1960) as another Waldo descendant. Items at NEHGS by Sprague are much more substantial (45 items in our catalogue), although nearly all of them derive from manuscript material he donated to NEHGS. Sprague served as Historian General of the Mayflower Society and was particularly focused on genealogies of families in his hometown of Quincy in relation to its parent town of Braintree. Sprague's Genealogies of the Families of Braintree, Mass., 1640-1850 was microfilmed by NEHGS in 1983, and reformatted into Register style in 2001, and is now available on our website, serving as the go-to sources for colonial families of Braintree and Norfolk County broadly. However, in reviewing Sprague's ancestry, I could not find any connection to the Waldo family, even in searching relatives by marriage. I also learned he did not descend from the Sprague family either, as his grandfather Alfred White Chamberlain (1821-1891) changed his surname to Sprague in 1849, so it appears Waldo Chamberlain Sprague was neither a Waldo or a Sprague!
How many times do you see Waldo in the chart below?
*
Additional sources for Chart: Gary Boyd Roberts, Ancestors of American Presidents, 626-27; Waldo Lincoln, Genealogy of the Waldo Family, 1: 12-21, 24-38, 41-49, 64-66, 69-75, 84-88, 105-6, 158-63, 201-3, 272-79, 313-15, 463-64, 2: 659-60.
Notes
[1] Waldo Lincoln, Genealogy of the Waldo Family, 1: 12-21.
[2] The 1900 Census has at least 64 men named Ralph W. Emerson, all born after Emerson's birth.
Share this:

About Christopher C. Child
Chris Child has worked for various departments at NEHGS since 1997 and became a full-time employee in July 2003. He has been a member of NEHGS since the age of eleven. He has written several articles in American Ancestors, The New England Historical and Genealogical Register, and The Mayflower Descendant. He is the co-editor of The Ancestry of Catherine Middleton (NEHGS, 2011), co-author of The Descendants of Judge John Lowell of Newburyport, Massachusetts (Newbury Street Press, 2011) and Ancestors and Descendants of George Rufus and Alice Nelson Pratt (Newbury Street Press, 2013), and author of The Nelson Family of Rowley, Massachusetts (Newbury Street Press, 2014). Chris holds a B.A. in history from Drew University in Madison, New Jersey.View all posts by Christopher C. Child →