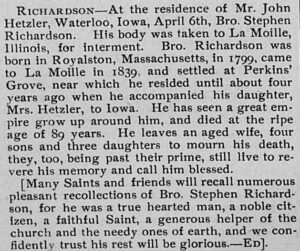 When I have given lectures and consultations on migrations into and out of New England, a frequent topic of discussion regards the question of whether the migration was religiously or economically motivated. For the period of The Great Migration into New England from 1620-1640, the settlements by the English Separatists and Puritans were overwhelmingly religious (not for religious freedom, but to practice their religion the way as they wanted). Several "second-generation" settlements like Hartford and New Haven, Connecticut, and even migrations out of New England to Dorchester, South Carolina, were also religiously motivated, following a minister to a new town. By the mid-eighteenth and early nineteenth century, migrations out of New England were largely economically motivated for cheaper land and other factors. Still, occasionally a religiously motivated migration occurs, and sometimes they are at first difficult to spot.
In the case of my mother's ancestors making their way to Kansas from states from Maine to Virginia, it appears the migrations to the Midwest were likewise economic. I have traced the ancestry of the spouses of my mother's siblings, who are also mostly from the Midwest, and have found similar patterns in their ancestry. This post regards a section of the ancestry of my uncle's former wife (and mother of three of my first cousins), who is from Iowa. Much of her ancestry is ultimately from New England, migrating along the northern states, along with some German and Ulster Scot ancestors that made their way to Iowa in the mid-nineteenth century.
One of my aunt's New England lines went back to the Towne family of Topsfield, Massachusetts, descending from William and Joanna (Blessing) Towne, who arrived in New England in 1639. Three of their daughters – Mary (Towne) Easty, Rebecca (Towne) Nurse, and Sarah (Towne) Cloyce – would be accused of witchcraft at Salem in 1692, and Mary and Rebecca were hanged. My father also descends from William and Joanna through their son Jacob, while my aunt descends from their sons Edmund and Joseph, as well as their executed daughter Mary. This kinship makes my three first cousins also my eleventh cousins, three times over.
For my aunt, her Towne descents go through her great-great-great-grandfather Stephen Richardson (1799-1888). Stephen was born in Massachusetts, married Erepta Wilder in Vermont in 1825, and died in Waterloo, Iowa. While I had all the "genealogical facts" about Stephen and Erepta, I did not know anything in particular about their lives (they are not my ancestors), only that they left New England for the Midwest, for what my aunt had assumed (like most of the rest of her ancestry) were economic reasons. Not so fast.
While I had all the "genealogical facts" about Stephen and Erepta, I did not know anything particular about their lives...
In a conversation with one of my cousins regarding our shared Civil War ancestors through my mother and their father, my cousin was interested about Civil War ancestors on her mother's side. In searching what I had, I researched her ancestor John Hetzler (1819-1901), who was Stephen Richardson's son-in-law, as John would have been the appropriate age to have served in the Civil War, if also slightly older than many. While John did not serve in the Civil War, in searching records on him and his wife, I noticed two "leaf hints" on Ancestry.com, but to two databases I was not expecting: "Membership of the Church of Jesus Christ of Latter-day Saints, 1830-1848" and "Early Members of the Reorganized Church of Jesus Christ of Latter Day Saints."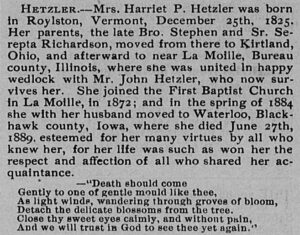 John Hetzler's obituary had said he was a Baptist, but after perusing these databases, I learned his wife Harriet Parmenter Richardson (1825-1889), her parents Stephen and Erepta, and their eight younger children were all early members of the Latter-day Saints. This was the reason Stephen and Erepta left New England for the Midwest! The Richardson family joined the church at Orleans, Vermont in 1832. Stephen was baptized by Lyman Johnson and was soon ordained a high priest. By this point, Stephen and Erepta had four children, all born in New Hampshire between 1825 and 1831. They had two more children in New Hampshire in 1833 and 1836, but by 1838 (when their seventh child was born) they were in Ohio near the early Latter-day Saint settlement of Kirtland. The Richardson family moved to La Moille, Illinois in 1839 (where they had their last two children), while the larger group of Latter-day Saints went to Commerce, Illinois the same year, and renamed the town Nauvoo in 1840.
After Joseph and Hyrum Smith's murder in 1844, the Latter-day Saint movement went into a succession crisis over who would lead the church. The leading contenders were Sidney Rigdon, James Strang, and Brigham Young. The Nauvoo temple, still not completed at the time of Joseph Smith's death, was only in use for about three months in the winter of 1845-46, before the Latter-day Saints were forced out of Nauvoo due to increasing mob violence. Stephen Richardson received his endowment at the Nauvoo temple on 9 January 1846.
The Richardson family joined this group, except for the second child Elizabeth...
The majority of Latter-day Saints followed Brigham Young to Utah, while smaller groups went with Sidney Rigdon to Pittsburgh and James Strang to Wisconsin. The Richardson family remained in Illinois. Members of the church who did not follow any of these leaders out of Illinois began to come together in the 1850s, and in 1860 had coalesced under the leadership of Joseph Smith's son Joseph Smith III (who was only eleven at the time of his father's murder) as the Reorganized Church of Jesus Christ of Latter Day Saints (now known as the Community of Christ). The Richardson family joined this group, except for the second child Elizabeth, who along with her husband Simpson David Huffaker, had followed the larger group of Latter-day Saints to Utah. While the reorganized church rejected plural marriage, the church under the leadership of Brigham Young would continue this practice for another forty-plus years. Elizabeth Melvina Richardson was the second of Simpson's four wives. One wonders how the family communicated with one child going to Utah and the others remaining in Illinois, as well as following different styles of the same new religion they had all joined.
Stephen and Erepta moved to Waterloo, Iowa, and a group from the Reorganized Church founded the town of Lamoni, Iowa, where they published their newspaper The Saints' Herald. Both Stephen and Erepta, as well as their daughter Harriet, had decent obituaries in this paper, with Harriet's noting she had later joined the Baptist Church. Of Stephen and Erepta's eight children who remained in the Midwest, none of them continued as members of the Reorganized Latter Day Saints, and most of them also became Baptists. Their only child who remained in a Latter-day Saint faith was their daughter Elizabeth who moved to Utah and left numerous descendants. Elizabeth had fifteen children (her husband had fifteen more children by his other three wives). One of Elizabeth's granddaughters married a great-nephew of Brigham Young, who was in turn a great-great-uncle of NFL quarterback Steve Young (also a great-great-great grandson of Brigham Young, see chart).[1]
Since my aunt's direct line back to Stephen and Erepta was not through any of the "tell-tale" Latter-day Saint settlements, it was easy to miss this religious reason for their migration out of New England. I'm glad the leaf hints led me on an enjoyable tangent into some of my cousins' ancestors.
Note
[1] Many of these Young families are treated in a section I had submitted for Rhonda R. McClure's The History of the Brigham Family – Descendants of Thomas Brigham. Brigham Young was named after his uncle by marriage, Phineas Brigham, but was also a Brigham descendant through his great-grandmother. The author of the 1907 Brigham Genealogy did not see this other descent and was "thankful" to believe Young was not a Brigham descendant.
Share this:

About Christopher C. Child
Chris Child has worked for various departments at NEHGS since 1997 and became a full-time employee in July 2003. He has been a member of NEHGS since the age of eleven. He has written several articles in American Ancestors, The New England Historical and Genealogical Register, and The Mayflower Descendant. He is the co-editor of The Ancestry of Catherine Middleton (NEHGS, 2011), co-author of The Descendants of Judge John Lowell of Newburyport, Massachusetts (Newbury Street Press, 2011) and Ancestors and Descendants of George Rufus and Alice Nelson Pratt (Newbury Street Press, 2013), and author of The Nelson Family of Rowley, Massachusetts (Newbury Street Press, 2014). Chris holds a B.A. in history from Drew University in Madison, New Jersey.View all posts by Christopher C. Child →