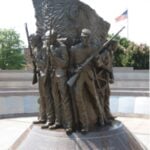 My recent post on the 29th Connecticut Colored Infantry Regiment also touched upon the 54th Massachusetts Regiment and a recent book I had read – Thunder at the Gates – about the black regiments of Massachusetts that served in the Civil War. Another genealogical connection to these regiments concerned Civil War soldiers from Mashpee, Massachusetts treated in recent articles in the Mayflower Descendant.
Last year I co-authored, with Julia Colden-Walker, an article, "The Hicks Family of Mashpee, Massachusetts, Wampanoag Descendants of Pilgrim Richard Warren," which chronicled descendants of Deliverance (Bump[as]) Hicks (1753-1850), a double Richard Warren descendant who married Brawn Hicks, of African descent, by whom she had two sons Francis and Abner, who lived in Mashpee, married Wampanoag women, and left descendants. The Hicks family was in the ancestry of Julia's husband and was the earliest intermarriage that I am aware of between Mayflower descendants and Wampanoag people.
This issue also included another one of my articles, "Notable Mayflower Descendants: Sonny Dove," which outlined the numerous (Hopkins, Howland, Rogers, and Tilley, see chart) Mayflower descents of N.B.A. basketball player Lloyd Leslie "Sonny" Dove, Jr. (1945-1983), who was born on Cape Cod, the son of a Wampanoag mother and African-American father. Dove's stepfather was also a member of the Hicks family in the earlier article. All of Dove's Mayflower descents were through his white great-great-grandfather Nathaniel D.S. Bearse (1842-1928), a native of Cape Cod who moved to Mashpee and married a Wampanoag woman, Olive Gould Pells. Nathaniel Bearse and two men in the Hicks article appear as names planned for the new Veterans' War Memorial in Mashpee.
One member of the Hicks family who served in the Civil War was Thomas L. Hicks (1843-1894), who enlisted as a seaman in the U.S. Navy on 11 December 1864. As he described in his Civil War pension application, Thomas "served about one year on the Tin Clad Steamer Nuamia in the West Gulf Squadron. Was then transferred to the Gun Boat Chucboro, where I served about sixteen months, and finished my time on the Steamer Minnesota European voyage and was discharged at the Brooklyn Navy Yard in January 1868." Thomas married his second cousin Elizabeth Ella Ann Amos. After her husband's death, Elizabeth married John Young Gooch (1834-1909), widower of Elizabeth's second cousin Mercy T. P. Low (who was a first cousin of Thomas, see chart). Gooch was the other Civil War veteran of Mashpee in this article.
Thomas "served about one year on the Tin Clad Steamer Nuamia in the West Gulf Squadron. Was then transferred to the Gun Boat Chucboro..."
Gooch came to Mashpee by virtue of his service in the war. Born enslaved in Missouri, he enlisted (under the name Young Gooch) on 30 May 1863 (noting his residence then as Bloomington, Illinois), and served as a private in the 55th Massachusetts Volunteer Regiment, which was the second regiment (after the well-known 54th) of African American soldiers, largely comprised of men from outside Massachusetts. As a result of serving in the Massachusetts regiment, he ended up moving to Mashpee after the war, reportedly owing to the reduced racial prejudice amongst the Wampanoag people. While married twice, Gooch had no children. Gooch applied for a Civil War pension, noting that while he was in the line of duty at Folly Island, South Carolina in October 1864, he "incurred chills and fever by reason of hardship and exposure incident to the service, while on picket duty, which resulted in rheumatism." In addition, he noted heart trouble and general debility after the war, making him permanently disabled. However, he was denied a pension due to being court martialed and dishonorably discharged 29 August 1865, four months after the end of the war.
The African American Civil War Memorial in Washington D.C. recognizes the contributions of 209,145 members of the United State Colored Troops, including the soldiers I mentioned in my previous post from the 29th Connecticut. While Thomas L. Hicks, who was of Wampanoag, African, and English descent, is not included in this memorial (as he served in the Navy), John Young Gooch appears on this memorial, and is the only soldier whose name appears on both this national monument and the planned memorial in Mashpee.
Share this:

About Christopher C. Child
Chris Child has worked for various departments at NEHGS since 1997 and became a full-time employee in July 2003. He has been a member of NEHGS since the age of eleven. He has written several articles in American Ancestors, The New England Historical and Genealogical Register, and The Mayflower Descendant. He is the co-editor of The Ancestry of Catherine Middleton (NEHGS, 2011), co-author of The Descendants of Judge John Lowell of Newburyport, Massachusetts (Newbury Street Press, 2011) and Ancestors and Descendants of George Rufus and Alice Nelson Pratt (Newbury Street Press, 2013), and author of The Nelson Family of Rowley, Massachusetts (Newbury Street Press, 2014). Chris holds a B.A. in history from Drew University in Madison, New Jersey.View all posts by Christopher C. Child →