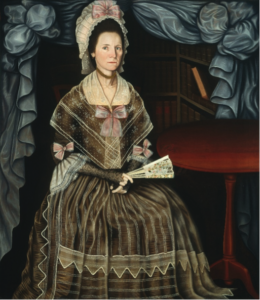 Following up on my previous post about the tragic later life of my great-great-great-uncle John Merrick Paine, this post covers other places I have run across his name in my genealogical research and in tracing his descendants. One of the only other places John Merrick Paine's name is found in Google Searches is in the provenance of this portrait of "Mrs. Samuel Chandler" and her husband "Samuel Chandler."
These portraits were painted by Samuel's brother, Winthrop Chandler, a house painter who studied portrait painting in Boston. A number of paintings are reproduced in Clarence Winthrop Bowen's The History of Woodstock and seven subsequent genealogical volumes. Most of his portraits remain privately owned, and the portraits of Samuel Chandler and his wife are the only works by Winthrop Chandler at the National Gallery of Art in Washington, D.C.
As the provenance notes, "John Paine was raised by Capt. and Mrs. (née Anna Paine) Chandler, who had no children of their own. Paine thus inherited Chandler's 300-acre farm as well as the portraits of the Captain and his wife, painted by Chandler's brother around 1780." This John Paine was the youngest child of his parents, and his father died a year following his birth; his mother died thirteen years later. The provenance goes on to state that the portraits went to John's son "John Paine, Jr.; his son, John Merrick Paine; his son, Dr. Robert Child Paine, Thompson, Connecticut; his widow, Mrs. Robert Child Paine; her children, Mrs. Prudence Paine Kwiecien, Hamilton Child Paine, and Agnes C. Paine, Thompson, Connecticut, who lent it to the Worcester Art Museum, Massachusetts, from 2 June 1947 to 7 November 1955; purchased 1955 by Edgar William and Bernice Chrysler Garbisch; gift 1964 to NGA [National Gallery of Art]."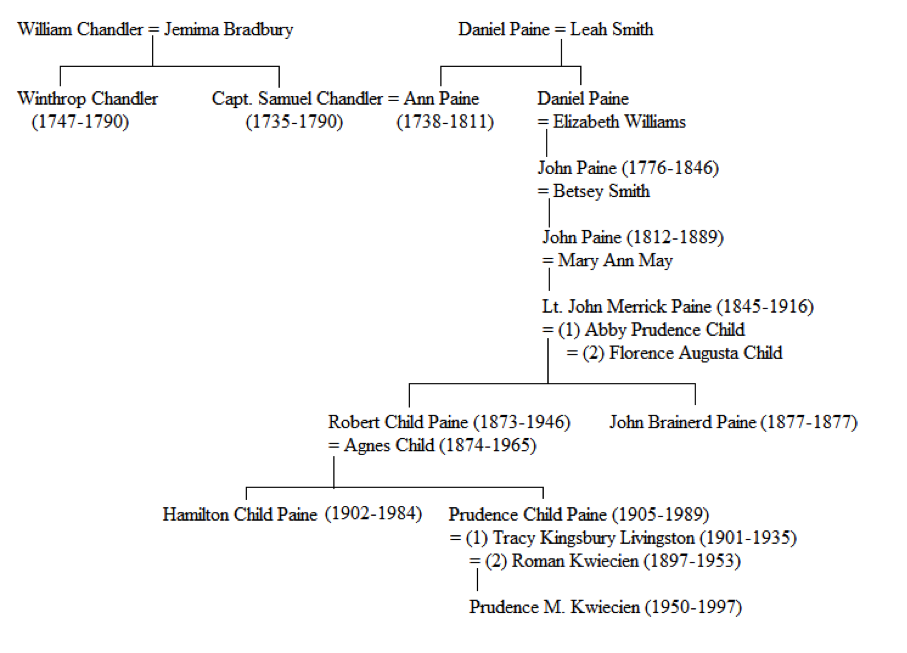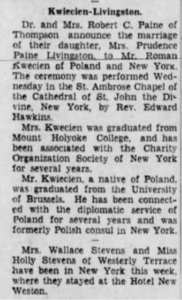 Of course, this prompted me to make a chart showing the inheritance of these portraits (which shows all the descendants of Lieut. John Merrick Paine). The provenance summary is correct except for reference to Mrs. Robert Child Paine's "children, Mrs. Prudence Paine Kwiecien, Hamilton Child Paine, and Agnes C. Paine." This last Agnes C. Paine was Robert Child Paine's widow, Agnes (Child) Paine, as Robert and Agnes only had two children – Hamilton and Prudence.
The chart inspired me to research these distant relatives further. Dr. Robert Child Paine graduated from Dartmouth and was a doctor in Thompson. While both of his children would return to rural northeastern Connecticut, they both lived in larger cities in the northeast. Hamilton, who never married, lived in Boston for many years working for the post office. His sister Prudence married in 1930 and moved to New York. After her first husband died in 1935, she lived in New York City, marrying secondly an importer and former Polish consul in New York, Roman Kwiecien.
Prudence and Roman's only child, also named Prudence, was born in Manhattan in 1950. After her second husband's death in 1953, the elder Prudence returned to northeast Connecticut. As shown in several passenger lists on Ancestry and noted in her daughter's obituary, the mother and daughter traveled extensively in Europe. When the younger Prudence M. Kwiecien died in Webster, Massachusetts in 1997, she was the last descendant of Lieut. John Merrick Paine of the Civil War.
Share this:

About Christopher C. Child
Chris Child has worked for various departments at NEHGS since 1997 and became a full-time employee in July 2003. He has been a member of NEHGS since the age of eleven. He has written several articles in American Ancestors, The New England Historical and Genealogical Register, and The Mayflower Descendant. He is the co-editor of The Ancestry of Catherine Middleton (NEHGS, 2011), co-author of The Descendants of Judge John Lowell of Newburyport, Massachusetts (Newbury Street Press, 2011) and Ancestors and Descendants of George Rufus and Alice Nelson Pratt (Newbury Street Press, 2013), and author of The Nelson Family of Rowley, Massachusetts (Newbury Street Press, 2014). Chris holds a B.A. in history from Drew University in Madison, New Jersey.View all posts by Christopher C. Child →