Last year I made a post teasing about an upcoming article I had written that showed, with the assistance of Y-DNA evidence, a Mayflower descent for Prime Minister Winston Churchill (among other notable figures). The journey began in 2017 when I was at the National Genealogical Society Conference in Raleigh, North Carolina. When at our booth, we get a chance to meet lots of genealogists, members of American Ancestors and non-members alike. It is always a fun chance during some down time to discuss problems or recent findings.
I talked with longtime member Mary Sprague Langsdorf, who has participated on several education tours with us over the years. She asked me to take a look at her late brother John Reno Sprague, Jr.'s Y-DNA results from FamilyTreeDNA.com. I did so, and I was immediately surprised at some of his matches. Mary told me their patrilineal line went back to Francis1 Sprague, an early settler of Plymouth Colony who arrived on the Anne in 1623.
While there were several Spragues amongst John's matches, I noticed several matches with the surname Fuller, descending the Mayflower passengers (and brothers), Edward and Samuel Fuller. I had already worked with the DNA results of NEHGS members with the surname Fuller who descended from Robert Fuller of Rehoboth, whose Y-DNA sequence had also matched with the Fuller DNA sequence. I took notes and told Mary I would like to continue with this research when I returned to Boston.
His parents (of record) ... were presented at the General Court of Plymouth on 6 June 1655 for "fornication before they were married" and cleared after paying a fine.
This process took a while, and I solicited several additional men with the last name Sprague to participate in Y-DNA testing (in part with the aid of the terrific "Sprague Project" dababase). Mary's ancestor John3 Sprague (John2, Francis1) was born around 1655, probably in Duxbury, Massachusetts. His parents (of record), John Sprague and Ruth Bassett, were presented at the General Court of Plymouth on 6 June 1655 for "fornication before they were married" and cleared after paying a fine. Generally, this charge meant that colonists "did the math," and realized a couple's first child was born "too soon" after they were married.
Their eldest child, known later in life as Lt. John Sprague, was clearly regarded in several records as a child of John and Ruth. However the Y-DNA sequence of the descendants of Lt. John's younger brothers Samuel and William showed these two (while sharing a father themselves), had a different father than their older brother Lt. John, and that Lt. John Sprague's biological father had to be a member of the nearby Fuller family of Plymouth, for whom only Samuel2 Fuller (son of Mayflower passenger Samuel1 Fuller), was still in the area! So while John Sprague the elder likely assumed he was the natural father of his wife's first child conceived before marriage, there was another candidate unknown to the Plymouth courts…
The twenty-two page article I wrote in the Summer 2019 issue of the Mayflower Descendant explains much more of the context behind this surprising discovery, even including a clue to the English origin of Francis1 Sprague of Plymouth, which is presently unknown.[1] As soon as the article was published, Mary began the process of applying to the Mayflower Society in her home state of North Carolina, and early this summer, she shared with me that her application was accepted by the General Society of Mayflower Descendants on 26 June 2020.
Lt. John Sprague has many descendants, including frequent Vita Brevis contributor Jeff Record, actor John Wayne, and, as this post indicates, Prime Minister Winston Churchill. Gary Boyd Roberts included these descents in an appendix of his The Mayflower 500, published earlier this year. Churchill was already known to have descended from Arthur Howland, a brother of Mayflower passenger John Howland. More recently, I was in touch with Gregory Bell Smith of the International Churchill Society (and author of the 2014 book, The American Ancestry of Sir Winston Leonard Spencer Churchill, which I cited in my article on Lt. John Sprague).
In his work, Greg also discusses how modern genealogists had discredited the Churchill family's assertion that they descended from Mayflower passenger Richard Warren. Greg kindly sent me an updated second edition of his book, and the November 2020 issue of "Churchill Bulletin – the newsletter of Winston Churchill" discusses this new discovery with a fun article "Mayflower Mischief – DNA evidence proves Churchill's Pilgrim Paternity," and notes that "perhaps in this 400th anniversary year of the arrival of the Mayflower in Plymouth Harbor, one of Churchill's descendants will honor the occasion by becoming a member of The Mayflower Society."
Below is Churchill's "new" Mayflower line: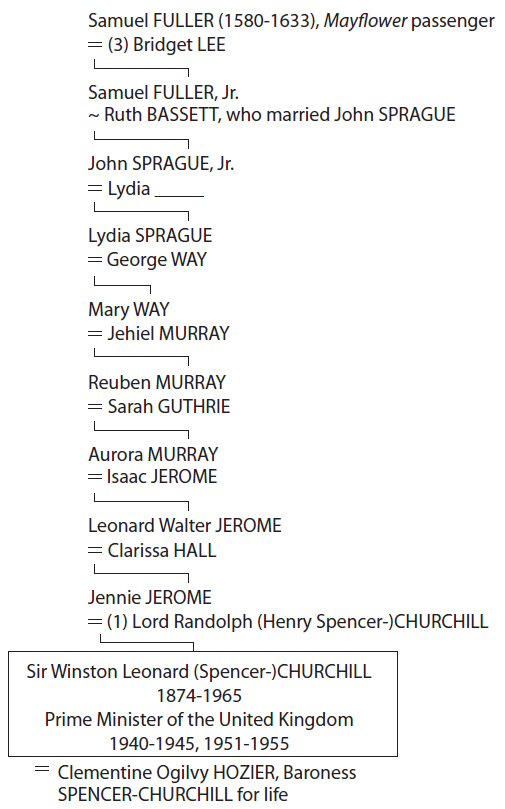 Note
[1] Christopher Challender Child, "Lt. John Sprague (ca. 1655-1727/8) of Duxbury, Mass., and Lebanon, Conn., an illegitimate son of Samuel2 Fuller (Samuel1)?," Mayflower Descendant 67 [2019]: 117-49. Subscribe to the Mayflower Descendant here. (This individual issue can also be purchased; please write to mayflower@nehgs.org.)
ETA: As a result of a lengthy article by Pamela R. Paschke and Raymond T. Wing, based on a comprehensive Big-Y DNA study of 25 Fuller men, Matthew Fuller, previously considered a son of Mayflower passenger of Edward Fuller, has been shown to be an an agnate relative of the passengers Edward and Samuel Fuller, but cannot be their descendant. Related to this study, the five candidates of paternity of Lt. John Sprague that I discussed have been reduced to two men - Dr. Matthew Fuller and his son Samuel - who are not descendants of passengers Edward or Samuel Fuller. Winston Churchill's revised Fuller (but likely not Mayflower) lineage is outlined below. Subscribe to the the Mayflower Descendant to learn more about these recent developments (also discussed in this more recent post).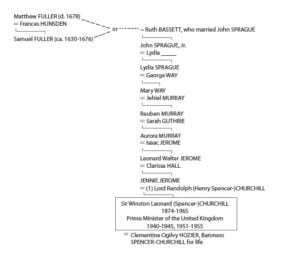 Share this:

About Christopher C. Child
Chris Child has worked for various departments at NEHGS since 1997 and became a full-time employee in July 2003. He has been a member of NEHGS since the age of eleven. He has written several articles in American Ancestors, The New England Historical and Genealogical Register, and The Mayflower Descendant. He is the co-editor of The Ancestry of Catherine Middleton (NEHGS, 2011), co-author of The Descendants of Judge John Lowell of Newburyport, Massachusetts (Newbury Street Press, 2011) and Ancestors and Descendants of George Rufus and Alice Nelson Pratt (Newbury Street Press, 2013), and author of The Nelson Family of Rowley, Massachusetts (Newbury Street Press, 2014). Chris holds a B.A. in history from Drew University in Madison, New Jersey.View all posts by Christopher C. Child →