I recently watched comedian Dave Chappelle's powerful Netflix special 8:46, remarking on the death of George Floyd and several other recent events. During the performance, Chappelle mentioned that President Woodrow Wilson received a delegation of African Americans from South Carolina after a black man was lynched in that state. This delegation was led by the comedian's great-grandfather, William David Chappelle (1857-1925), born enslaved, the 37th Bishop in the African Methodist Episcopal Church. Dave Chappelle also mentioned this ancestor's wife was the woman Dave's father called out to on his deathbed, and how that memory reminded him of when George Floyd called out to his mother knowing his death was imminent.
I had worked on the genealogy of Dave Chappelle over a decade ago, and biographies of Bishop William David Chappelle appear in Who Was Who and Who's Who in the Colored Race. Dave Chappelle's father William David Chappelle III was the last of three men of that name, with the second being his father's elder half-brother, William David Chappelle, Jr. (1888-1957), a prominent physician. I had found a detailed biography of this last man in The A.M.E. Church Review, which mentioned the bishop's second wife [the great-grandmother of Dave Chappelle], "Rosina Palmer, daughter of Columbian Robert J. Palmer, a large and wealthy land-owner and member of the state legislature in the post-Reconstruction period."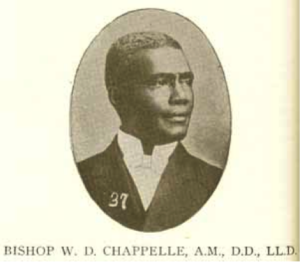 South Carolina had a majority African-American population from 1708 to 1780, and again from 1820 to 1910. During Reconstruction, newly-emancipated African-Americans gained the right to vote as a result of the 15th Amendment. Following this and the Reconstruction Acts of 1867, black South Carolinians maintained a majority in the state legislature from 1868 until 1876.
The name of Robert John Palmer (1849-1928) appears on an application in 1994 to place his burial place, Randolph Cemetery in Columbia, on the register of historic places with the National Park Service. The form provides significant context for this period of history, which has been often mis-characterized by previous historians:
"For years many historians, influenced by the 'Dunning School' – named for the writings of prominent historian William A. Dunning of Columbia University – viewed Reconstruction as an aberration in Southern history. They viewed the creation of interracial governments as a mistake and viewed state Reconstruction governments, which were often interracial, as corrupt. The whites involved in these governments were considered to be 'Scalawags' if they were native Southerners, or 'Carpetbaggers' if they were outsiders," and were thought to be primarily interested in wielding their political power for personal gain. According to this view, blacks involved in Reconstruction politics were portrayed as being childlike and unprepared for their new-found freedom, and were led along by unscrupulous whites who had no real interest in racial equality.
"Many more recent historians, however have a quite different view of Reconstruction, viewing blacks as active agents in the making of a postbellum Southern Society. Blacks, according to these scholars, represented themselves with ability and political acumen throughout the South in state constitutional conventions, in state legislatures, and in local politics. Nowhere was this truer than in South Carolina, where black representatives to the Constitutional Convention of 1868 were, according to historian Eric Foner, 'mostly educated, articulate, and politically experienced freeborn' blacks, who 'often outmaneuvered white participants' at the convention. The convention, at which Benjamin Franklin Randolph was a delegate and William Beverly Nash was vice-president, established the first state-funded system of free public education and made school attendance compulsory. The Constitutional Convention of 1868 also forbade segregation in public schools ..." [Randolph, Nash, and six other black state legislators are buried at Randolph Cemetery in addition to Palmer. Randolph and Nash are pictured in the above photo montage of the first legislature after the war. Randolph was assassinated in 1868 a few months after he became chair of the South Carolina Republican Party].[1]
The convention … established the first state-funded system of free public education and made school attendance compulsory. The Constitutional Convention of 1868 also forbade segregation in public schools
Robert John Palmer was born enslaved in South Carolina on 9 January 1849, the son of Edmund Palmer and Adelaide Gardner (according to his death certificate, below). He is enumerated in Columbia in the 1870 census (age 22, occupation at home) with five other Palmer women, although kinships are not stated. He attended a Republican meeting in Columbia on 25 July 1870 and managed an election precinct for Columbia in the 1870 election. His daughter Rosina C. Palmer (mother Julia Simons) was born in Columbia in 1873 or 1875. Robert was appointed by the Governor of South Carolina as an election commissioner for Richland County in September 1874. He served in the South Carolina House of Representatives, representing Richland County, from 1876 to 1878. He is recorded alone in the 1880 census in Columbia, age 31, as a tailor.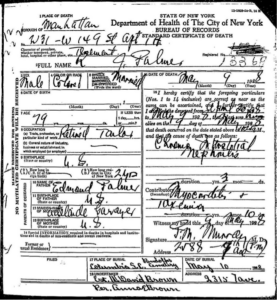 He married Adelaide shortly after this census, and in the 1900 census in Columbia they are recorded with nine children, with the notation that two had died. In 1902, he is credited as speaking on the merchant tailoring business at the National Negro Business Men's League convention in Richmond, Virginia. Robert's wife Adelaide died by 1910, and he married again in Kershaw County, South Carolina on 12 January 1913 to Mrs. Leila P. Bruce of New York City. While Robert and Leila remained in Columbia, Robert was in Harlem (New York City) when he died on 9 May 1928. An obituary appears for him the Palmetto Leader on 12 May 1928. As mentioned above, he is buried in Randolph Cemetery in Columbia. [2]
This is a significant period of time for American history, one that is often overlooked. These leaders of South Carolina during Reconstruction have a lasting legacy through their descendants today.
Notes
[1] United States Department of the Interior National Park Service, National Register of Historic Places Registration Form, Randolph Cemetery, Columbia, South Carolina, received 12 December 1994.
[2] 1870 U.S. Census, Columbia, Richland Co., S.C., Leah Palmer household; "At a Republican meeting …" The Daily Phoenix (Columbia, S.C.), 26 July 1870, p. 3; "Notice of the Electors of Richland County," The Daily Phoenix, 13 October 1870, p. 3; 1880 U.S. Census, Columbia, Robt. J. Palmer household; 1900 U.S. Census, Nashville Ward 5, Davidson Co., Tenn., household of William B. [sic] Chappell (wife Rosina b. May 1873); 1959 South Carolina Death Certificate of Rosena C. Chappelle (b. 31 July 1875); "City Matters," The Daily Phoenix, 18 September 1874, p. 2; "Legislative Election Returns," The Abbeville Press and Banner (Abbeville, S.C.), 15 November 1876, p. 2; "Roast the Parsons," Richmond Dispatch, 27 August 1902, p. 8; 1910 U.S. Census, Columbia Ward 4, Richland Co., S.C., Robert J. Palmer household; 1912 Kershaw County marriage record R.J. Palmer and Leila P. Bruce; 1928 New York City Death Certificate of R.J. Palmer.
Share this:

About Christopher C. Child
Chris Child has worked for various departments at NEHGS since 1997 and became a full-time employee in July 2003. He has been a member of NEHGS since the age of eleven. He has written several articles in American Ancestors, The New England Historical and Genealogical Register, and The Mayflower Descendant. He is the co-editor of The Ancestry of Catherine Middleton (NEHGS, 2011), co-author of The Descendants of Judge John Lowell of Newburyport, Massachusetts (Newbury Street Press, 2011) and Ancestors and Descendants of George Rufus and Alice Nelson Pratt (Newbury Street Press, 2013), and author of The Nelson Family of Rowley, Massachusetts (Newbury Street Press, 2014). Chris holds a B.A. in history from Drew University in Madison, New Jersey.View all posts by Christopher C. Child →