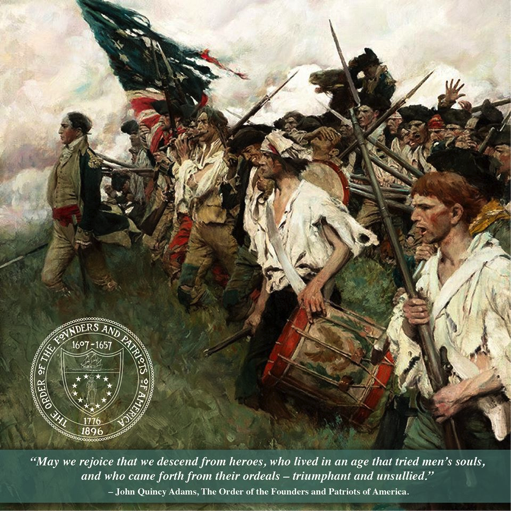 A 4th of July post on Facebook shared the above image quoting John Quincy Adams of The Order of the Founders and Patriots of America, which was founded in 1896. A friend of mine thought initially this quote was meant to be attributed to the president of that name, who died in 1848. The person in the quote above was John Quincy Adams (1848-1911) of New York City, who was born in New Hampshire eight months after the president's death. Through his father Harvey8 Adams (Benjamin7, Andrew6, John5, Edward4, John3, Edward2, Henry1), this John Quincy Adams was a fourth cousin three times removed to his presidential namesake through the immigrant Henry Adams (1583-1646) of Braintree, Massachusetts.[1]
In the 1850 census there were 171 men with the name John Q. Adams, the great majority being born in the 1820s when Adams was president. Some were born earlier while he was Secretary of State; others, after his administration ended. There is one 60 year-old John Q. Adams in Virginia, well before the future president was well-known, so it is also possible this man may have added a middle name in the president's honor. (In 1790, John Quincy Adams was only 23 years old, without any national prominence other than being the eldest son of the vice president.) These 171 men are enumerated as far north as Maine, as far south as Georgia, and as far west as California. While some may descend from Henry Adams of Braintree, it is likely that most do not.
In 1790, John Quincy Adams was only 23 years old, without any national prominence other than being the eldest son of the vice president.
By the 1900 census, for namesakes of presidents who used middle initials, there were 35 men named Ulysses S. Grant, 15 named Rutherford B. Hayes, 21 named James A. Garfield, and 13 named Chester A. Arthur. Most presidential surnames are common enough that just having the surname usually does not mean a kinship to the president. Of the 39 surnames, ones that usually mean some (however distant) kinship are Fillmore, Garfield, Cleveland, Taft, Roosevelt, and Coolidge, usually descending from the 17th century immigrant to New England or New York. I descend from the Pierce, Garfield, Harding, and Coolidge families of colonial New England which also produced the respective patrilineal ancestors to those presidents, but there are other colonial Pierce and Harding families who are unrelated.
Sharing a surname with a president certainly becomes a reason for a mistaken family tradition of kinship, and even in some cases the surnames of president's mothers. I've worked extensively over the years on the ancestry of Abraham Lincoln's mother Nancy Hanks.[2] In Gary Boyd Roberts' 1995 edition of Ancestors of American Presidents, five possible sets of parents of Nancy were offered, with part of the confusion being various members of the Hanks family wanting a closer kinship to the president. (One genealogist even tried to claim Nancy Hanks as a descendant of Benjamin Hanks of Massachusetts, instead of the Hanks family of Virginia.[3]) So if you find an ancestor named George Washington, Thomas Jefferson, or James Madison, a kinship to the founding fathers is not guaranteed!
Notes
[1] The Order of The Founders and Patriots of America – Register Lineages of Associates 1896-1993, 3, John Quincy Adams (General no. 5, New York Society no. 5) served as this organization's first Secretary General 1896-98. For the patrilineal descent of President John Quincy6 Adams (John5-4, Joseph3-2, Henry1), see Gary Boyd Roberts, Ancestors of American Presidents, 5-10.
[2] Lincoln's patrilineal ancestor, Samuel Lincoln (1622-1690), was one five Lincoln immigrants to Hingham, Massachusetts, from Hingham, Norfolk, England, but not all were related to one another. See Solomon Lincoln, "Notes on the Lincoln Families of Massachusetts, with Some Account on the Family of President Abraham Lincoln, Late President of the United States," Register 19 [1865]: 357-61, and History of the Town of Hingham, Massachusetts, 2: 448-86, 3: 3-21.
[3] See my most recent article, "The Hanks DNA Study: I Was Wrong!" American Ancestors 17: 3 [2016]: 55-57, and geneticlincoln.com, for the resolution of Nancy's parents, based on a DNA study by the Hanks DNA Project. This Hanks family is also ancestral to the actors Tom Hanks and George Clooney. (Clooney descends from a younger half-sister of Nancy Hanks.)
Share this:

About Christopher C. Child
Chris Child has worked for various departments at NEHGS since 1997 and became a full-time employee in July 2003. He has been a member of NEHGS since the age of eleven. He has written several articles in American Ancestors, The New England Historical and Genealogical Register, and The Mayflower Descendant. He is the co-editor of The Ancestry of Catherine Middleton (NEHGS, 2011), co-author of The Descendants of Judge John Lowell of Newburyport, Massachusetts (Newbury Street Press, 2011) and Ancestors and Descendants of George Rufus and Alice Nelson Pratt (Newbury Street Press, 2013), and author of The Nelson Family of Rowley, Massachusetts (Newbury Street Press, 2014). Chris holds a B.A. in history from Drew University in Madison, New Jersey.View all posts by Christopher C. Child →