[Author's note: This blog post originally appeared in Vita Brevis on 25 March 2016.]
A frequent theater-goer and enthusiastic pedestrian in the 1860s, by the early 1880s – following the death of her husband – Regina Shober Gray was going out rarely, and only to the houses of relatives and close friends. This does not mean that she lost her interest in the goings-on around Boston or, indeed, among the celebrated and notorious people of her day.[1]
1 Beacon Hill Place, Boston, Wednesday, 8 February 1882: Laura Howe[2] has sent Mary[3] a most humorous parody 'After Oscar Wilde.'[4] She says she and Harry [Richards] agreed that the only thing to be done with his book of poems was to burn it, that there were some pretty things amid the filth! The 'Swinburne'[5] School of poetry is certainly open to reprobation in the matter of good taste & pure morals!
'Oscar' has not been much lionized here – Dr. O. W. Holmes,[6] to whom Wilde brought a letter from James Russell Lowell,[7] gave him a dinner at Parker's[8] inviting literary & artistic men to meet him – and Mrs. Julia Ward Howe[9] gave him a reception, which rather surprized us all.
He bore with dignity & self-possession the mocking display & aesthetic dress of sunflowers & lilies by 60 Harvard students at his lecture. The young men made no disturbance, but their very presence in such guise was a tacit insult.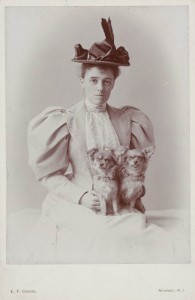 Lenox, Thursday, 19 October 1882: Last evening Mary & I paid Mrs. Wharton[10] a visit, in her parlor. Poor woman, she lost her only sister last winter … and her husband is in an insane asylum – the insanity of physical disease & an uncontrolled temper. I feel for her the sincerest sympathy: she is so calm & self-restrained – and must have suffered much in life.
Monday, 23 October 1882: Mrs. Marquand & dau[ghter], Miss Wharton[11] & 'Teddie,'[12] and the Parkman Shaws are all who are left [at the Grays' hotel after a general exodus].
Emilie Charlotte Le Breton (1853–1929), by marriage Mrs. Edward Langtry, was a celebrity of the period, recently seen in Boston.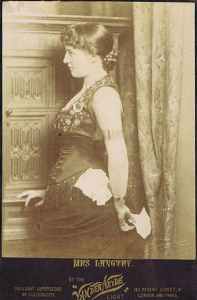 Boston, Friday, 15 December 1882: Her head is very beautiful and superbly set – the curve of neck & shoulder, lovely; legs and arms scrawny! [Mrs. Gray was, after all, a doctor's wife.] Dr. Henry Bigelow[13] says she is anatomically all at fault: poorly built! a practical criticism on a woman's fascinations! Socially she is not received here or in New York[14] – and is I hear much disappointed thereat.
Tuesday, 20 February 1883: Katharine Loring[15] made us a long & welcome call yesterday [at the Grays' new house at 7 Mount Vernon Place]. We see so little of her now-a-days. Her invalid & orphaned friend Alice James,[16] sister of Henry James[17] the litterateur, absorbs all her time, to the great loss of the rest of us.
Notes
[1] All entries from the Hedwiga Regina Shober Gray diary, R. Stanton Avery Special Collections, NEHGS.
[2] Mary Gray's close friend Laura Elizabeth Howe (1850–1943), who married Henry Richards in 1871.
[3] The diarist's daughter Mary Clay Gray (1848–1923).
[4] Oscar Fingal O'Flahertie Wills Wilde (1854–1900), the author of Poems (1881), was on a wildly successful lecture tour of the United States organized by the impresario Richard D'Oyly Carte.
[5] Algernon Charles Swinburne (1837–1909), author of Poems and Ballads (1866).
[6] Mrs. Gray's neighbor Dr. Oliver Wendell Holmes (Sr.) (1809–1894).
[7] The poet James Russell Lowell (1819–1891), U.S. minister to Great Britain 1880–85.
[8] Harvey D. Parker (1805–1884) opened the Parker House hotel and restaurant on School Street in 1855.
[9] Laura Richards's mother, the poet Julia Ward (1819–1910), married Dr. Samuel Gridley Howe in 1843.
[10] Nancy Willing Spring (1820–1909) was married to William Craig Wharton 1844–91.
[11] Nancy Craig Wharton (1845?–1921).
[12] Edward Robbins Wharton (1850–1928), who was married to the novelist Edith Newbold Jones [Wharton] 1885-1913.
[13] Dr. Henry Jacob Bigelow (1818–1890), Professor of Surgery at Harvard 1849–82.
[14] At this time she was much associated with the Prince of Wales, and used the resulting réclame to go on stage: to contemporaries, both were black marks against her.
[15] Katharine Peabody Loring (1849–1943), a family connection and close friend of Mary Gray.
[16] The diarist Alice James (1848–1892).
[17] The novelist Henry James (1843–1916), recent author of The Portrait of a Lady (1881).