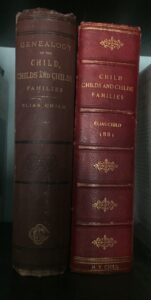 When I joined NEHGS with my aunt in 1992, we were the first members of our family to join this organization. While several members of our family had an interest in genealogy, no one was near enough to the Boston area to join NEHGS. (Now, of course, with our vast online presence, physical proximity to our library is less essential, and a few family members across the U.S. are members.) As this year marks the 175th anniversary of NEHGS's founding in 1845, a new database of membership applications, "1847-1900," has gone online, and I was curious to search it to see if more distant cousins were members in the past.
The earliest cousin I found was Isaac Child (1792-1885) of Boston, a life member admitted on 9 June 1846, one year before the founding of The New England Historical and Genealogical Register. His was the thirteenth membership file for 1846, and as there are 88 files for 1845 (the Society's inaugural year), I could say Isaac Child was our 101st member, although the files appear to be in alphabetical order by year!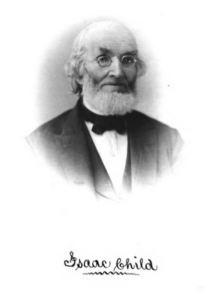 Isaac's obituary appears in Register 40 [1886]: 219-20, and remarks that "All of the initiatory work of the Child Genealogy, a solid volume of 842 pages, was performed by him. His kinsman, Elias Child, who completed and published the work, says in his preface: Correspondence was opened with Mr. Child, of Boston, who had hitherto been unknown to me, which led to an arrangement with him for placing in my hands, the material which he had, to be incorporated in the proposed genealogy. His matter forms the nucleus of this work; not that it constitutes the larger amount, or that it was arranged as incorporated in this work. The filling up of many branches partially traced by Mr. Isaac Child, and the discovery of many new lines, will swell the volume to threefold or more beyond his material. Yet had it not been for his industry and perseverance, it is probable the present work would not have been undertaken."
I am fortunate to have two copies of this 1881 genealogy (from a printing of 500), including my great-great-grandfather's copy, which he had rebound in 1918 with his initials: "H.T. Child" [Henry Thurston Child]. Page 810 has only five additional births in the appendix, including the birth of my great-grandfather in September 1880, so clearly Henry was intent on having a complete family record! The other copy a friend managed to find at a bookshop about ten years ago.
Of course I have corrected errors from time to time in this genealogy. I descend from Isaac's great-great-grandparents, Joshua and Elizabeth (Morris) Child, making Isaac my third cousin, seven times removed, and through my eight other descents from Joshua's parents, Benjamin and Grace (Morris) Child, Isaac is also my fourth cousin, seven times removed, eight times over, among many other kinships!
I noticed that at least six other close relatives of Isaac Child were early members of the New England Historic Genealogical Society (see chart).[1] However, the most interesting kinsperson I found was Isaac's sister-in-law Mrs. Elizabeth Richards Child (1781-1878). While Judith Lucey's recent post noted that women were denied membership until 1894, I saw from the first issues of the Register that women were not prohibited from subscribing to the Register and donating to the Society. Elizabeth is credited in 1848 as donating "large quantities of books and tracts at different times," and is listed a subscriber to the Register as early as 1854 (and probably earlier).[2]
While Elizabeth died before she could ever be elected a member in her own right, the Register published a substantial obituary, and the 1881 Child genealogy quoted her obituary in its entirety from the Boston Daily Journal:
Clearly Elizabeth would have joined NEHGS had she been allowed, like her son-in-law, grandson, great-grandson, two brothers-in-law, and two nephews-in-law. Genealogy was certainly a passion in this family!
Notes
[1] The two generations of Isaac Childs marrying women named Elizabeth Weld are indeed accurate, unlike the example I had discussed in "Seeing Double."
[2] "Donations to the Society," Register 2 [1848]: 230-31, "Payments for the Register, &c.," Register 8 [1854]: 200.
Share this:

About Christopher C. Child
Chris Child has worked for various departments at NEHGS since 1997 and became a full-time employee in July 2003. He has been a member of NEHGS since the age of eleven. He has written several articles in American Ancestors, The New England Historical and Genealogical Register, and The Mayflower Descendant. He is the co-editor of The Ancestry of Catherine Middleton (NEHGS, 2011), co-author of The Descendants of Judge John Lowell of Newburyport, Massachusetts (Newbury Street Press, 2011) and Ancestors and Descendants of George Rufus and Alice Nelson Pratt (Newbury Street Press, 2013), and author of The Nelson Family of Rowley, Massachusetts (Newbury Street Press, 2014). Chris holds a B.A. in history from Drew University in Madison, New Jersey.View all posts by Christopher C. Child →