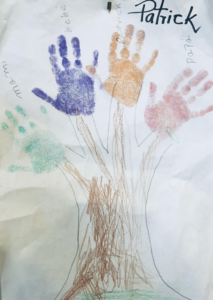 If you are anything like me, you have spent the last couple weeks at home with little faces staring at you for attention while you try to get work done. Quarantine has proved particularly challenging for parents of school-age and younger children as we added homeschooling to our day jobs, all within the confines of our homes. The mom groups I am a part of have been sharing activity ideas to keep kids engaged and occupied. I realized a lot of them can be adapted with a family history theme to use this time to learn about our families and our history:
Make a family tree – Even the littlest kids can get involved in this activity and you can make it as artsy or as scholarly as you like. My four-year-old made a tree with handprints that hand one branch for each of us in the household. For older kids you could use a five generation chart to start compiling what you know about your ancestors. This activity is a great way to share information about your family with the next generation.
Talk to your elders – Even though your kids may not be able to physically be with their grandparents right now, they can certainly call them on the phone or video chat and ask them about their lives. Instead of just the daily check-in, have your kids take some time to really get to know their elders. FamilySearch has a great outline of questions for kids to ask their grandparents or other members of the family.
Visit a cemetery – If you need to get outside but want to avoid parks and pathways getting a lot of traffic these days, visiting a cemetery is a great option. You can practice social distancing while getting outside. While there, you could make a scavenger hunt and have your kids looking for designs on old stones, or you could practice your photography skills and snap some gravestone photos. Sites like Findagrave.com and Billiongraves.com usually have requests for photos at almost every cemetery, so you can help someone with their genealogy in the process. Remember, in the old days people used to picnic in cemeteries, so this is not that weird!
Get cooking – Pull out an old family recipe and make it together. While you make it, talk about the person who created the recipe and what memories the food holds for you. If there is a cultural element to the food, it is a great way to talk with your kids about why it is important to your faith or your heritage. It can even be something simple. My son and I made some bread using a recipe book with notations from my grandfather. It was like having a conversation with him about what bread was best and the best way to mix the ingredients.
Scan old photo albums – If you have photos in old photo albums, you are going to want to get them out of there and into acid-free containers anyway! A great project is to scan the photos as you go. You can them make notations about who is in each picture, where it was taken, and the event. This is a fantastic way to go down memory lane, introduce your kids to family members who may have passed before they were born, and put your photos in another media. It can also be inspiration for interview questions for grandparents. You could then compile the photos into a photobook on sites like Mixbook or Shutterfly and make copies to send to relatives to connect while you're apart.
Research the countries of your ancestors – If your kids are old enough to do research on their own, have them pick a country of origin in your family tree and research its history and culture. You could outline things to learn, like geography, landscapes, or historical sites, and set them up with a computer to explore the world from home. You can also do something similar with little kids who are not ready for research just yet. Several years ago, I sent my five-year-old cousin activity packets from our family's countries of origin and found a lot of ideas for crafts, recipes, and learning resources online. Check out my previous blog post, It's a Small World, for more details.
Write a journal – Remind your kids that they are a part of their family history and encourage them to write down their thoughts and experiences during the quarantine. This can be in words or even in drawings if your child is not writing yet. One day their descendants will treasure a personal account from a time that will certainly make it into the history books.
Share this:

About Meaghan E.H. Siekman
Meaghan holds a Ph.D. in history from Arizona State University where her focus was public history and American Indian history. She earned her B.A. in history from Union College in Schenectady, New York, the city where she grew up. Prior to joining the NEHGS team, Meaghan worked as the Curator of the Fairbanks House in Dedham, Massachusetts, as an archivist at the Heard Museum Library in Phoenix, Arizona, and wrote a number of National Register Nominations and Cultural Landscape Inventories for the National Park Service. Meaghan is passionate about connecting people with the past in meaningful and lasting ways. She enjoys finding interesting anecdotes about an ancestor to help bring the past to life.View all posts by Meaghan E.H. Siekman →