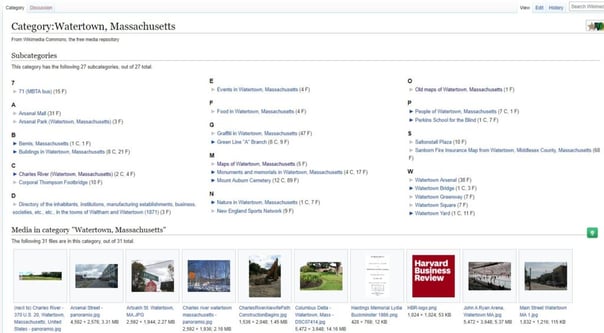 The database team here at NEHGS posts information on updates to our databases on our blog, dbnews.americanancestors.org. In each post, we try to give you a little information about the database, the new records, and provide some sort of visual.
So I'm always looking for images in the public domain that pertain to various towns and other locations around New England. For some of our ongoing projects like Historic Catholic Records Online or Early Vermont Settlers, it can become difficult to find a new image to illustrate each post, and I have to keep track of what I've already used!
My first source is usually Wikimedia Commons, which describes itself as "a media file repository making available public domain and freely-licensed educational media content (images, sound and video clips) to everyone." It is part of the Wikimedia Foundation, which also runs Wikipedia. While Wikimedia Commons is very useful to me in the context of Database News, it can also be a helpful resource for genealogists in general. You can view old maps and images of a particular place, and maybe even find an image of an ancestor. I'll demonstrate its value through a recent example with step-by-step instructions for how to navigate the site.
Alicia Crane Williams just completed two new sketches as part of the Early New England Families, 1641-1700 study project. William Parry (one of those recently announced) lived in Watertown, so while writing the announcement for Database News I googled "Wikimedia commons category watertown." This led me to Wikimedia Commons' Watertown page. Wikimedia Commons is organized into categories that then often have sub-categories. There are many uncategorized images in the overall category "Watertown," but also subcategories such as "Buildings in Watertown, Massachusetts," "Maps of Watertown, Massachusetts," and "Mount Auburn Cemetery." Treat these categories with caution. As with anything that is open for editing, they may not always be comprehensive. For example, "Old maps of Watertown, Massachusetts" only has one map in it, while "Maps of Watertown, Massachusetts" has a few more, and almost all probably count as "old."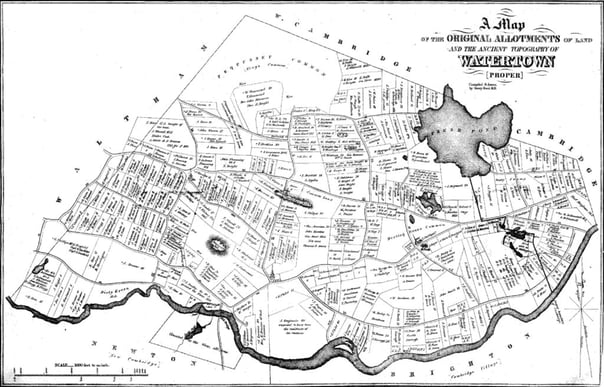 I clicked on "Maps of Watertown, Massachusetts" and found Henry Bond's A Map of the Original Allotments of Land and the Ancient Topography of Watertown. This map was posted by a Wikimedia Commons user, but it actually comes from a book published by NEHGS; we have a copy of the map in our library. Bond's map shows land grants for some plots 1635–1751. Land owned by William Parry appears on the map, which made it an even more exciting accompaniment to my Database News post. I downloaded the map, reduced the file to a lower quality to that fits on our blog, then prepared to forget about it. Then I got a few different emails from Database News readers asking me where I found the map, and how they could get a better-quality image. One user wrote: "Very cool! I found my ancestor's house lots on the map; just west of Whitney Hill, which still exists today as a park." So go ahead, google "Wikimedia commons category your town," and explore! See what you can find!
While sometimes I settle for any interesting image that mostly relates to a database update, it's always exciting when I can find an image that specifically relates to that particular place and time period. Another resource that often yields precise maps are the Sanborn fire insurance maps. I was able to find St. John the Evangelist Church in Hopkinton for a recent Database News post relating to the Archdiocese of Boston project. You could use these maps to locate ancestors' homes from an address in the census and explore their neighborhood!
While sometimes I settle for any interesting image that mostly relates to a database update, it's always exciting when I can find an image that specifically relates to that particular place and time period.
Maps are my favorite resource found in Wikimedia Commons. The Norman B. Leventhal Map & Education Center at the Boston Public Library and the Library of Congress add many digitized maps to Wikimedia Commons (among other institutions, including the New York Public Library). You can always find interesting maps, ranging from early approximations of New England geography (A mapp of New England, 1675) to bird's eye views of the Boston Harbor.
Old postcards are my other favorite item found in Wikimedia Commons. Explore the category "Postcards of Massachusetts" for a glimpse of the state as seen by tourists of old. Postcards published by the Tichnor Brothers are particularly fun with their often vibrant colors.
Wikimedia Commons is not the only online repository for images. If you're interested in Massachusetts history, you will need to explore the Digital Commonwealth, an online repository of digitized images and documents from across the state. Here's a search for images relating to the Holy Cross Cathedral. If you don't have ancestors in Massachusetts (and even if you do!), be sure to investigate the Digital Public Library of America (DPLA) which contains content from throughout the country. I searched for Hebrew Immigrant Aid Society (another project I've worked on lately), and found images relating to immigration from New York to Philadelphia, and more.
You may also want to look for images digitized and presented by specific institutions, many of which use Flickr, a popular photo sharing app. The Roman Catholic Archdiocese of Boston archives has a great Flickr page, as does the State Library of Massachusetts, and of course the Boston Public Library.
If you do plan to re-use or share any images that you find, be sure that you understand the license and do indeed have permission to use the image. Wikimedia Commons has a clear policy, and both the Digital Commonwealth and the DPLA will have detailed information for each item.
Share this: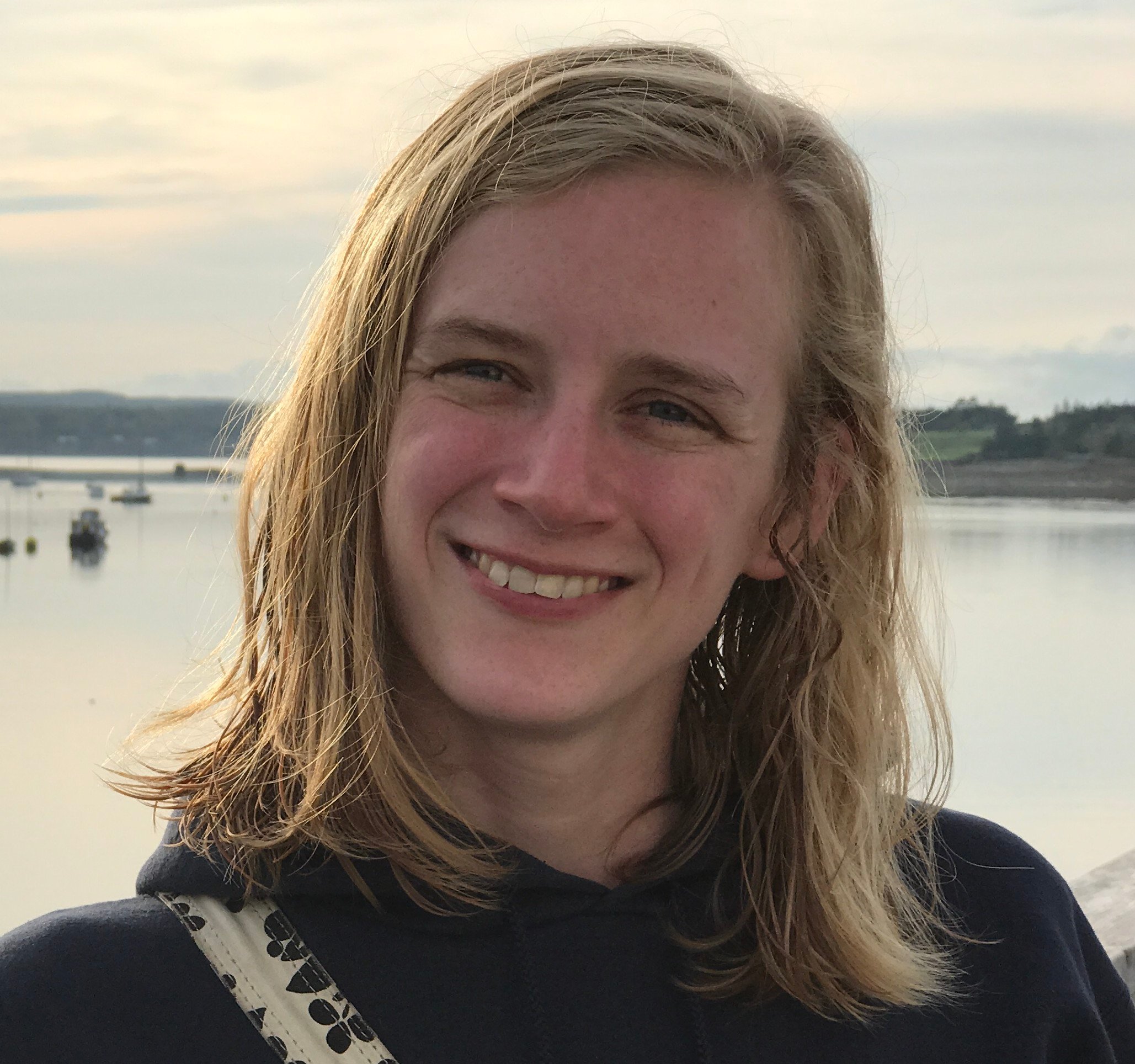 About Molly Rogers
Molly is from York, PA. She studied English and French at Colby College in Maine and has a Master's degree in Library and Information Science from Simmons College. She enjoys many outdoor pursuits such as whitewater kayaking, mountain biking and cross-country skiing and has a few indoor hobbies like reading, knitting and creating a genealogy website for her grandmother's family.View all posts by Molly Rogers →