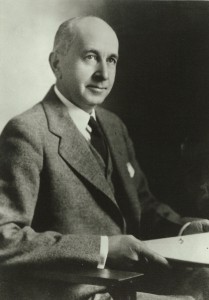 Of my four grandparents, it is my maternal grandfather[1] whose background seems most mysterious. He and his parents duly appear in Norfolk (Virginia) city directories and censuses, but much of the personal – the quirks and the quotidian – seems missing from the life he led before he won an appointment to the U.S. Naval Academy in 1919.
His father, J. Frank Bell (John Francis Bell, 1878–1944), has, if anything, been more of a cipher. It was his father, also John Francis Bell (1839–1905), who appears out of thin air, hailing from Isle of Wight County and establishing himself as a contractor in Richmond. Frank Bell went south to Norfolk, where he met and married my great-grandmother, Minnie Estelle Jackson (1876–1935). Frank Bell seems as solid as Estelle's father, the roguish O.D. Jackson, proved transient, and he became a leading figure in Norfolk, managing hotels, winning election to the City Council, and helping to found the Rotary Club.
Until recently, that was about all I knew about J. Frank Bell.
My second cousin Craig, who lives in Texas, shares my interest in our Bell family history – much of it, as I say, more guessed at than known. Then, a few weeks ago, he decided to scan Frank Bell's journal – covering the years 1915–36 – and, suddenly, the man on the census page (or in the single photo of my great-grandfather I possess) was revealed as a weekend farmer, one concerned with weather and crops and his sows' litters.
All of which sheds light on Frank Bell's personality – as with his occasional references to family events (especially his children's successes) and the war raging overseas.
The journal begins with Frank overseeing the building of his new house at the farm in Princess Anne County; the entire project moves at a fairly brisk clip:
1915
23 March: Went down [from Norfolk] with Mr. Griffin and staked out site for house.
27 March: Cellar Excavated. Had Windmill erected.
3 April: Building under course of construction. Fine weather. Barn frame work up.
10 April: Barn complete except paint.
1 May: Roof on house and looking good.
7 May: Weather boarding on and floor being layed [sic].
15 May: Plastering house started. Windows in and one coat of paint on house.
17 May: Lathers at work on house.
20 May: Planting corn.
21 May: Finished planting corn in Field # 2. Much warmer today. Land in excellent condition for working.
23 May: Went to evening services. [His son] Fred acted as Altar Boy and served for the first time.[2] Italy declared war against Austro-Hungary today.
24 May: Set out 500 strawberry plants and about 100 Chrysanthemums. Nice shower after planting.
All of this work at the house had been done in his wife's absence, as on
30 May: Estelle and Frances[3] returned from New York after a three month trip. Estelle saw our new home for the first time.
1 June: Very cold and rainy. Corn & peas coming up. White coat of plastering going on.
8 June: Carpenters working on the interior of the house.
11 June: Estelle, Frances & I went to the farm. Made a swing for Frances under the big oak near the garden. Hot day but delightful in the country.
22 June: Frances' birthday – six years old and a sweet little girl.
30 June: This week has been spent finishing the house; plumbers and painters working to get through. Hauled gravel and cement for cellar floor and front walk.
4 July: This is the most glorious 4th we ever spent. Home completed.
*
Later in the month, on 16 July, Frank noted laconically that he was "very sick today. Had to see doctor and go home on the 12:40." Two days later, on a Sunday, "Whole family came in to Dr. McCormick and took Typhus Serum. Took auto ride with Prof. Johnson."
Estelle's parents paid separate visits, as on 26 July "Mr. Jackson[4] spent the night" and on 18 August "Mrs. Jackson[5] came this morning." Then, on 23 September: "Mr. Jackson died tonight in Bowling Green, Ohio."
From what little my grandfather had to say about his maternal grandfather, O.D. Jackson, he sounds like a man of immense charm who could sell you the shirt you were already wearing – a trait my grandfather shared! More from such hints and the silence in Frank Bell's journal than anything concrete, I suspect that there were estrangements in the Jackson and Bell families – perhaps having to do with Mr. Jackson's propensity for making and losing fortunes. It seems that when he died, in 1915, he was experiencing business reverses, and he left his widow little on which to live.
Life at the Bells' farm continued ("Sow Lady Betty sick"), and in early December it snowed:
12 December: Another snow. Frances & Fred playing in yard.
13 December: Frances lost her two front teeth. Little girl looks odd without them.
25 December: Christmas morning. Big tree in living room and log fire burning. Rather warm for Christmas, but all happy.
Continued here.
Notes
[1] Rear Admiral Frederick Jackson Bell (1903–1994) was married to Pauline Glidden 1925–68 and to Lelia Blanche (Cook) Noggle 1970–83.
[2] My grandfather felt drawn both to military service and to religious life. After retiring from the Navy and working as a business executive, he was ordained – at the time, he was the first American admiral to enter the Episcopal clergy, and he later was associated with the National Cathedral in Washington, D.C.
[3] Frances Fairfax Bell (1909–1997) married her brother's Annapolis classmate Robert Gentry Norman '24/'25 in 1929.
[4] Oliver Dodridge Jackson (1848–1915) married Rebecca Jane Eggleston in 1875.
[5] Rebecca Jane Eggleston (1856–1937), usually known as Jennie, was married to O.D. Jackson 1875–1915 and to William E. Waterman in 1924.
Share this:

About Scott C. Steward
Scott C. Steward has been NEHGS' Editor-in-Chief since 2013. He is the author, co-author, or editor of genealogies of the Ayer, Le Roy, Lowell, Saltonstall, Thorndike, and Winthrop families. His articles have appeared in The New England Historical and Genealogical Register, NEXUS, New England Ancestors, American Ancestors, and The Pennsylvania Genealogical Magazine, and he has written book reviews for the Register, The New York Genealogical and Biographical Record, and the National Genealogical Society Quarterly.View all posts by Scott C. Steward →