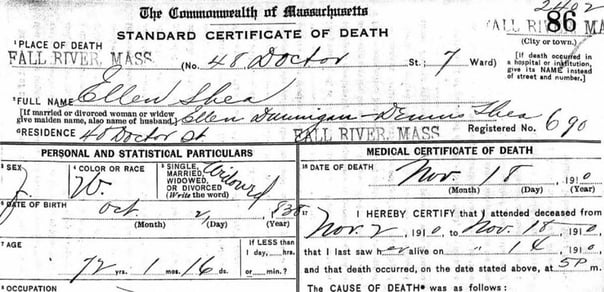 Over time and practice a family historian develops an instinct for when a recorded fact does not make sense. The following examples may serve as illustrations of genealogy as more art than science.
Thirty-seven years ago, my uncle-by-marriage, Bill Shea, made an ancestral pilgrimage to Ireland in pursuit of his County Cork great-grandparents, Dennis Shea and Eva Bard. He did not find them. Later I commented to Bill that Eva Bard was not an Irish name and seemed an unlikely match with Dennis Shea in Catholic Ireland during the last third of the nineteenth century. "How do you know her name was Eva Bard?" He replied, "That's the name of the mother on grandfather's death certificate."
Bill's grandfather, John F. Shea of Fall River, died suddenly at home on 5 April 1925, age 53, from an asthma attack. The doctor who signed the death certificate acted as the informant. My skepticism proved correct: there was never an Eva Bard who married Dennis Shea. John Shea's obituary in the Fall River Herald News disclosed his mother's name was Ellen Donegan, a fact confirmed by John's marriage certificate in 1903. Typical of many Irish immigrants of that time, John Shea deducted several years from his true age. He was born in August 1865, in the townland of Cooradonochu, County Cork. Around 1873, John's parents and siblings emigrated to Fall River, where Ellen "Dunnegin" Shea died in 1910. A portion of her death certificate appears above.
Who, then, was Eva Bard?
Who, then, was Eva Bard? Until now, I attributed her existence to the doctor's clerical error, but there really was an Eva Bard of Fall River who died in 1981, age 89. And, yes, she was not Irish – her parents were French-Canadian immigrants!
A query from one of my Irish-born cousins led me to research the family of Helen "Nellie" Donley, née Dwyer. "How is she related to us?" My quest started with the 1900 census of North Attleborough, Massachusetts, which listed Nellie Dwyer, age 21, born in Ireland, immigration year 1889, a servant in the household of jeweler Frederick Heffron. She seemed to match the infant baptized in Sneem, County Kerry, in January 1879, daughter of Patrick Dwyer and Norry [Hanora] Doyle from the townland of Direenauliff. If Nellie's parents emigrated to Massachusetts, I could find no trace of them. Whom did Nellie marry? The only Dwyer/Donley marriage to fit the time frame was that of Nellie Dwyer to Charles Donley in North Attleborough on 26 June 1905. Their marriage record, however, suggested a different set of her parents: Patrick Dwyer and Frances Smith.
Their marriage record, however, suggested a different set of her parents: Patrick Dwyer and Frances Smith.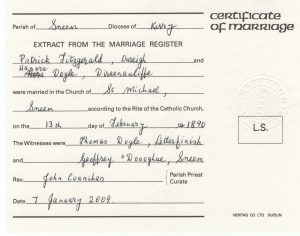 Once again, I doubted this pairing, that Frances Smith was the wife of Patrick Dwyer. Another mistake in a record? I checked the original entry in town records as well as the copy from the marriage register of St. Mary's Church in North Attleborough. Same mother, Frances Smith! Still, I stubbornly persisted that someone had erred. Was Norry (Doyle) Dwyer the mother of Nellie (Dwyer) Donley? Widening my search, I documented the rest of Nellie Donley's life. She died in 1950, age 71, and her death certificate listed her mother as Norry Doyle and her father as Patrick Dwyer. Nellie's obituary also listed a brother, John Dwyer of Attleboro, whose death certificate matched him to the same parents as Nellie. Examining John Dwyer's life revealed a new discovery: he and Nellie had a half-sister named Mary Fitzgerald. The key to reconciling these relationships was the marriage certificate from Sneem (at right).
No wonder I couldn't find Patrick Dwyer in Massachusetts. He died in Ireland during Nellie's childhood. His widow Honora (Doyle) Dwyer married Patrick Fitzgerald as her second husband. The Fitzgerald and the Dwyer children moved soon after to Massachusetts, living first in Cambridge and later in North Attleborough. Thus, a complete family exploration beyond Nellie Dwyer's marriage expanded my knowledge of this branch of my Dwyer family and confirmed my initial judgment that Frances Smith simply did not belong within it.
Share this: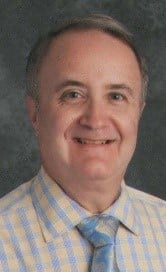 About Michael Dwyer
Michael F. Dwyer first joined NEHGS on a student membership. A Fellow of the American Society of Genealogists, he edits Vermont Genealogy. His articles have been published in the Register, American Ancestors, The American Genealogist, The Maine Genealogist, and Rhode Island Roots, among others. The Vermont Department of Education's 2004 Teacher of the Year, Michael retired in June 2018 after 35 years of teaching subjects he loves—English and history.View all posts by Michael Dwyer →