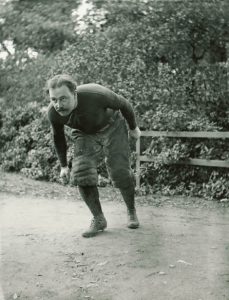 The 31 October edition of NEGHS's Weekly Genealogist ran a quiz asking readers whether they had any ancestors who participated in organized sports as adults. It reminded me that this past Thanksgiving marks one hundred and twenty years since my great-grandfather first played in "The Big Game" between the University of California (Berkeley was its only campus at the time) and Stanford – this year's game will be played tomorrow.
Fred Athearn played a variety of sports at Pomona College, and when he transferred to the University of California he was urged by both students and faculty to be part of their football team. Cal had never beaten Stanford, but they'd just hired a new coach from "Back East," and hoped that this – plus new blood among the players – would yield better results. The stakes of this rivalry were now higher than ever, since U.S. Senator James D. Phalen had just offered to place a statue on the campus of whichever university won two successive games. Until that happened, the statue would remain on display in Golden Gate Park.
As my great-grandfather described it in his memoirs[1] year later, the rules of the game were very different then. "The ball could be passed backward and laterally but not forward, so there were only line plunges, end runs, and punts. There were no 15-minute quarters. The game was divided into two 35-minute halves, with a ten-minute rest period. If a man was taken out of the game for any reason, he could not return."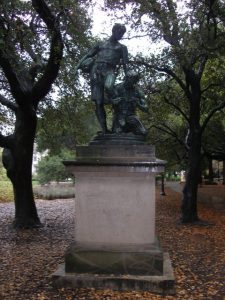 Imagine Cal's excitement when the final score was 22 to 0 over Stanford! Players ended up with bruises all over their backs … not from game injuries, but from all the "love pats" administered by fans, as players were hoisted onto students' shoulders and paraded around the field after the game. This triumph was exceeded only by Cal's victory over Stanford the following Thanksgiving, 30 to 0. Shortly thereafter, Senator Phelan had Douglas Tilden's statue moved to the University of California campus and mounted on a base carved with the names of each year's players (many of whom played both years).
My great-grandfather finished describing this time in his life with the simple statement, "That ended my career as a football player." However, through the online California Digital Newspaper Collection, I've been able to track down much more information, plus pictures of the team. Thirty-five years later the Oakland Tribune[2] ran a front-page story about the university's "Dream Team," complete with a photo from 1899.
The article included these wonderful details: "A new coach from Princeton, Garry Cochrane, and the three mustaches were credited with the double victory after years of gridiron defeat for the Golden Bears. The players were superstitious about the mustaches and refused to permit their possessors to shave them off during the two seasons."
[My] sons had christened their great-great-grandfather "Mustache" after I bought a picture of him on eBay, all decked out in his Cal uniform.
I was tickled when I read this, since my sons had christened their great-great-grandfather "Mustache" after I bought a picture of him on eBay, all decked out in his Cal uniform. Incidentally, online auctions and retailers can be great places to find images of your long-ago family members, assuming the photos have the good fortune to be labeled. After discovering that a Civil War-era picture of Fred Athearn's uncle had been purchased on eBay and donated to the Nantucket Historical Association, I did a search for "Athearn photo" and hit the jackpot. I also found an old picture postcard featuring the orphanage in Watsonville, California, where Fred spent several months as a boy. All good fodder for family historians!
Notes
[1] Fred Goodrich Athearn, "A Story of a California Boy," unpublished manuscript, 1957.
[2] Oakland Tribune, 24 March 1934, 1.