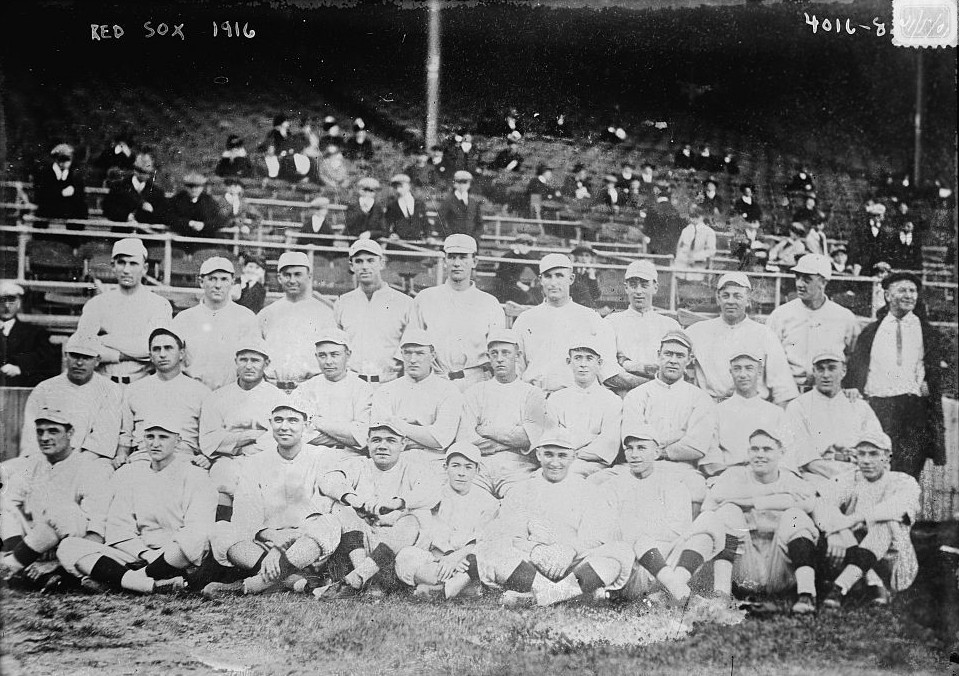 Between 1919 and 2003, a Boston loss in the fall classic of the World Series was, sadly, a familiar occurrence. In the decades before 1919, things were different. The Boston Americans rallied to beat the Pittsburgh Pirates in the first World Series in 1903. During the second decade of the twentieth century, the Red Sox were alive and well with pitching, fielding, and batting as they won the 1912, 1915, 1916, and 1918 World Series. This month, one hundred and two years of history repeat. In the 2018 World Series, the Boston Red Sox are once more playing the Los Angeles Dodgers. The genealogy of the Dodgers goes back to roots in Brooklyn, New York. In 1916, the team was known as the Brooklyn Robins; it would become the Brooklyn Dodgers in 1932. Interestingly, from this vantage point, the 1916 World Series was not played at Fenway Park but in the larger capacity seating of the National League's Boston Braves field.
The genealogy of the Dodgers goes back to roots in Brooklyn, New York.
During the 1916 World Series, the Red Sox won four games to one over the Robins. The meeting of many of baseball's greatest players, later to be enshrined at the Baseball Hall of Fame, occurred during that series. Boston's powerful pitcher George Herman "Babe" Ruth (1895–1948) pitched against Brooklyn's Charles Dillon "Casey" Stengel (1890–1975). The dominating Boston outfielder Harry Bartholomew Hooper (1887–1974) batted against Brooklyn's pitcher Richard William "Rube" Marquard (1886–1980).
The Boston team would also send another pitcher besides Babe Ruth to the Baseball Hall of Fame in Herbert Jefferis "Herb"  Pennock (1894–1948). In addition, the 1916 team had future Hall of Famer Zachariah Davis "Zack" Wheat (1888–1972), whose mother was a full-blooded Cherokee Indian. The Hall of Fame doors later opened to Brooklyn's manager Wilbert Robinson (1863–1934) and two Major League umpires, Henry Martin Francis O'Day (1859–1935), and Thomas Henry "Tom" Connolly (1870–1961).
It was at [Braves Field in Boston and] Ebbets Field in Brooklyn that the two teams played out their series in five games in October 1916.
It was also at Ebbets Field in Brooklyn that the two teams played out their series in five games in October 1916. The players were born as far away as Kirkerup, Denmark, although most hailed from American states. The World Series of 2018 brings even greater geographical interest as the lineup includes a player on the Los Angeles Dodgers, pitcher Hyun-jin Ryu, who was born in Incheon, South Korea in 1987.
Baseball is my other love, second only to genealogy. I have often researched the ancestry of various baseball players of the nineteenth and twentieth centuries out of simple curiosity. One of the best websites to research former baseball players is www.retrosheet.org. Perhaps one of these former 1916 World Series players or their surnames sounds familiar?
Besides the aforementioned Hall of Famers, the following players were featured in the 1916 World Series (with their respective birthplaces). From the Brooklyn Robins: Larry Cheney (Belleville, Kansas); John Wesley Coombs (Le Grand, Iowa); George William Cutshaw (Wilmington, Illinois); Jacob Ellsworth Daubert (Shamokin, Pennsylvania); William George "Wheezer Dell (Tuscarora, Nevada); Gustave Getz (Pittsburgh, Pa.); James Harle (Cleveland, Tennessee); Frederick Rudolf Merkle (Watertown, Wisconsin); John Tortes "Chief" Meyers  (Riverside, California); Lowell Otto Miller (Minden, Nebraska); Harry Harlan Mowrey (Brown's Mill, Pa.); Henry Harrison Myers (East Liverpool, Ohio); Ivan Massie Olson (Kansas City, Missouri); Oliver Edward O'Mara (St. Louis, Mo.); Edward Joseph Pfeffer (Seymour, Ill.); George Napoleon Rucker (Crabapple, Georgia); and Sherrod Malone Smith (Monticello, Ga.).
The Boston teammates were Forrest Leroy "Hick" Cady (Bishop Hill, Ill.); William Francis Carrigan (Lewiston, Maine); Rube Foster (Lehigh, Oklahoma); Dellas Clinton Gainer (Montrose, West Virginia); William Lawrence Gardner (Enosburg Falls, Vermont); Olaf Henriksen (Kirkerup, Denmark; later of Canton, Massachusetts); Richard Carleton Hoblitzell (W.V.); Harold Chandler Janvrin (Haverhill, Mass.); Hubert Benjamin Leonard (Birmingham, Ohio); George Edward "Duffy" Lewis (San Francisco, Calif.); Carl William Mays (Liberty, Kentucky); Michael Joseph McNally (Minooka, Pa.); Lewis Everett Scott (Bluffton, Indiana); Ernest Grady Shore (East Bend, North Carolina); Charles Henry Shorten (Scranton, Pa.);  Chester David Thomas (Camp Point, Ill.); Clarence William Walker (Telford, Tenn.); and James Charles Walsh (Rathroe, Ireland).
The last of the 1916 Boston Red Sox World Series team would be Ernest Grady "Ernie" Shore, who died at Winston-Salem, North Carolina 24 September 1980, aged 89. Less than a decade later, the last ball player from the series died at Reno, Nevada 24 October 1989: Oliver Edward "Ollie" O'Mara, aged 98.  Ironically, this last player from the 1916 World Series entered the eternal "Field of Dreams" during the 1989 World Series. With two games in favor of the Red Sox (as of 26 October), and possibly two more remaining – will history repeat itself again for Boston?