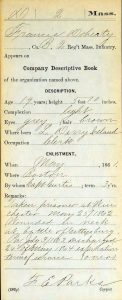 When researching ancestors who fought in the Civil War, don't forget to examine their Combined Military Service Records for important genealogical data. In the late nineteenth and early twentieth centuries, the Combined Military Service Records were created by the War Department to expedite the administration of the claims and pensions of veterans. Information was collected from muster lists, enlistment records, payrolls, and other miscellaneous sources, and then organized into envelopes by soldier. These records are housed at the National Archives, and many are also available on Fold3 for both Confederate and Union troops.
These Combined Military Service Records note the date of enlistment, presence or absence at muster, injuries sustained, promotions, and discharge. Most importantly, they may also give the specific birthplace of the soldier. For those of us whose Civil War ancestors were immigrants, or whose ancestors were born in locales with poor vital records, these records are especially important. Beyond their military service, these records can also provide unique information, including a physical description of the soldier.
Francis Doherty was described as "a faithful and highly esteemed non-com officer."
Take for instance, the service record of Francis Doherty, who served alongside my ancestor in the 2nd Massachusetts Infantry. His service record noted that he was born in Londonderry, Ireland, circa 1842. He was five feet and ten inches tall, with a light complexion, grey eyes, and brown hair. After the Battle of Winchester in Virginia, he was taken captive on 25 May 1862. A year later, he suffered a wound to his neck at Gettysburg and was discharged in May of 1864. Francis Doherty was described as "a faithful and highly esteemed non-com officer."[1] Here, invaluable information is recorded for Francis Doherty, including his specific birthplace, in what is now Northern Ireland.
To date, Fold3 has digitized many of the Combined Military Service Records for both Union and Confederate troops. On Fold3, these records are located under the Civil War category and are titled "Civil War Service Records." These records can also be ordered from The National Archives.
Note
[1] Compiled Service Records of Volunteer Union Soldiers Who Served in Organizations from the State of Massachusetts, Record Group 94, RG94-CMSR-MA-2INF-Bx1017_MISC, The National Archives, Washington, D.C.