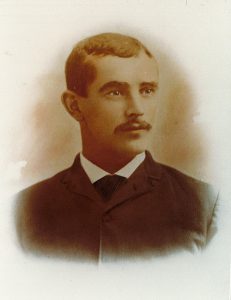 On 7 May 2018, my maternal grandmother Eleanor Margaret (Buckle) Sadlow passed away at the age of 89.  She was born 22 August 1928 in Arlington, Massachusetts, the daughter of William and Frances (Mulcahy) Buckle; in 1947, she became the wife of Chester Francis Sadlow.
Following this sad event, as I was helping to go through some of my grandparents' belongings. I came across a photograph of my great-great-grandfather Michael Mulcahy. The back of this photo had my grandmother's handwriting indicating that her maternal grandfather was born in 1869 and died in 1960, and that this photograph was taken on his wedding day. I immediately recognized the name from my previous research on this family line and felt a strong pull to discover more about him.
I was quickly able to find that Michael Mulcahy was my immigrant ancestor on the Mulcahy line. According to census records, he emigrated from Ireland to the United States sometime between 1888 and 1895. He married Margaret O'Connor in Arlington on 8 June 1898. Their marriage record gave me the names of his parents: Michael Mulcahy and Frances "Fanny" Hoare.
According to census records, he emigrated from Ireland to the United States sometime between 1888 and 1895.
The 1900 U.S. census for Michael and Margaret Mulcahy in Arlington indicates that Michael was already naturalized by the time this census was taken. He notes that he was born in March of 1870 and that he immigrated in 1891, had been in the U.S. for 9 years, and worked as a farm laborer. Subsequent census records provide a range of dates of birth from 1868 to 1872 and immigration years from 1888 to 1895.
A search of Massachusetts naturalization records show that there were only a few Michael Mulcahys naturalized prior to 1900. Out of these few, one of these Michaels was residing in Arlington, worked as a farm laborer, and came from County Cork in Ireland. I did know from family records that he was from County Cork. This naturalization record noted that Michael was born on 6 January 1872 and that he filed a petition for naturalization at Boston on 2 October 1896.

Irish records reveal that there was a Muchael Mulcahy, son of Michael and Frances (Hoare) Mulcahy, born in County Cork on 27 May 1869 and baptized on 30 May. While this does not match the date of birth provided on the naturalization record I found, this could still be the same person given that Michael Mulcahy noted his date of birth anywhere from 1868 to 1872 on census records.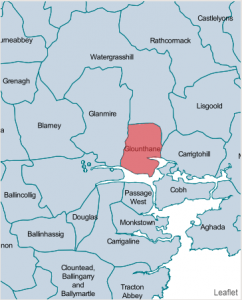 According to the Irish birth and baptismal records for Michael Mulcahy, he was born in a place called Ballyreagh, presumably in County Cork. Michael's baptismal record is found in the Parish of Glounthane (sometimes known as New Glanmire), District of Carrignavar South, County Cork, just a few days after his birth on 30 May 1869. However, while searching multiple sources including the General Alphabetical Index to the Townlands and Towns, Parishes and Baronies of Ireland, I could not find a place called Ballyreagh in Glounthane Parish.
The closest location name I could identify in County Cork was a place called Ballyre. However, this location is about 20 miles from the parish of Glounthane, which would have been a long way to travel only 3 days after Michael was born. There are various place names matching with Ballyreagh – but not in County Cork.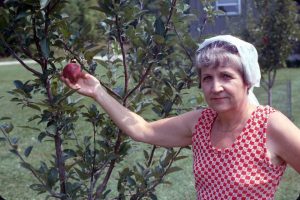 While this location brings up some questions to the origins of the Mulcahy family, there is still a lot of research I can do in hopes of finding answers. I hope to clarify their location and move forward with discovering more of my Mulcahy ancestors through my beloved grandmother Eleanor. I hope in some way these findings can be a tribute to her and our shared Irish ancestry.