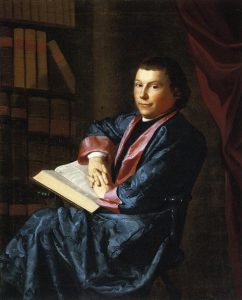 When I attended a workshop in Seattle put on by NEHGS, Lindsay Fulton told attendees that one can often find useful genealogical tidbits in old diaries, especially those written by public figures in a community. She recommended searching for diaries of anyone who lived in locations your ancestors did, even if they're apparently unrelated to your family. You might get lucky and read about births, weddings, and deaths – and perhaps even some juicy gossip – that can flesh out your family history.
If diaries belonging to total strangers can be useful, imagine the thrill I felt when I read in the "Weekly Genealogist" of 28 March that the diary of my (half) first cousin six times removed is now available online – digitally and in transcription – through AmericanAncestors.org![1] Of course I had to dive right in, even though I had taxes to do and a belated birthday present to sew for my husband.
The diary in question is actually many volumes stretching from 1762 to 1806, excepting the year 1777. The Rev. Thomas Cary (1745–1808) kept daily notations, accounts of wages received and board paid, and periodic comments on notable events throughout New England. These were all written on the blank pages of astronomical almanacs, which by themselves provide valuable insights into the diarist's world.
The very first volume, from 1762, is a genealogical gold mine, but before I dig into the nitty gritty, first a bit of background about the diarist. Thomas Cary was the second of three sons born to Capt. Samuel Cary Jr. (1713–1769) and Margaret Graves (1719–1762) of Charlestown, Massachusetts. His parents – and subsequently his older brother, Samuel – inherited the Bellingham-Cary House in Chelsea, Massachusetts, which stands today as the only eighteenth-century house in the city – a part of it even dates to the mid-seventeenth century.
Thomas was something of a prodigy…
Thomas was something of a prodigy, beginning his studies at Harvard at the tender age of eleven and three-quarters, and weighing only eighty pounds, according to the diary of the college's president, Edward Holyoke. See how useful seemingly-unrelated people's diaries can be?
After graduating from Harvard at fifteen, he began teaching school at Weston, Massachusetts, on 26 April 1762, which is the first date in his diary. In only the third entry he wrote that Mr. Phineas Whitney had married Mrs. Merriam Willard, which may be useful information to someone out there, since the only "official" record I could find for that marriage was an intention registered the preceding day in Harvard, Massachusetts.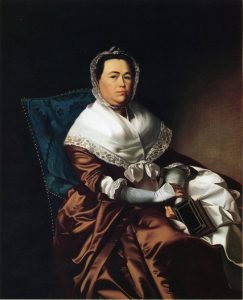 The sixteen-year-old schoolmaster recorded the weather, people who came to visit him, sermons preached by various ministers, and trips home to visit his family. On 23 June, he recorded that "Dr. Russell came up," perhaps referring to Chambers Russell (1713–1766), an uncle by marriage twice over. One brother, Capt. Richard Russell (1723–1781), married Mary Cary (1725–1786), the half-sister of Thomas's father; another brother, the Hon. James Russell (1715–1798), married Katherine Graves (1717–1778), the sister of Thomas's mother.
The identity of Thomas's next visitor seems quite clear: two days later he wrote "Samuel stopt at School." Due to the informality of this entry (no "Mr."), this could only have been his older brother. Thomas also mentioned dining with his uncle in Boston, and multiple visits from his cousin Richard Cary during the summer and again in December.
Thomas traveled home in early October to see his family, and spent his seventeenth birthday with them; however, celebrating his birthday was not the purpose of his trip. Important details surrounding this journey, and a related event recorded in the first volume of Thomas Cary's diary, will have to wait for another installment. In the meantime, I need to finish the blue banyan that I promised my husband back in February!
Continued here.
Note
[1] A bonus connection to Thomas Cary came in the same "Weekly Genealogist" through its reference to "New England's Hidden Histories," the Congregational Library's church preservation project. The account book of the Rev. Edward Barnard, his uncle and mentor, is a part of this initiative.