A common story among Americans is that their immigrant ancestors changed their names (or had their names changed) upon arrival to the United States in order to make their names sound more "American." This can make researching immigrant ancestors difficult, especially if you aren't sure under what name to look for your ancestor. This challenge is prevalent in Irish research, as surname and given name spellings can vary widely from record to record, making it difficult to determine if you've located the right person.
There are a couple of different ways that ancestors can be missed or overlooked if not paying close enough attention. Beyond the variant spellings of surnames, Irish ancestors can often be found under a variety of names in church and civil records which can make it hard to keep track of ancestors or know that you are looking at the right family. A common problem in Irish records is the use of similar sounding names, such as Ellen and Helen or Joanna and Hannah.
[Paying] close attention to parents, spouses, or witnesses to marriages and baptisms can help determine whether the individual found in the record is your ancestor.
At other times, Irish ancestors use nicknames in some records and not others, such as Nora for Honora and Nellie for Ellen. The use of these nicknames or name variants can cause a challenge in research, but paying close attention to parents, spouses, or witnesses to marriages and baptisms can help determine whether the individual found in the record is your ancestor.
Another common challenge with Irish names is the use of the Latin or Irish equivalent of an ancestor's given name. For example, my great-grandfather, Mathew Fahy, was born at Lackagh, County Galway, in 1886. In both his birth and baptism record, he is recorded as Mathew; however, his 1914 marriage record to my great-grandmother Julia Howley, as well as the civil birth record of my grandfather, Thomas, lists his name as Mathias Fahy. In this case, paying attention to the addresses helped me identify "Mathias" Fahy as my great-grandfather; his marriage record lists him as a resident of Grange, Co. Galway, where my Mathew Fahy had been born.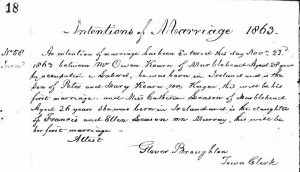 These changing names can be especially difficult when searching for immigrant ancestors. I previously conducted research on an Owen Kiernan, who was baptized in the Archdiocese of Armagh in County Louth on 28 April 1833, and married at Marblehead, Massachusetts in November 1863. However, following his marriage and the 1870 census, it became difficult to track Owen in Marblehead and Salem.
It wasn't until I located the death certificate of Owen's wife, Katherine (Leason) Kiernan, that I discovered the problem: her husband's name was listed as Eugene Kiernan. Owen and Eugene share the same Irish names – "Eoghain" and "Eoghan" – so the names Owen and Eugene are sometimes used interchangeably. In going back and searching for a Eugene Kiernan, I was able to locate his death record, naturalization record, and even civil war service records for Owen/Eugene Kiernan.
Several Irish genealogy websites, such as Roots Ireland and one run by Irish genealogist Dennis Hogan, have compiled lists of common Irish nicknames or interchangeable names that can be invaluable when conducting Irish research.
Share this:

About Katrina Fahy
Katrina, a native of Dedham, Massachusetts, earned a B.A. in History and Art History from St. Anselm College. Previously, she interned at the New Hampshire Historical Society, constructing biographies of New Hampshire quilt makers as well as transcribing a mid-nineteenth century New Hampshire diary and creating an educational program based on its contents. Katrina's research interests include New England and South East regions, as well as the American Revolution.View all posts by Katrina Fahy →