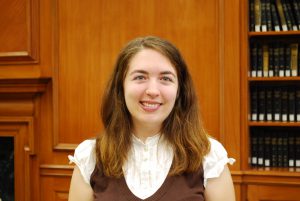 As genealogists spending time researching our ancestors' lives, we often overlook our personal histories. Having this tendency myself, I now make a point of celebrating significant anniversaries by reflecting on the relevant years. This month marks my tenth anniversary as a full-time employee at NEHGS. Over the past decade, I have experienced first-hand the great march of progress here at NEHGS, but until I spoke with D. Brenton Simons, President and CEO, I had not realized just how closely our institution's evolutionary waves coincided with my personal growth here.
My story actually began in 2006, when I volunteered to assist Deborah Rossi, the Society's Conservation Technician. Though I did not realize it at the time, that also was the year NEHGS established the strategic plan that would guide the society's actions until 2012. The NEHGS mission statement then was: "We collect, preserve, and interpret materials to document and make accessible the histories of families in America." By the time all the initiatives from that strategic plan had been implemented, we needed a fresh purpose statement. "To advance the study of family history in America and beyond, NEHGS educates, inspires, and connects people through our scholarship, collections, and expertise." These wording changes clearly illustrate the society's ongoing evolution.
The driver of the strategic plan was Brenton Simons, who had just taken over the leadership of NEHGS in 2005. In his first greeting to members in his new role, Brenton also reflected over NEHGS's history. He wrote: "I was struck not only by the many stories of successful change and transition, as well as some significant hardships, at the Society over its first century and a half, but also by the fact that so many of our core activities have remained intact since 1845. Our commitment to collecting, preserving, and publishing genealogical and historical material relating to New England families remains undiminished to this day."[1] However, he and NEHGS had bigger plans to make the institution flourish.
"To advance the study of family history in America and beyond, NEHGS educates, inspires, and connects people through our scholarship, collections, and expertise."
In order for their lofty goals to be realized, the foundations had to be laid. As I was learning how to mend paper tears to preserve the past, Brenton realized that NEHGS needed a capital campaign to ensure its future. As he explained to me, "The area where we were just clearly deficient was that we were underendowed… [Building endowment has] always been a huge objective because I want the Society to be here in 200 years… We have a long view, a view about quality and about our role in the national dialogue. And that is only going to happen if we are financially well-girded enough to project ourselves into that future."
About the time I joined the staff, in 2008, the ambitious Capital Campaign was about to launch. Brenton told me, "There'd been nothing like that – not only in this organization but in any genealogical institution ever. And this coincided with an absolute freefall in the stock market." Despite the struggles of other nonprofits and some internal doubts, NEHGS forged ahead with its plans. Brenton's pride in this decision was well-founded: "In the last ten years, I think the most transformative thing that has happened is that we were able to put the whole organization into a new expansion mode."
The Great Recession did have another consequence that my coworkers and I experienced directly – a temporary salary freeze. What initially felt like a difficult situation actually had a bright side, as Brenton noted. "This was a moment when our values as an institution showed through. Because a lot of institutions locally had ten, twenty, thirty percent staff cuts, and I did not want to cut anyone. We had assembled a team very carefully, and we had a great staff team… As an institution we really banded together."
Nor did the team just stay together: since then the NEHGS staff has grown so much we have to create new office space to hold us. For example, back in 2008, the Newbury Street Press team only had four members, and I became a fifth when I joined them in 2013. Now, we have nine – enough to field a baseball team! For the most part, we tend to grow within our jobs and to move into other roles here that suit us even better. I can't help but agree with Brenton when he comments, "I feel that a lot of us, myself included, were made for the jobs we have here. I just feel like it's in our blood. Fortunately, we're blessed to have a team of people who love what they're doing and want to be here and love their roles. So, for me, it is hugely fulfilling to mentor the next generation."
Space has become an issue as we fill all eight floors at 99–101 Newbury Street. Our organization has had to creatively adjust layout to accommodate for workers and researchers alike. As a volunteer, I spent my time with the conservator in the attic-like top floor of the building. In 2013, she was able to move into a state-of-the-art conservation lab on our Special Collections floor.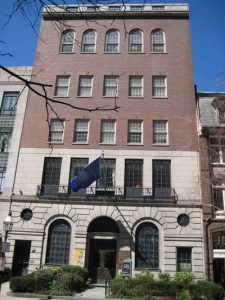 When I started in Research Services in 2010, we still had a cubicle with partial walls to separate our area from the rest of the library's 4th floor. Three years later, three glass-walled offices had been constructed, and the rearrangement of microform readers and computers allowed for more equipment in a more comfortable setting. Outside of the building, NEHGS renovated its garden and entryway in 2011 to project our welcoming attitude. Now, we have purchased the neighboring 97 Newbury Street building and have ambitious plans for utilizing the space there sometime within the next five years.
Over the past ten years, our membership has also grown. When I worked in the membership office in 2008, we kept reaching new highs with membership of more than 20,000. In 2012, we opened up a new option for limited access to the website which gained us more than 35,000 new users. Now, we have three levels of membership – contributing members, regular members, and guest members. "And that has expanded our universe to over 250,000 people," Brenton noted. "Rather than having one group of people who were our economic engine, we made it three groups… So what we did is greatly expand our economic platform by expanding our membership base." As a result, we can reach more people with more diverse interests.
Beyond the staff and members, NEHGS has also recruited the best possible national-level board and council. Now, as Brenton noted, "we have people who have outstanding nonprofit board experience and every year [we are adding] new people who love what we do and can promote us nationally." Having this wide range of talents and backgrounds has helped keep our society flexible and innovative, creating more opportunities for growth.
All of this expansion has led to an emphasis on our national identity beyond the regional. Even with the name New England Historic Genealogical Society, our collections and expertise reach across America and beyond. I was very aware of this as I transitioned into the Research Services team in 2010. That was the same year we emphasized our national scope when New England Ancestors magazine became American Ancestors and began using the URL AmericanAncestors.org. "We continue to have the New England identity – it's a bricks-and-mortar identity," as Brenton notes. "And we have the American Ancestors [brand], which is a broad, inclusive, web-based, forward-thinking identity… We like both because they both have a real value." This dual branding strategy allows us to appreciate the best of both identities.
Even with the name New England Historic Genealogical Society, our collections and expertise reach across America and beyond.
Another way in which we branched out beyond the region was in mass media. NEHGS had little news coverage until 2008, when two stories grabbed national network attention – the discovery of a Helen Keller photo and genealogical links between presidential candidates and celebrities. The resulting interest in the society caused server crashes that prevented my emailed resume from reaching human resources. Since then, NEHGS has received Associated Press and television coverage and has hosted (and fact-checked for) programs like Finding Your Roots and Who Do You Think You Are. All of this, as Brenton says, "shows our ability to convey the work we do in new and different ways to audiences we hadn't previously reached." Genealogists always want to share findings and help each other, and through media, NEHGS is able to do that on a much larger scale than previously possible.
Ten years on, it is clear that 2008 – when I launched my career at NEHGS – was a momentous year in the institution's development. "And from that amazing year, we've been able to catapult ourselves into huge growth," Brenton enthused. Over the past decade, NEHGS has built foundations with smart fiscal planning, staff recruitment and advancement, creative space rearrangements, and membership expansion, broadening from a regional to a national identity. Brenton credits that process for our current success. "I feel like what we do is of lasting value. And the things we're producing today – whether it's a book that you're writing or it's a research case that is archived for the future or it's something else that is of high quality – those are things that people will be consulting for decades and centuries to come… And we will be building that forever."
From these foundations, I have experienced much progress here at NEHGS. Stay tuned for posts about content growth and technological advancements.
Continued here.
Note
[1] D. Brenton Simons, "Greetings from NEHGS," New England Ancestors 7: 1 [2006]: 5.