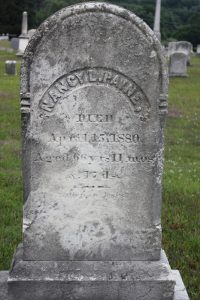 While today a married woman going back to an earlier surname is not that uncommon, such a progression sometimes happened in earlier time periods. The following case was interesting, as this individual appeared to be going "back and forth" between the surnames of her two spouses – her reasoning is hard to follow.
Nancy Lippitt was born at Killingly, Connecticut 17 November 1813, the daughter of Nathaniel and Rebecca (Bartlett) Lippitt. She married Comstock Paine of Smithfield, Rhode Island, at Killingly 17 January 1833; they had one son, Charles L. Paine (1840–1879). I can't find the family in the 1840 census, but some of the pages for Killingly are now illegible. Nancy L. Paine appears without her husband in the 1850 census in Thompson, Connecticut (which then bordered Killingly), along with her son Charles. Nancy appears next in the 1860 census back in Killingly with her second husband Daniel N. Woodworth, using his surname. Nancy's son Charles is also in the household. I could not find the record of Daniel and Nancy's marriage, but there may be an interesting reason for that.
Daniel Woodworth died in my hometown of Putnam, Connecticut (which was formed in 1855, largely from northern Killingly, where this Lippitt family lived), although on his death record, Daniel is listed as a widower and is buried in Killingly with his first wife Lucretia.[1]  Nancy appears in the 1870 census in neighboring Woodstock with her younger half-brother Holden H. Lippitt, back under the name Nancy L. Paine.
So …. Woodworth in 1860, Paine in 1870, Woodworth in 1874, and Woodworth in 1880 on her death record – but Paine on the gravestone!
In Nancy's father's will, dated 7 March and probated 4 November 1874, she is referred to as "Nancy L. Woodworth." She died at Putnam 15 April 1880, also as "Nancy L. Woodworth."[2] However, on her contemporary gravestone shown above, she is listed as "Nancy L. Paine" and is buried near her son Charles.
So …. Woodworth in 1860, Paine in 1870, Woodworth in 1874, and Woodworth in 1880 on her death record – but Paine on the gravestone! My initial thought was, as Daniel Woodworth was buried with his first wife, perhaps Nancy was buried beside her first husband Comstock Paine, and thus buried with that surname. However, Comstock Paine was not found in the burial records of that cemetery. This is where it gets interesting, as Comstock was not dead by 1850 … he left!
Comstock Paine is enumerated in the 1850 census in Carryall, Ohio. He gets married again on 27 March 1856 in Fort Wayne, Indiana, and stays in Carryall, where he is enumerated in 1860 and 1870 and where he died on 27 September 1873.[3]
Did Comstock formally divorce his first wife before he married again, and more importantly, seeing the changing surnames of Nancy, plus Daniel being called a widower on his death, did Daniel and Nancy actually get married? I've searched the records of all these towns and can't find a marriage record. I wonder if Comstock's possible desertion was an issue.
"Nothing more ascertained…"
Interestingly, Comstock Paine is listed with his parents Daniel and Anna (Ballou) Paine in the 1888 Genealogy of the Ballou family by Adin Ballou. The author did not mince words when it came to treating this family:
"Our efforts to obtain this family record have been fruitless. The following named chn. have been reported to us without birth-dates, but whether in exact chronological order we are not sure. —-"
After naming the nine children of Daniel and Anna, followed by Anna's death at Smithfield in 1855, the author adds "Nothing more ascertained, and further tracement abandoned."
As it appears Comstock may have abandoned his first family, I wonder what he might have thought about a genealogist "abandoning" him in a family history!
Notes
[1] Putnam Vital Records, 2: 470-71, written as Daniel H. Woodard. (This is the first time I've needed to use the vital records of my hometown for any NEHGS project!)
[2] Putnam Vital Records, 2: 540-41.
[3] Allen County, Indiana, Marriage Records, 3: 441; Paulding County, Ohio, Record of Deaths 1: 32-33.