With the genealogy that I've completed so far on my family, I have found that I am French – so French! I have one great-grandparent from Roscommon, Ireland, but the rest of my family, as far back as I can research, is French. My maternal family originated in Meaux, France, while my paternal family came from Paris. Both sides emigrated to Quebec, Canada in the mid-1600s among the early settlers of New France.
As someone who has researched the history of the Mayflower passengers for her job, I am familiar with the excitement and honor of being related to an early settler. According to the American-French Genealogical Society website, most people who can trace their ancestry to Canada are descended from one of the 800 women who settled there as part of a program that began in 1663. This program was called "les Filles du Roi," or "the King's Daughters."
King Louis XIV, who sponsored the program, sent about 800 women, of lower status, to New France to help populate the area and encourage others to settle there. It was a program that encouraged marriage, family, and, of course, having children. In fact, after marriage, each family would receive an annual stipend depending on the number of children produced, with 10 being the goal!
The interesting part of this program was that the King's Daughters were able to choose a husband.
This was not the only program that sent women and young girls to New France to marry, but it is the one most well-known in Canadian genealogy. The interesting part of this program was that the King's Daughters were able to choose a husband. It is said that when the ship carrying the women docked in each port, there were interviews between these women and the men of the town. How amazing that a lower-class woman could choose her husband! I can only imagine the questions that might be asked: "Do you have any livestock?" "How large is your house?" "What is your occupation?" I think, above all, these women wanted someone to care for them, in this new land to which they were unaccustomed – what else would they ask?
So, where does my family come in? My ancestors were soldiers and part of the Carignan-Salières regiment, the members of which came to New France shortly after Samuel de Champlain. My paternal great-great-great-great-great-great-great-great-grandfather, Maurice Dery (b. 1657), married Marie-Madeleine Philippeau[1] (b. 1664) on 16 January 1679 in Quebec. A maternal great-great-great-great-great-great-great-grandfather, François Seguin (b. 1644), married Jeanne Petit[2] (b. 1656) on 31 October 1672. Maurice and Madeleine were married for 45 years before Maurice died in 1724, while François and Jeanne were married for 32 years before he passed away in 1704.
Although I haven't joined any Filles du Roi lineage societies yet, it is remarkable that those of us who are of French-Canadian descent can trace our ancestry back to these 800 brave women, who sailed to New France, docked at each port, interviewed a future spouse, and chose their future in seconds. Not common for a female in the mid-seventeenth century!
Since starting in Research Services at NEHGS, the questions on DNA testing have increased – with tests from 23andme, Ancestry.com, Family Tree DNA, and newly established National Geographic. I had my father, Leo, take a DNA test this past week, hoping to be able to find a link to family in Canada or France. There is talk that our great-great-great-great-great-great-great-great-great-great-grandmother, Anne Michelle Lauson (Lauzon), is a descendant of Geoffrey Chaucer. Although the "King's Daughters" are not of nobility or royal blood, perhaps the DNA test will reveal our connection to more remarkable people in our family tree. It's great to have inspiration in your own family.
Do you have any remarkable individuals in your family tree? Do you have any individuals that were part of a program like the "Filles du Roi"?
Notes
[1] Daughters of the King List of Names.
[2] Ibid.
Share this: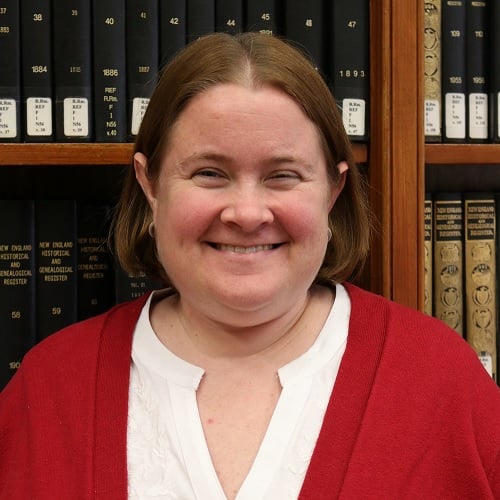 About Sarah Dery
Sarah Dery, who lives in Concord, is the Research and Library Manager at American Ancestors/NEHGS; she has been with the Society since 2017. She supports the researchers and genealogists on the Research and Library teams, managing correspondence with constituents, organizing research information, and applying her genealogical knowledge in assisting our clients – both in-person and digitally. Sarah is a graduate of Rhode Island College in Providence and has a B.A. in anthropology and English Literature. Her interest in anthropology stems from her participation in a week-long archaeology dig at James Madison's Montpelier in Virginia. Her family ancestry and expertise include Rhode Island, Connecticut, and French-Canada.View all posts by Sarah Dery →