Last year I wrote about the family register that I was given detailing the family of my great-great-great-grandparents Robert Thompson (1795–1854) and his third wife Emma Russell (1808–1872) of Industry, Maine. I mentioned in the post that their eldest daughter (and my great-great-grandmother) was named Alice Goodrich Russell Thompson, in honor of her father's first wife and Alice's mother. As I hung this register on the wall of my house, I wondered if these two middle names were "really" correct.
As I had mentioned in my post last year, Alice grew up in Industry and was a schoolteacher. Along with her sister, Olive Russell Thompson, Alice moved to Neponset, Illinois, in her thirties where she met her future husband Josiah Challender, a widowed Civil War veteran. After having their four children in Illinois, the family moved to Kansas, where much of my mother's family remains.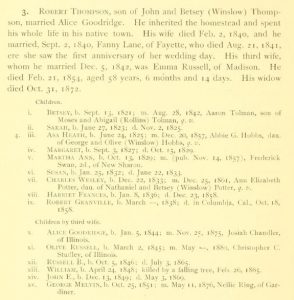 The register lists my ancestor as "Alice G. Thompson," as does her marriage record in 1875. She is listed the same way on her birth in Industry in 1844. The 1893 history of Industry refers to her as "Alice Goodridge Thompson."
After her marriage, on every state and federal census, in her lengthy widow's pension from her husband's service in the Civil War and her death certificate, on her gravestone, and in her obituary, she is called "Alice T. Challender," with the T. in reference to her maiden surname of Thompson. Kansas marriage licenses do not list parents, but even on the death records of Alice's children, Russell is absent. So where does this second middle name come from?
A way to honor Alice's own mother?
The short answer is that I don't know. It first appears in Josiah Challender and his Descendants, a family history written by a relative in 1987. The second middle name of Russell appeared on all of my great-aunt's charts (which were probably based on said genealogy), and today appears on numerous online trees!
While rare, I have seen examples of two middle names in the United States before 1844. In The Descendants of Judge John Lowell, of Newburyport, Massachusetts (which I wrote with Scott C. Steward), the Rev. Charles Lowell (1782–1861) had three children with two middle names born between 1810 and 1816. As I myself have two middle names (the second one appears on only one government record that no one besides myself would have access to), it's possible Alice had two middle names and only had the first one recorded (or initialized) on records – but I doubt it. Russell was her mother's maiden name, she had a sister named Olive Russell and a brother named Russell B., and she named her son (my great-grandfather) Alton Russell Challender. I'm thinking this got added in subsequent generations as a way to honor Alice's actual mother rather than her father's first wife, but I could be wrong.
Share this:

About Christopher C. Child
Chris Child has worked for various departments at NEHGS since 1997 and became a full-time employee in July 2003. He has been a member of NEHGS since the age of eleven. He has written several articles in American Ancestors, The New England Historical and Genealogical Register, and The Mayflower Descendant. He is the co-editor of The Ancestry of Catherine Middleton (NEHGS, 2011), co-author of The Descendants of Judge John Lowell of Newburyport, Massachusetts (Newbury Street Press, 2011) and Ancestors and Descendants of George Rufus and Alice Nelson Pratt (Newbury Street Press, 2013), and author of The Nelson Family of Rowley, Massachusetts (Newbury Street Press, 2014). Chris holds a B.A. in history from Drew University in Madison, New Jersey.View all posts by Christopher C. Child →