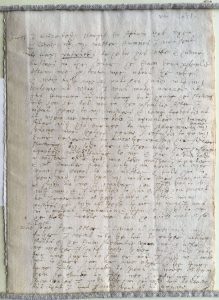 Captain Daniel Patrick was a well-known and powerful figure in the Massachusetts Bay Colony of 1640. He had been a "common soldier in the Prince's guard" in Holland, and that experience was sufficient for him to be appointed Captain of Militia in Massachusetts Bay. He commanded 40 soldiers in the Pequot War, and he and his company were notable for executing the "fighting age" Pequot male prisoners captured near present-day Ledyard, Connecticut, on 5 July 1637. Captain Patrick was clearly a formidable character.
He was also a well-known philanderer and eventually departed the colony: "For though he had a wife of his own, a good Dutch woman and comely, yet he despised her and followed after other women and perceiving that he was discovered, and that such evil courses would not be endured here, and being of a vain and unsettled disposition, he went from us… "
One of the women who formally complained about Captain Patrick was my ancestress Elizabeth (___) Sturgis.  Circa 1641, she took the bold step of complaining to Governor John Winthrop, in writing, about the unwanted advances of Captain Patrick. "…when I lived with my master Cumines I was sent to Cap: patricks to help his wife and having busines in the seler he cam down presenlie After mee and tooke me about the midel and wold kisse mee and put his hand into my boosome at which I was much amazed by his Carage to me…"
"[He] tooke me about the midel and wold kisse mee…"
Her letter to Governor Winthrop is in the possession of the Massachusetts Historical Society, and I was recently fortunate enough to see it in person. It is remarkable not only for its boldness in documenting the assaults upon her, but also for clues it provides about her ancestry. Very little documentation exists on Elizabeth, and it has been proposed that she was Elizabeth Hinckley, daughter of Thomas and Ann Hinckley, who came to Scituate with her uncle Samuel Hinckley and his family in 1636.[1]
In Elizabeth's letter to Governor Winthrop, it is clearly implied that her father was a resident of Watertown, both before and after her marriage. In his Great Migration sketch of Edward Sturgis, Robert Charles Anderson points out that "Examination of Watertown families for an unplaced Elizabeth born around 1620 might lead to her identification." Following Bob's lead, I am currently working on this prospect, and I'm currently focusing on the daughters of George Munnings and Richard Kimball as candidates for Elizabeth (____) Sturgis.
Note
[1] Roger Faxton Sturgis, ed., Edward Sturgis of Yarmouth, Massachusetts, 1613-1695, and his descendants (Boston: Printed for private circulation at the Stanhope Press, 1914). N.B.: Online versions exist for this book at Hathi Trust and Google Books, but both only contain the first ten pages.