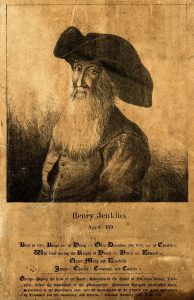 It is a situation nearly everyone who has done any degree of genealogical research has encountered before. Upon locating information on one of your ancestors and doing some simple subtraction, the result just seems too unlikely.
"There is NO WAY he was 138 when he died!"
Most astute researchers will dismiss these claims and move on to finding some proof of birth or death to debunk this incredibly unlikely scenario. For now, the oldest verified person who ever lived was Jeanne Calment, a French woman who died in 1997 at the age of 122.[1]
Throughout history there have been scores of individuals who were said to have lived for extremely long periods, but most of these claims surfaced long after the individual in question had died. However, there have been some instances in the past where a living person claimed to be extremely old, and fewer still are the instances in which this person's claims were taken as truth.
In some cases, individuals have claimed to be of an extreme age as a means of verifying their presence at significant historical events, including wars, as a means of obtaining a pension. Below are some well-known examples of people who claimed to be extremely old during their lifetime and whose claims could not be verified, sometimes in spite of strong anecdotal evidence.
William Lundy
William Allen Lundy, who claimed to have been born on 18 January 1848, was once believed to be one of the last living veterans of the American Civil War.[2] Lundy vehemently alleged that he served in the Alabama Home Guard in 1865.[3] Despite his insistence, it was found that between 1870 and 1930, Lundy gave census enumerators years of birth ranging from 1853 to 1860.[4] In 1860, he appeared in the census aged 1.
If he was truly born in January 1848, then he would have been 12 years old at the time, a significant difference in age which has led historians to reject Lundy's claims. During his lifetime, and for many years after he died, Lundy's claims were generally accepted as factual, and he was even profiled in the 1 June 1953 issue of Life magazine, where he gave a detailed (and likely fabricated) account of his service.[5]
Charlie Smith
Up until he died in 1979, Charlie Smith maintained that he was born in Liberia in 1842. If this were true, he would have been 137 years old at the time of his death.[6] In 1973, National Geographic published a piece which repeated Smith's allegation that he was born in 1842. Astute genealogists later uncovered evidence to discredit Smith's claims, including records from the 1900 census which give his age as 21 (instead of 58) and his 1910 marriage certificate which lists his age as 35 (and not 68).[7] Smith's claims to longevity gave him status as a minor celebrity in Florida, and as a result, he was invited to the VIP area to watch the launch of Apollo 17 at the Kennedy Space Center.[8]
Henry Jenkins
Perhaps the most infamous claim to extreme longevity belongs to a man named Henry Jenkins of Bolton-on-Swale, North Yorkshire, England. Very little is known about Jenkins' early life, although it is known that he was buried on 9 December 1670 at the reputed age of 169 years.[9] Unlike the others listed above, Jenkins' alleged age cannot be verified or debunked. According to his own account, Jenkins was born in 1501.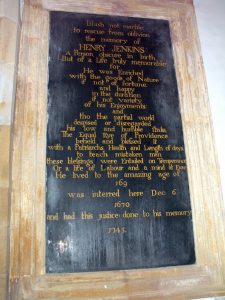 In England, churches were not required to maintain parish registers until 1538 and, therefore, if he were truly born in 1501, his baptism would not have been recorded.[10] Furthermore, the record of Jenkins' burial only describes him as "a very aged and poor man" and does not provide any reference to his actual or supposed age.[11] In 1743, an obelisk in Jenkins' memory was erected in the churchyard of Bolton-on-Swale.[12]
Much of the evidence in support of Jenkins' claims is speculative and relies heavily on the small amount of information available from Jenkins himself and those who met him. This same information has been repeated consistently over the last 350 years. One of the most oft-cited pieces of evidence is a letter from a Mrs. Anne Savile to Dr. Tancred Robinson, who later served as physician to King George I.[13]
In this letter, Mrs. Savile recounts the information she had heard about Jenkins and then provides an account of a meeting with him. Jenkins claimed to remember the reign of King Henry VIII (who had died 118 years prior to his encounter with Mrs. Savile), and his first memory of a public event was the Battle of Flodden Field.[14] Jenkins then mentioned how he had been sent to retrieve a horse-load of arrows during the battle (9 September 1513) when he was "10 or 12."[15]
Upon reviewing a historical account of the battle, Mrs. Savile found the information provided by Henry Jenkins to be accurate, which led to her believing his claims as "Henry Jenkins was a poor man and could neither write nor read" and, therefore, could not have learned of this battle from a book. She also mentions that the four or five people in the parish 97 years or older claimed that Jenkins had been an elderly man as long as they had known him.[16]
*
Over the last several centuries, stories have circulated of other individuals who lived well beyond the currently verified record of 122 years, including John Rovin, a Romanian man who supposedly lived to be 172 (and his wife 164); Peter Zorten, who died in 1724 at the age of 185; and Catherine, Countess of Desmond, who was born in 1468 and died in 1612 at the age of 144.[17]
Unfortunately, little evidence exists to verify or debunk the aforementioned claims, including those of Henry Jenkins, although modern scientific knowledge suggests that they are unlikely to be true. Given the time in which Jenkins supposedly lived and certainly died, very little was ever recorded regarding Jenkins prior to the last five years of his life. Therefore, it is doubtful that historians will ever be able to truly verify these claims, leaving us only with stories and the fanciful accounts from years ago.
Notes
[1] Craig R. Whitney, "Jeanne Calment, World's Elder, Dies at 122," The New York Times, 5 August 1997.
[2] Frank Grzyb, The Last Civil War Veterans: The Lives of the Final Survivors, State by State (2016), 68.
[3] Clifford L. Linedecker, Civil War, A to Z: The Complete Handbook of America's Bloodiest Conflict (2007), 202.
[4] Grzyb, The Last Civil War Veterans, 68.
[5] "Speaking of Pictures…These are the Last Five Civil War Veterans," Life, 1 June 1953.
[6] Robert Young, Letter to the Editor of the GRG Supercentenarian Website, 17 February 2003, http://www.grg.org/Adams/CQuastLet.htm.
[7] Ibid.
[8] Andrew Chaikin, A Man on the Moon (1994), 495, 498, 501.
[9] Evidences of the Great Age of Henry Jenkins, with Notices Respecting Longevity and Long-Lived Persons (Richmond, England, 1859), 7.
[10] History of Parish Registers in England.
[11] Evidences of the Great Age of Henry Jenkins, 8.
[12] Ibid., 9–10.
[13] Ibid., 5.
[14] Ibid.
[15] Ibid.
[16] Ibid., 6.
[17] Ibid., 11–12, 29.
Share this:

About Zachary Garceau
Zachary J. Garceau is a former researcher at the New England Historic Genealogical Society. He joined the research staff after receiving a Master's degree in Historical Studies with a concentration in Public History from the University of Maryland-Baltimore County and a B.A. in history from the University of Rhode Island. He was a member of the Research Services team from 2014 to 2018, and now works as a technical writer. Zachary also works as a freelance writer, specializing in Rhode Island history, sports history, and French Canadian genealogy.View all posts by Zachary Garceau →