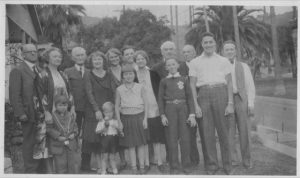 Is truth really stranger than fiction? I'll let you be the judge. Out of the blue, I received a lengthy message this summer from a woman in Phoenix, through ancestry.com. Here's an abridged version:
"Hello. Based on your family tree, I have a photo album that might be of interest to you. It was rescued from a dumpster, and I've had it in excess of 25 years without doing anything with it. My genealogy group has a show-and-tell meeting coming up on July 11, and as I've been a member for so long, I couldn't think of anything I haven't already shown. Then I thought of this album, and thought maybe I could finally do something with it, so have been researching names in it.
"There are about 42 pages with photos, 95% of which have everyone's names on the back. There are several photos of groups of people at family gatherings. These are mostly Abe Whitaker[1] [my great-great-grandfather, whose likeness I had never seen!] and his daughters Josie[2] and Mertie.[3] I would like to know if this is something you would want. Please let me know if you get this message even if you are not interested."
Well, what do you think I wrote back? Of course I wanted it! She sent it off right after her group's show-and-tell, where it was a huge hit. (By the way, doesn't a genealogy group sound like such a fun thing? I'd never heard of one before.) The album even arrived in time for me to take it to an impromptu family reunion in San Francisco, which included one cousin who lives in Hawaii, and her sister and brother-in-law who live in Hong Kong. While everyone enjoyed it, my aunt really loved seeing pictures of her grandparents[4] and other relatives she remembered from her youth.
But then I realized there was someone who would love these pictures even more than me and my aunt: a second cousin-once-removed with whom I'd corresponded briefly after we got a DNA match. Several of the pictures were of Don's older brother and sisters, parents, grandparents, and other folks he would remember well.
So I sent him a message asking if he would like scans of the pictures, and got a reply the same day. "Thank you for info on the pictures. Yes, I would like copies. I am in Junction City, Oregon, right now [an hour from my home!] having work done on my motorhome. Are you in Salem? It would be nice to get together."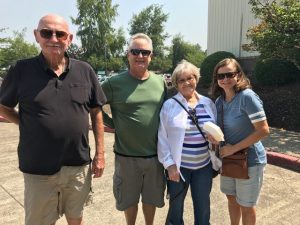 A couple of days later I had lunch with him and his wife … and their son and daughter-in-law, who were camping in the town immediately north of Salem, waiting to view the solar eclipse later in the month!!! Both generations are retired from jobs in Southern California, and both live in their motor homes touring the country. They could have been anywhere, but for different reasons were right near me at the same time, so that we could all enjoy the album together.
So now, if you read this in a book, you wouldn't believe half of it, would you? But it's true!
Notes
[1] Abraham Whitaker (1848–1934); he was born in Clermont County, Ohio, and moved to Los Angeles with his wife and children around 1890.
[2] Josie (Whitaker) Shaw (1874–1956)
[3] Mertie (Whitaker) West (1875–1972)
[4] Forrest Marion Whitaker (1877–1972) and Agnes Genevieve Hawley (1878–1967); they were both educators and had one daughter.