I was recently reminded of just how small a town Hollywood is as I wrote up some notes on two photos featuring a (now) little-known actress named Kathryn Crawford. Born Kathryn Moran in Pennsylvania in 1908, as Kathryn Crawford she was one of a trio of chorus girls in Safety in Numbers (1930); the other girls were Josephine Dunn and, of greater interest to us today, Carole Lombard. The three "Follies girls" are meant to introduce an innocent young millionaire (Charles "Buddy" Rogers) to madcap Manhattan – but of course there are love complications, and hilarity ensues.
In real life, Charles "Buddy" Rogers (1904–1999) was already an established Hollywood star thanks to his part in Wings (1927), which won the 1929 Academy Award for Best Picture. In a few years' time he would marry Mary Pickford (Gladys Marie Smith, 1892–1979) – if Rogers was "America's Boyfriend," then Pickford was "America's Sweetheart," and at the time of their marriage in 1937 she had been world-famous for a quarter century.
According to Rogers's entry in The Internet Movie Database (IMDb), Clark Gable told Mary that her new matrimonial venture would never last, as Buddy was 12 years her junior. In fact, the Rogers/Pickford marriage lasted 41 years, until her death in 1979. I find the Gable story interesting, if true, since at the time (William) Clark Gable (1901–1960) was on his second marriage to an older wife. He had first married Josephine Dillon (1884–1971) when he was 23 and she was 40, and in 1931 he married Maria Franklin Prentiss Lucas Langham (1884–1966) when he was 30 and she was 47. This second marriage ended in 1939, at which point he married … Carole Lombard (Jane Alice Peters, 1908–1942), whose previous husband had been William Powell. Unlike Josephine or Ria, Carole was her husband's junior by seven years.
Back to Buddy and Mary: At the age of eighteen, Mary Pickford had married (in secret) her co-star Owen Moore (1884–1939). Her fame far outstripped her first husband's – today he is remembered as one of three brothers, all of them silent film stars (Matt, Owen, and Tom Moore) – and in 1920 Pickford married someone whose renown equaled her own: Douglas Fairbanks (Sr.) (1883–1939). The pair presided over 1920s Hollywood from their equitably-named estate of Pickfair, but the marriage ended in 1936.
While Mary Pickford did not hurry to remarry, her ex-husband did: Fairbanks married Sylvia, Lady Ashley, within weeks of the divorce. Lady Ashley was born Edith Sylvia Louise Hawkes in London in 1904, and she had enjoyed some success in London's West End before marrying (in 1927) Antony Ashley-Cooper, Lord Ashley, the heir of the 9th Earl of Shaftesbury. The Ashleys' marriage had ended in 1934, with Douglas Fairbanks the elder cited as co-respondent.
Back to Clark and Carole: The Gables' famously happy marriage began with an elopement (to Kingman, Arizona) and ended with Carole's death in a plane crash three years later. When Gable did remarry – eight years after Carole's death – it was to … Sylvia, Lady Stanley of Alderley.
Following Douglas Fairbanks's death in 1939, his widow had married Edward John Stanley, 6th Baron Sheffield – but also 6th Baron Stanley of Alderley, the title by which he is best known, and 5th Baron Eddisbury. This marriage ended in divorce in 1948, leaving Sylvia, Lady Ashley (as she was generally known, in spite of four subsequent marriages) free to marry Clark Gable in 1949.
So, tracing the dotted line from Charles "Buddy" Rogers in Safety in Numbers to Mary Pickford to Clark Gable to Carole Lombard (also in Safety in Numbers) to Sylvia, Lady Ashley, to Douglas Fairbanks and back to Mary Pickford and Charles "Buddy" Rogers turns out to be surprisingly simple!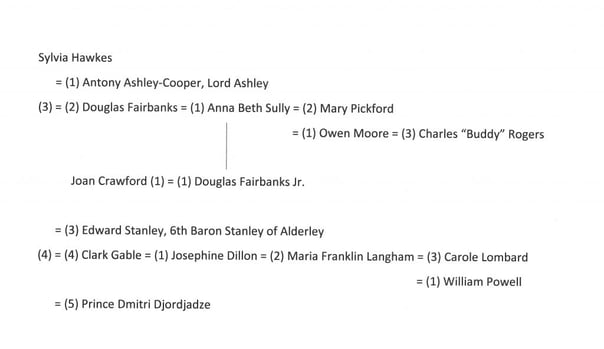 Share this:

About Scott C. Steward
Scott C. Steward has been NEHGS' Editor-in-Chief since 2013. He is the author, co-author, or editor of genealogies of the Ayer, Le Roy, Lowell, Saltonstall, Thorndike, and Winthrop families. His articles have appeared in The New England Historical and Genealogical Register, NEXUS, New England Ancestors, American Ancestors, and The Pennsylvania Genealogical Magazine, and he has written book reviews for the Register, The New York Genealogical and Biographical Record, and the National Genealogical Society Quarterly.View all posts by Scott C. Steward →