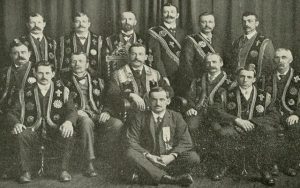 Fraternal organizations are not as commonplace for most people today as they were back in the mid-1800s on through the twentieth century. Our ancestors joined these groups for camaraderie, financial support regarding burials, insurance, and more. There were hundreds of such organizations, some of which popped up for just a brief few years.
In August, I had an opportunity to give a webinar for the New England Historic Genealogical Society in regard to these groups. We discussed determining organizations of which an ancestor might have been a member based on acronyms or insignias on tombstones, jewelry, papers, and other ephemera, and then how to find additional information about an ancestor, including records, as a result.
The most important piece of information beyond the exact fraternal group, though, is the local organization. They go by many names.
The webinar was just an hour long, which was like the tip of the iceberg. There is so much information about these groups and so many places one needs to look to identify a group, especially when all you have to go on is, perhaps, the acronym or a lodge name.
The most important piece of information beyond the exact fraternal group, though, is the local organization. They go by many names. Masons have lodges. The Grand Army of the Republic had posts. The Sons of Temperance had divisions. The Knights of Columbus have courts. The Improved Order of Red Men have wigwams. Finding these local groups can best be done by using newspapers and city directories for the years in question. Many newspapers carry small announcements of newly elected officers, the formation of new lodges, etc., and the deaths of members.
There is something fascinating about these organizations, as they catered to religious beliefs, ethnicities, occupations, and more. It is sad that, in a country that has more people than ever before, many of the last surviving organizations are seeing their numbers dwindle.
If your ancestor was a member of any of these groups, you may want to take an hour and listen to the webinar: Fraternally Yours, Finding Your Ancestor in American Fraternal Organization Records.
Take a look at some of the amazing books that were published and have now been digitized on Google Books about fraternal groups in general and about the history of specific organizations, including:
Another book to keep a look out for as a used book to purchase is Alan Axelrod's The International Encyclopedia of Secret Societies & Fraternal Orders, as this gives a lot of information on many organizations and describes the differences in scope and purpose.
Keep in mind that the records of these organizations are private records and not all organizations are willing to share. However, there are a number of digitized collections on AmericanAncestors.org, Ancestry.com, and FamilySearch.org now.