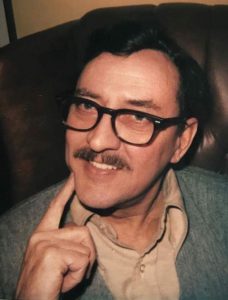 When I first started working at NEHGS in November 2015 and was introduced to Gary Boyd Roberts, he shook my hand and said, "Tell me about your family." I told him my mother was half Cape Breton Scottish and Yorkshire English, and half Croatian (see my previous posts). His eyes glazed over. When I said my maiden name was Buzzell and my paternal grandmother was an Ordway from Medford, I could tell that little wheels started turning in Gary's head: Yankees!
When my father was alive, I often asked him where his family was from. His response was usually "nowhere," but sometimes he filled this void of information with a romantic genealogical fantasy: perhaps they were Huguenots banished from France? I now know that Dad was, in a way, correct when he said his family was from "nowhere." It turns out that, unlike my mother's family, his ancestors had arrived so far back that no one had talked about it for a very, very long time.

After countless hours of research done by Gary and Julie Helen Otto, I learned that the Buzzells descended from the English immigrants Michael Emerson (b. 1627, son of Thomas of Lincolnshire) and Capt. William Gerrish (b. 1617, son of John of Somerset), both of whom settled in New Hampshire. Dad and I also have a direct line to the (in)famous Indian captive Hannah Duston. It was nice to know that Dad had in fact been 100% English. My DNA results seemed to go along with this: 64% Great Britain/Ireland, 16% Eastern European, 11% Western European, 4% Scandinavia (those marauding Vikings!). The only mystery was 2% from the Iberian Peninsula. What was that about?
I soon got my answer. As Gary and Julie dug deeper, another even more interesting link in the Buzzell family began to emerge. My father's great-grandfather Edmund Coffin Buzzell's brother was named Gerrish Lowell Buzzell. The two were sons of George H. Thacher and Abigail (Emerson) Buzzell of York County, Maine. When Gerrish was born and named in Buxton, Maine, in 1834, his parents surely were showing their pride in the family's Royal connection through William Gerrish's marriage to Joanna Lowell, great-granddaughter of Edmund Percival. The line goes back to Edward I "Longshanks" of England (d. 1307) through his daughter with Eleanor of Castile, Elizabeth. Now I knew where my Iberian Peninsula 2% came from!
As Gary and Julie dug deeper, another even more interesting link in the Buzzell family began to emerge.
It was because of the name of a sibling of a direct ancestor of mine that Gary discovered this royal connection. As I continue to research my other lines, I now take the time to include a list of the names of each couple's children (I choose to limit my tree to my direct line). If there are any other clues in my ancestor's siblings' names, I want to be sure to find them!
I think Dad would be proud to know that he is a direct descendant of a 6'2"-tall Plantagenet king who fought William Wallace and Robert the Bruce, although I'm not sure how my Scottish ancestors would feel about it. Maybe I should have the inscription "21x-great-grandson of Edward I of England" added to his gravestone so the fact doesn't get lost again?