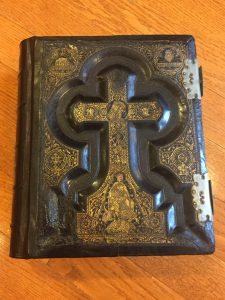 Growing up, I remember having two huge old family bibles in the house. They were in terrible condition with detached covers, loose pages, and other damage. My mother said they had been that way since she was a teenager. The bibles had been missing for some time but finally resurfaced a couple of years ago. I was able to find a book restorer who did an amazing job repairing the family heirlooms.
Both bibles were published in the late 1800s and had been kept by my great-grandmother, Helen (McKenna) Dickinson, who died when I was in college. One bible was clearly owned by Helen's in-laws, John and Carrie (Luke) Dickinson. It contains birth, marriage and death records of both the Dickinsons and the Lukes. We have never found an indication in the second bible of who the original owners were, but suspected that it belonged to Helen's parents, Cornelius and Susan (DuRoss) McKenna.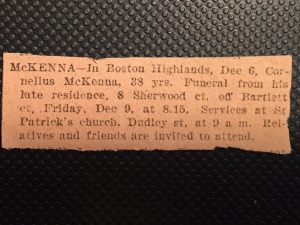 I finally decided to search more carefully through the bible for clues, thinking that there might be something handwritten on a page or on something inserted between pages. I started going through the 500-page bible one page at a time. Incredibly, tucked deep between the pages, I found a tiny 117-year-old newspaper clipping. It was only about a half-inch wide and two inches long, but it was the death notice of my great-great-grandfather, Cornelius McKenna, who died on 6 December 1898.
After finding the death notice, I reassessed what I knew. Cornelius and Susan were Catholic, and this is a Catholic bible. (The Dickinsons were not Catholic, so neither was the other bible.) Susan and Cornelius were married in 1882. The bible was published in 1884. Having found Cornelius' death notice between the pages, I now believe that this bible did, indeed, belong to Susan and Cornelius McKenna. And it makes sense that Helen would have kept together the bible of her parents and that of her husband's parents.
Knowing the tragedies that befell Susan McKenna in her lifetime, I can only imagine that she must have turned to the bible often for comfort. In the ten years after Susan and Cornelius were married, they had six children. However, between 1887 and 1894 they lost four of the six, all to different diseases. Then in 1898 Cornelius died of typhoid fever, leaving Susan widowed with 14-year-old Helen, my great-grandmother, and 7-year-old Edmund. In addition, Susan's own father, an Irish immigrant, died when she was 4 years old after being struck by lightning. She also had four siblings, none of whom survived past age 24.
Happily, Susan and her two surviving children lived long lives. Susan died in 1937 at age 79. Edmund lived to be 89 years old, and Helen passed away in 1982 just one day before her 98th birthday.
Given everything I've learned in researching Susan's life, it is a real privilege to have her bible in my home and to have been able to restore it.